Best iPad Air 3 Keyboard Cases 2022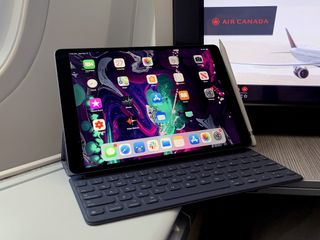 (Image credit: iMore)
While it is no longer the latest and greatest, the iPad Air 3 (2019) still gives you plenty of pro-level performance and features for a mid-level price. Plus, if you don't like the new design of the iPad Air 4, the iPad Air 3 is still available from some retailers and offers terrific value. But if you are looking to become even more productive, you're going to need one of the best iPad Air 3 keyboard cases. Here are some of our favorite options that you can still pick up right now. And if you need some extras, don't forget to check out the best iPad Air accessories.
Be productive with the best iPad Air 3 keyboard cases
Why you can trust iMore Our expert reviewers spend hours testing and comparing products and services so you can choose the best for you. Find out more about how we test.
The iPad is one of the best tablets out there, and the iPad Air 3, while older, is still a great choice if you're on a budget. It's still plenty fast with the A12 Bionic chip, works with the Apple Smart Keyboard and Apple Pencil (1st-generation), you get up to 256GB of space (which is plenty for most), Touch ID, and more. And if you plan to use your iPad instead of a laptop, then having the best iPad Air 3 keyboard case helps you get the most out of your machine.
Out of the available options, we prefer the Apple Smart Keyboard Cover (opens in new tab). The iPad Air finally has the Smart Connector port, so why not use it? Plus, the Smart Keyboard is super portable and convenient, and it's made from a comfortable material that is fun and comfortable to type on.
If you want a bit more variety out of your purchase, you should go with the Finite Keyboard Case (opens in new tab). It comes with a built-in Apple Pencil Holder, and it has anti-slip, rubber-lined material to keep it safe and secure. Plus, it comes in so many different color and pattern options; you can pick the one that suits you best.
But for those who want an iPad Pro-like experience, we recommend the Logitech Combo Touch Keyboard Case (opens in new tab). The addition of the trackpad makes it easier to navigate through everything on your iPad Air, turning it even more into a laptop replacement. It's the closest that you're going to get without forking over the cash for an iPad Pro with Magic Keyboard combo, and it can even hold your Apple Pencil when it's not in use. For a closer look, check our Logitech Combo Touch Keyboard Case review.