What keyboard cases will fit the 2017 12.9 iPad Pro?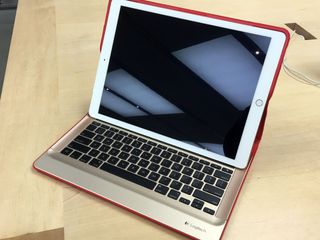 If you've purchased the 12.9-inch iPad Pro, chances are you're looking to do work beyond the occasional viewing of a film or playing of a game. And should you plan to use your machine professionally, you'll likely want to pick up a physical keyboard to augment your workflow.
Note: Though the second-generation 12.9-inch iPad Pro hasn't changed in its dimensions, camera improvements have altered the positioning of both the rear camera and its flash. As such, if you plan on using your iPad's camera, you may have to buy a new keyboard case. All the options below fit the second-generation 12.9-inch iPad Pro; we've noted if they interfere with the camera system.
Hardware keyboards are great for iPad power users who need to write more than the occasional tweet or email: With one, you can take control of iOS's built-in keyboard shortcuts, navigate more efficiently through text, and type like a speed demon. Some keyboards also offer additional features like function rows to save you a swipe or two through Control Center to change your brightness, volume, and more.
Here are the keyboards we've confirmed work with the second-generation 12.9-inch iPad Pro.
Smart Connector Keyboards
Why you can trust iMore Our expert reviewers spend hours testing and comparing products and services so you can choose the best for you. Find out more about how we test.
If you want the simplest way to connect your iPad to a mechanical keyboard, the Smart Connector is hard to beat. You don't have to worry about Bluetooth, nor do you have to charge or connect your keyboard — it automatically pairs when you snap it to your iPad.
Unfortunately, these models come with a few drawbacks: They're often more expensive than a stand-alone Bluetooth keyboard or keyboard case, and even in 2017, there are really only three options: Apple's Smart Keyboard, Logitech's Slim Combo, and Logitech's Create.
Apple Smart Keyboard
Apple's 12.9-inch full-size keyboard attaches to the iPad Pro using the Smart Connector and allows for charging and a two-way exchange of data — no Bluetooth required.
The $169 Smart Keyboard also folds into a slim, lightweight cover to protect the iPad Pro's screen when not in use. Its woven fabric keys do take a slight adjustment period, but as long as you don't mind the texture, you'll be typing away in no time.
Because the keyboard only provides a front — rather than a rear — cover for the 12.9-inch model, this keyboard will work with both the 2015 first-generation and 2017 second-generation 12.9-inch iPad Pro.
See at Apple (opens in new tab)
Logitech Slim Combo Keyboard Case
Logitech's latest Smart Connector case for the 12.9-inch iPad isn't as simple to use on laps as its predecessor, the Create, but it offers more features, and at a lighter weight, too.
Our review of the Logitech Slim Combo
The new $149.99 keyboard case weighs 1.41 lbs compared to the 1.6 lbs of the Create, shaving a little weight off by splitting it into two distinct pieces: the top case, and the bottom keyboard case.
The top case wants to be a Microsoft Surface when it grows up: It offers an adjustable kickstand for multiple-angle viewing — great for desk use, but not so comfortable when using the iPad on a lap or softer surface. There's also a simple fabric loop at the top for the Apple Pencil, though it leaves the Pencil (and its cap) vulnerable to being banged around in a bag or snagged on outdoor elements.
The rear keyboard case snaps to the iPad Pro using a flexible fabric ribbon Smart Connector, which allows the backlit keyboard to stay connected at multiple angles — an improvement on the Create's single angle workspace.
The keyboard is as excellent as ever, with a full range of function keys; the 12.9-inch model also offers a fold-back panel to both elevate the keypad and keep the rear footprint from being too massive on a desk.
See at Logitech (opens in new tab)
Logitech Create Backlit Keyboard Case
Logitech's Create keyboard case hasn't been updated for the second-generation 12.9-inch iPad Pro, but the 2015 version still works for most use cases. (When snapped into the case, you'll block the iPad's rear camera flash.) While a bit heavier than the Slim Combo and lacking a Pencil carrying option and multiple viewing angles, the Create offers an all-in-one solution that works better on laps — and saves you from having to carry around multiple moving parts.
Like the Slim Combo, it offers an excellent way to type — even in low-light environments. The backlit keyboard attaches to the iPad Pro's Smart Connector for an easy powered connection, while the rear case protects your iPad from drops, scratches, and other scrapes. It is a bit heavy — the case and iPad combined weighs just over 3 pounds — but more than makes up for it with its feature set.
Our review of the Logitech Create
The $149.99 Create's biggest "pro" feature is its function row: Like the Slim Combo, it offers a full set of keys controlling screen brightness, play controls, search, and more.
See at Logitech (opens in new tab)
Bluetooth Keyboards and Keyboard Cases
Though these keyboards have to be charged on occasion, they often offer a cheaper entry into the world of physical iPad keyboards, and are usually lighter and offer more viewing angles than their Smart Connector brethren.
Apple Magic Keyboard and Canopy Case
Apple's $99 Magic Keyboard is a simple choice for iPad users looking to type on their iPad, but not a poor one. For one, if you have an iMac, you likely already have a Magic Keyboard lying around. It connects via Bluetooth to your iPad, offering a half-pound typing option with a rechargeable battery that lasts over a month.
You can even pair it with a carrying case that doubles as a stand if you're interested: Studio Neat's $40 Canopy offers a synthetic canvas and microfiber stand that both protects your keyboard when not in use and sets up as a nice prop for working with your iPad at an angle.
And because the stand doesn't protect or block the rear casing, you can easily move your iPad out of the Canopy and use its rear camera.
See at Apple (opens in new tab)
Keyboards we considered
There are a number of other keyboards for the 12.9-inch iPad Pro out there that we considered for this roundup, but inevitably discarded due to fit, finish, weight, or reliability issues. Those include:
Razer Mechanical Keyboard Case: The Razer case fits the second-generation 12.9-inch, but blocks its flash. It's also the heaviest of all the cases we considered.
The Brydge

(opens in new tab)

: The Brydge fits the second-generation 12.9-inch model, but has struggled to build reliable keyboards; several people I know (including Six Colors's Jason Snell received defective models at first.
Your favorite 2017 12.9-inch iPad Pro Keyboard?
Found a second-generation 12.9-inch iPad Pro keyboard case that you love and that fits the device well? Let us know in the comments!
Get More iPad
(opens in new tab)
Get the best of iMore in in your inbox, every day!
Serenity was formerly the Managing Editor at iMore, and now works for Apple. She's been talking, writing about, and tinkering with Apple products since she was old enough to double-click. In her spare time, she sketches, sings, and in her secret superhero life, plays roller derby. Follow her on Twitter @settern.
I purchased the smart keyboard but have to wait one to two weeks for it to arrive. my biggest question is whether it has an angle for drawing, versus the "laptop" angle and the "viewing" angle. The Logitech "create" looks great!

I don't believe it has an "official" angle for drawing. Maybe you could prop it up in such a way, but just wanted to give you a heads up! I could be wrong.

Calling something a favorite without having used it is not really possible. For me the Apple keyboard is out. No backlit keys, no function keys and only one angle... That's quite pathetic for the price. I'd rather use the virtual keyboard then. Will definitely give the Zagg model a try, it is the only one having the features I want (backlight and multi-angle), and since it is not some case as well, it is easy to remove for the many times I do not need or want a keyboard at all.

I have used different kinds of keyboards for my iPad Air and then the iPad Air 2. All of them had problems. If it was a good keyboard; it didn't have backlit, was not adjustable, was bulky, was uncomfortable to use on lap and couldn't use as a protector. I found Zagg Slim Book an all-in-one keyboard. It is adjustable, can be used in tablet mode instantly whenever you need, high quality keyboard, protector, backlit and is the most comfortable to use on your lap. I have been using it with iPad Air 2 like a pro. However, the only disadvantage for the iPad Pro is that you have to connect it via bluetooth, whereas you have the advantage to use the connector on the iPad Pro with Logitech and Apple's own. I would totally recommend the Zagg Slim Book for the iPad Pro if you want to replace your laptop especially when it is on sale for $97 on Zagg's website.

I bought the Logitech keyboard this morning when I picked up my iPad Pro. I'm still on the fence about it. I absolutely love the keyboard itself. But it's pretty bulky and heavy, and it's a pain to get the iPad it in and out of it. they didn't have any Apple keyboard cases in stock, but they had a demo model I was able to play with for a minute or two. I liked it more than I thought I would, but the keyboard definitely isn't as nice. And I hate that it's only available in dark grey. Laura

"it's a pain to get the iPad it in and out of it. " This is why I hesitated and decided not to get the Logitech. I am probably just going to get a blue tooth keyboard and see if my iPad kickstand supports the Pro.

The Zagg looks like it might be the one I'd be most likely to buy. I have a Zagg for my iPad Air that I've been using near 2 years. It's served my meads well during this time. I like that I can quickly slip the iPad into place, it opens and functions like a laptop keyboard in that the viewing angle is adjustable just like on a laptop, quick and simple to remove the keyboard from the iPad, and the backlit keys option is there when needed, turn it off if not needed, pick from multiple colors if you like.
It appears they're doing all of this with the new iPad Pro keyboard too.
If there's a down-side, it could be slightly thinner and light. But there's usually a trade-off, so...we have choices.

What I'd like to see is a keyboard that also provides a touchpad area as well as keyboard. I know, that may sound stupid considering the iPad provides on screen touch, but I think there may be good use cases with this idea, and it definitely would help with making the iPad Pro even more of a viable laptop replacement. Is this even possible? Sent from the iMore App

re: all the keyboards that use the smart connector, It's pretty obvious, just looking at the taller size of the iPad Pro (vs the MacBook Air/Pro), and the close proximity of he keyboard to display, that this is going to cause cervical strain as well as eyestrain as you try carne you head view the top of the display in a very awkward way. This is like sitting on 6th row at a movie theatre after all the best seats are sold out. These just "don't work". It's another example of Apple trying to dictate, from its lofty perch, a new concept that is highly questionable similar to what's its done w/the throughly unsatisfying MacBook keyboard with its absurd lack of key travel. Here w/the smart connect and rigid uncomfortable angle, it combines the worst of both worlds. The Zagg keyboard is detachable and expensive. The best keyboard for the iPad Pro is one not even listed here, the very flexible and satisfying Logitech Bluetooth K11 with a list price of 99.00 which can be had for less on eBay. At least with that you can customize the location the IPad Pro so its taller size can be customized to the neck of the user. That also means the user needs to buy a stand that can adapt to multiple angles. My view is that the primary use of this device is `1) content "lean-back" consumption and 2) drawing and sketching. Sure you can answer emails on it, but for getting real work done such as using Microsoft Office you need a robust desktop OS.

That may be your opinion, and that is fine. It's just no fact. I have not used a laptop since the first iPad came out in 2010. And I wrote more than 7,000 pages worth of business reports on the various iPads since then, do all my correspondence on them, access and manage our company servers from them, created numerous presentations, mind maps and business graphics and process models on them... And even being 58 years now, I neither have neck pain, nor any other problems. I do occasionally fire up my iMac to edit videos in Final Cut, or run a Windows or Linux VM when needed, but that is nothing I would do on the go anyhow. No idea what I would need a desktop OS for otherwise. (And, on average, iOS has proven to be far more robust than most desktop OSs, Solaris excluded.)

Wow dreyfus2! It sounds like you've already taken the journey I'm considering... I'm fed up of bad hardware and software glitches soaking up weeks of maintenance time every year and am thinking of ditching the whole laptop thing - Win 7 or Mac OS - for a purely iPad world of business. Quotations, Invoices and Report for domestic heating business. Saw the Apple promo video showing an American lawyer moving over to 95% iPad usage for work, and given the UK Which Magazine's result of Apple. Apple, Apple and Apple hitting top of the reliability charts in all four categories of personal computing, it seems that this might really be the way to reclaim huge chunks of my life ! Apart from selecting the right keyboard for the iPad Pro 12.9", I'd be interested to hear how you dealt with storing more than 256GB of business documents, doing backups in case the iPad is stolen, managing on-screen life without a cursor or mouse, forward deleting words, etc....? George, advanceheating on that googul maele thingy.

Are you having any trouble with the bluetooth connection? I can no longer get iPad Air or Air 2 to connect to keyboard/covers since iOS 9.1.
9.2 is not better.
It's just ridiculous...and I use bluetooth all the time with other products...no problem.

Really ? I can get "real work" done just fine with Word, Excel and PowerPoint for iOS

The iPad Pro is garbage. Save your money.

Garbage ? How is that would you explain !

I've been very happily using the Amazon Basics KT-1081 Bluetooth Keyboard for iPad, IPad Mini, iPhone (I paid $40 but I see now it's only $25.99, which is a steal) for a couple of years with my iPad 3 and iPhone (am using it right now in fact) and consider it the ideal solution. It's inexpensive, extremely light, is about 85%the size of a full-size keyboard (plenty big for me and I have relatively big hands), is very responsive, and the keys have a very nice touch. It's black, which goes pretty much with anything. It also has a complete set of function keys, which is nice. I used it extensively while in China last March writing an illustrated blog using OneNote, and I used it to edit documents in Pages with tracked changes turned on to edit documents for a solar company. I just set up my iPad with its Smart Cover and position it and the keyboard in any configuration I like. Works like a charm. I carry the keyboard, my iPad, and any other accessories (like the charger) around in a very handy bag made by Ful (ful Side Car iPad Messenger bag, $25.49 on Amazon). This bag might be big enough for the iPad Pro but I'm not sure.

I should have mentioned that the keyboard takes two AAA batteries that lasted a year and a half before needing replacing.

Apple Smart Keyboard will be the best.

It looks like neither the Apple Smart Keyboard or the Logitech Create Keyboard Case has an FN key, so they won't support a FN+DELETE to do a forward-delete?
Is that right or is there a different key combination to do forward-delete?

This case for 360° viewing: http://targus.com/us/versavu-premium-360-rotating-case-for-ipad-pro-black
and the Apple Magic Keyboard, is the way I am going. I carry my MacBook Air 11 inch with my iPad Pro in my shoulder bag, using the iPad as a second screen for my Air, with AirDisplay, thinking about DuetDisplay btw. I think throwing the Magic Keyboard in my bag, in case I feel like just using the iPad would be fine. I have to have 360° viewing on my iPad and I am not going to take it out of the case and put it back in the case over and over. I probably won't ever use the Magic Keyboard if I take the Air 11 with me which will be 75% of time, but j.i.c...

This is the same setup my wife and I are using. I like the Targus Versavu cases because you can easily go from landscape to portrait views and I like the extra protection that this case provides. They are attractive and I don't mind the extra thickness. My wife has the same case on her iPad Air so getting another one for the Pro was an easy decision. I already had the Apple Magic keyboard so will use whenever I feel like typing a lot on the Pro. My wife likes the new virtual keyboard on the Pro because you no longer have to toggle for the number keys and she doesn't care about keyboard cases. The keyboard case that I use on my iPad Air is made by Belkin but unfortunately they haven't released an iPad Pro version yet. I'll hold out for Belkin as it was my favorite of all the iPad Air ones available. My primary laptop is MB Pro 15" and I'm not looking to use the iPad Pro as a full-time replacement.

I just returned the Logitech Create yesterday before my 14 days ran out. Had it since day 1 but just could not deal with weight. Put an order in for Apple Smart Keyboard and it arrives late Dec. Using a separate Logitech bluetooth keyboard in the mean time and 12 South stand I had from original iPad.

My comment are about the logitech keyboard for the ipad pro, lots of goos features, keyboard easy to use, great lighting, and good connection to ipad pro.
downside lack a range of angles for keyboard, hard to put keyboard away so can draw on table. Needs a mouse touchpad as part of product.
If it had these features would upgrade, looks and felt more sturdy that apple keyboad.

After trying really hard to like it, I wound up returning my Logitech Create keyboard and getting the Apple one. The Logitech is a great keyboard, but the case is just so heavy and bulky, I found I was never using it. I've been using the Apple keyboard case for about 2 weeks now, and I like it much, much more. Laura

Are there any other iPad Pro keyboards that use the smart connector besides the Apple and Logitech?

I'm using the Logitech right now. When it works, I love it. It stopped working with one upgrade, but was better with 9.2. Now it works about 75% of the time. Then sometimes It just decides not to...and no matter what I do, it won't make a connection to my iPad and I'm stuck in this limbo where I have no keyboard and no on screen keyboard either because the iPad hasn't figured out the connected, but not really connected, keyboard isn't there yet. Other times, it just won't connect for hours at a time and I can't figure out why, then suddenly it will. It's picky about being on a flat surface,, so typing in bed is a challenge. You find just the right position and then don't move while you type or it stops working. I might just go back to using a Bluetooth one. It's a lot more reliable right now. I support the new technology, though, and am excited to see where it'll go.

It's been a year since this article was created, so I might as well ask the question; Do any of these kayboards offer a trackpad, or at least a set of PageUp/PageDown keys? I know the iOS supports keyboard shortcuts, but (afaik) none of them are dedicated to scrolling pages. I'd prefer having some way to scroll web pages or newsfeeds without having to take my hands off the keyboard to swipe the screen in order to scroll.

If I remember correctly (not with my iPad right now) try CMD+down arrow, or maybe OPTION+down arrow or CTRL+down arrow. Just beware that iOS keyboard shortcuts are not as universal as the mac : OPTION+delete doesn't work 99% of the time in Safari, never in Excel or Numbers, but works fine in Notes. OPTION+SHIFT+left arrow works to highlight the whole word at a time, then tap delete. Typical Apple to spend more attention on the "cute" stuff like f'n stickers in Messages rather than basic functionality. Sent from the iMore App

Well, I was a little off.
CMD+down arrow - goes all the way to the bottom of the page.
CMD+up arrow - goes all the way to the top of the page.
OPTION+down arrow - page down.
SPACEBAR - page down.
OPTION+up arrow - page up.
SHIFT+SPACEBAR - page up.

I bought the Logitech Create when I bought my iPad Pro and tried using it for about 2 months before I gave up on it. It is too heavy. I may as well carry around my MacBook Pro. Having the backlit keys and the function row at the top is great, but I couldn't stand how much it weighed. I finally broke down and bought the Smart Keyboard to use when I am away from home. It doesn't have backlit keys and doesn't have a function row, but it is a lot lighter and thinner than the Create case. When I'm at home I either use the Magic Keyboard, my Logitech K380 or Logitech K780 keyboards. While I do not own the Zagg Slim Book I have played with it at Best Buy on several occasions and have found that it seems to weigh just as much or even more than the Create. It's disappointing that more manufacturers haven't developed keyboards that are slim and utilize the smart connector. I wonder if Apple charging royalties to utilize the smart connector has anything to do with this. Sent from the iMore App

umm. I thought about a smart keyboard for my next iPad, but since i don't have a desk, its on my lap when i use it i hands, not sure how well that would work.. I will admit to myself (and now undoubtedly there's also proven evidence) :( using touch is slowing me down... I can type faster on a physical keyboard.

I use the Smart Keyboard on my 12.9" Pro while it's on my lap and I haven't had a problem. The cover forms a pretty stable base, I'd say.

Check out the Brydge 12.9
https://www.brydgekeyboards.com/products/brydge_12-9_ipad_keyboard?gclid...

I personally have the Apple Smartkeyboard and the Logitech Create case for my 2015 iPad Pro and the only issue (not really an issue but a request) is that i wish the keyboard had backlit keys and media controls. i have these features with my Logitech Create but i love the sleek profile i have with the Smartkeyboard.

I tried the 10.5 with the new two-piece Logitech, too small for the lap and my large hands, and the screen was just a tad too small for my use sans spectacles. I exchanged it for the new edition of the big'n. - handing down the original and its Create keyboard to my son. I don't use the IPad for taking photos, but if I did, I'd just Dremel the hole to make room for the flash. I write for a living, and prefer typing with the iPad in my lap over sitting a desk. In the nearly two-years since having an iPad Pro, I've rarely touched my Windows or MacOS laptops. The iPad Pro is my daily driver and now with 500+GB drive space and upgrading to a cellular connection, all my field-work research and writing needs are met.
Thank you for signing up to iMore. You will receive a verification email shortly.
There was a problem. Please refresh the page and try again.