Best mileage tracking apps for iPhone: Mileage Log+, Auto Miles, klicks, and more!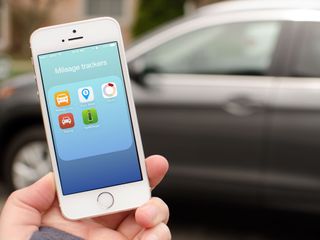 Looking for the best iPhone apps to help you accurately track mileage? Anyone who wants to be compensated for travel, be it from an expense account at work or from a deduction on taxes, knows how arduous and can be to keep - and remember to use - a written ledger. Luckily, mileage tracking apps for the iPhone can make it, if no less monotonous, at least a lot more convenient. Whether you're on the job or self-employed, need it for an expense or tax claim, or just want keep track for your own maintenance or metrics, the App Store has several options. The real question is, what mileage tracking apps for iPhone are the absolute best?
Mileage Log+
Why you can trust iMore Our expert reviewers spend hours testing and comparing products and services so you can choose the best for you. Find out more about how we test.
Mileage Log+ by Contrast, previously known as Trip Cubby, is hands down one of the most feature packed and easy to use mileage trackers around. Not only can Mileage Log+ track business miles, but charity and medical miles as well. All miles logged will automatically go by standard current IRS rates, unless you change them. Save trips you take frequently for one tap access later, enter a beginning and end point and let Mileage Log+ do the heavy lifting by automatically calculating distance, and much more. When you need to get reimbursed, simply export your reports and send them on their way right within the app.
If you want an easy to use and robust way to log, store, archive, export, and keep track of miles, look no further than Mileage Log+.
Auto Miles
Auto Miles takes the hands-off approach to tracking your miles and does it all for you by sensing when you're driving. You can then rest assured that every mile you track is updated and available in Auto Miles. For personal trips that you don't want on an expense report, simply quick swipe to delete them. If you have an iPhone 5s, Auto Miles even uses the M7 for even more accurate tracking data. Once you're ready, just export your data to a spreadsheet for your accountant or for reimbursement from your employer. You can log up to 100 miles for free, after that you can upgrade to full version of Auto Miles for a one time in-app purchase of $4.99.
If you don't remember to log miles, let Auto Miles remember for you.
klicks
klicks is all about fast input. Launch klicks, start typing in the end destination, tap on it when it populates the search field, and go — your current location is used as the starting point. You can add reasons for travel, change rates, etc. and once you're done, add it to your log. klicks also automatically records the return journey for you if you have the option enabled it settings. klicks supports exporting trip reports by emailing a .csv to any recipient you want.
If speed is more important to you than details, klicks is a great option.
TaxMileage
TaxMileage is strictly focused on recording mileage for expense reports. You can add multiple vehicles and different companies, and use optional GPS to make tracking trips even easier. TaxMileage also attaches decent looking route maps to the entries you make. TaxMileage is free to use but expense reports cost extra. Plans start at $9.99 a year and go up from there.
If you're a contractor or find yourself submitting expense reports to multiple sources, go with TaxMileage.
Triplog
Triplog is a way to track travel automatically with no additional input required. If you're starting a trip, just open Triplog and start driving. You can also track fuel cost to see exactly what you're paying and get a better overall picture of what kind of fuel economy you're averaging. Triplog also has a great search feature that uses Google Places to give even better results. Triplog also offers iCloud sync of all your data for easy backup and sync. The Triplog app itself is a universal download for both iPhone and iPad.
For anyone who is concerned with tracking fuel economy and the set it and forget method of mileage tracking, Triplog is worth a try.
Your picks for best mileage tracking apps for iPhone?
We know there's lots of you out there that travel for work frequently and bring your iPhones along. What kind of mileage tracking system do you have? Are you using any of the above apps or have you found something that suits your needs better? Sound off in the comments and let us know!
Note: Originally published July 2013. Updated, June 2014.
iMore senior editor from 2011 to 2015.
I use Trip Cubby since it does everything I need it to and I like the developer David Barnard when he's been on different podcasts.

Mileage Log + is from contrast which is the name of Davids new company

I use Car Care by Karl Becker (KB Productions). I have found this to be the simplest, best looking, and most full featured app out there. It tracks your mileage and gives graphs for things like fuel price and mileage. But, more than that, it tracks service intervals and will remind you when its time to change your oil or rotate your tires. I've been using it for years now and have been very pleased, and the creator actually responds to questions, comments, and suggestions in a timely manner.

I second cae care. How it was ommited I have no idea, simply the best. Hands down

I use Fuelly's springboard app. I know it's not an App Store app but it works well for me and is the ultra bare-bones tool for tracking milage.

I have been using Trip Miles for some time now. I only have one vehicle, and it works well.

I use Road Trip by Darren Stone. It has a lot of features plus iCloud and Dropbox sync.

Another vote for Road Trip.

I use Road Trip as well. Nice app.

I've been looking for the ultimate logbook app forever. The missing features I can't find in 1 app are:-
* Metric or Imperial measures.
* GPS logging from the iPhone
* Automatic ODB-2 integration to log start/finish mileage
* Automatic detection of fuel tank refills
It could be set up to record everything automatically, with little interaction.

I have been using taxmileage.com for a few months. After trying many others mileage apps, I liked the ability to synchronize my trips directly to their smart cloud server. The data is always available by accessing their website and there is no risk of losing the data if I switch or lose my phone. While I used other apps, I often lost trip records when I updated the other apps to a new version. I found out that cheap options will cost you more on this case.

I´ve been using TaxMileage app for a while, and I completely approve it!

Check out Road Trip by Darren Stone. I have been using it for a few years and works really well.

I didn't include it because it isn't really a mileage tracker, it's more maintenance than anything. And the older interface keeps me from recommending it. It shows the developer doesn't update often, or doesn't care to. Sent from the iMore App

True on both accounts. It is more of a maintenance app. I use it to track my fuel as well as my service on my truck and not really for mileage. Last update was Oct 2013. Hopefully he updates it to follow iOS 7's design UI.

Fuelly! But I use the mobile website for the last 4 years, but they do have an app in the App Store as well. Sent from the iMore App

I am the developer of TrackMyDrive. I am a little biased, but I think it is the best mileage tracker out there :) . I was surprised not to find it on your list. It provides a simple interface for tracking GPS mileage, a website for automatic backups. We have been around for over 2 years and have tracked over 10 million miles. Let me know if you have any questions.

I've been using a new one called EasyBiz Plus. It utilizes short cut functions to cut down the time to seconds and the export format is perfect for my tax deduction. I just click export, set the dates, and send it over to my accountant. Done. Once you get the hang of it, its really is a great app.

I am interested in a "KISS" method of tracking mileage. I started by looking at the automatic Link as a solution. No one has included comments on any other OBD-II connected device apps. Criteria: 1. Just log trips. Start from a know home location. 2. transfer to computer. Use iPhone as link or download to phone. Trips could then be tagged either on phone or in App on computer. 3. Backup to Dropbox. 4. Not require a monthly subscription. Any thoughts? or experiences?
Thank you for signing up to iMore. You will receive a verification email shortly.
There was a problem. Please refresh the page and try again.