Best music discovery apps for iPhone: Shazam Encore, Discovr, SoundHound, and more!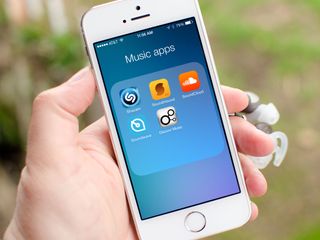 Looking for the best iPhone apps to help you grow your music library? No matter what kind of music you listen to, the App Store is full of apps that can help you add new tracks and artists to your collection. Whether you just want to tag something you hear on the radio or want to branch out and discover new music on your own. But what music discovery apps for iPhone are the absolute best?
Shazam Encore
Why you can trust iMore Our expert reviewers spend hours testing and comparing products and services so you can choose the best for you. Find out more about how we test.
Shazam Encore is the premium offering from the Shazam service. Just let Shazam listen for a few seconds in order to grab a track and artist name. The Auto Shazam feature can even listen while the app isn't open in order to grab sounds from all over. If you find a track you like you can instantly watch the music video, if available, on YouTube, purchase it from iTunes, or listen instantly on services such as Rdio, Spotify, and Deezer. Shazam even supports ads and soundtracks from your favorite shows.
For great integration with many third party apps along with support for tv ads, you want Shazam Encore.
SoundHound ∞
SoundHound ∞ is the premium version of the SoundHound service and like Shazam, lets you easily tag anything you hear that you like. The SoundHound ∞ app can also recognize humming and singing as well so even a song isn't playing anymore, you can still try and capture it by what you remember. SoundHound ∞ also integrates with iTunes Radio. Find an artist you like and instantly start an iTunes Radio station based on it.
If you prefer darker interfaces and use iTunes Radio often, check out SoundHound ∞.
SoundCloud
SoundCloud isn't just a music streaming service, but one that focuses on helping you discover new music. Aside from seeing what your friends are listening to, you can explore hundreds of unique artists in tons of different genres. SoundCloud is also one of the best places to score remixes to your favorite songs mixed by people all over the world. You can also easily record your own audio and share it to Facebook, Twitter, and more in a single tap.
If you want a free streaming service that also lets you discover tons of new music, including the best remixes around, look no further than SoundCloud.
Discovr
Discovr focuses on one thing, finding new music based on what you already listen to. Simply tell Discovr what you already like and it can recommend artists that are similar. You can then view photos and read bios as well as listen to 30 second clips of popular songs by certain artists. If a particular song has a music video on YouTube, Discovr shows you that too.
If you're looking for an easier way to find new music based on what you're already into, give Discovr a try.
Soundwave
Soundwave is made up of a community of music lovers that constantly share what they're listening to. Find other Soundwave members that have similar music tastes to you in order to discover music, both new and old, that you may not have found otherwise. Aside from following other Soundwave users to see what they're listening to, there's plenty of discussion going on among members on music. You can also rate music right inside Soundwave as well as see what your friends think of certain artists.
If you want to discover more music by networking with people who share the same musical taste, give Soundwave a go.
Your picks for best music discovery apps for iPhone?
Are you a music lover? If so, what apps do you use on a regular basis to keep your music collection interesting and fresh? Be sure to let me know in the comments!
Get the best of iMore in your inbox, every day!
iMore senior editor from 2011 to 2015.
I have to admit that Beats Audio has introduced me to so much more enjoyable music lately than just about anything in the past.

Is this list limited to only apps that 'listen' to music, or any app that helps expand your music library by suggesting other artists, etc? Although Slacker doesn't 'listen' per se, I've found it an excellent way of learning about new artists based on what I'm listening to. There have been many new artists I've discovered by using Slacker. It is just awesome for that.

I like Rhapsody because I can find new music by browsing several hundred genres and sub-genres.

I faithfully use Shazam (RED) and I'm wondering... is there any difference between that and Encore?

With iOS 8 on the horizon are these apps useful anymore? Siri will have the ability to identify songs. I'm curious how much detail Siri will spit out.