Best New Year's Resolution apps for iPhone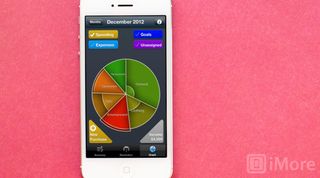 It's a new year, which means a new set of New Year's resolutions. 2013 is the year you're going to lose weight, get back in shape, get your finances in order, and get organized. Since your iPhone is with you almost all of the time, it will make a perfect companion on your journey to success and we've got a list of iPhone apps that are going to help you achieve your 2013 resolutions.
So without further ado, here they are!
P90X
Why you can trust iMore Our expert reviewers spend hours testing and comparing products and services so you can choose the best for you. Find out more about how we test.
If one of your goals for 2013 is to get in shape, the popular fitness program P90X may be something you're considering. With the P90X companion app, you can 'Bring It' to your iPhone and even get a discount on the DVD program. P90X for iPhone lets you schedule and track your progress and purchase guided workouts. All workouts can be purchased for $60, or you can buy them individually for $6.99 each.
Yoga Studio
Looking for a gentler workout program than the intense P90X workout? Yoga Studio for iPhone includes 30 unique yoga classes in 3D video ranging from 15, 30, and 60 minutes in length. The abilities include from beginning to advanced and focus on strength, flexibility, relaxation, balance, or a combination of all four. With over 280 poses with photos and detailed information, Yoga Studio is sure to have you mastering yoga and improving your health in no time.
Lose It!
In addition to working out, your diet has a significant impact on your overall health, and Lose It! is a great app for keeping track of what and how much you eat. It features a huge database of food and drink so that you can accurately track your calorie intake and you can also create your own recipes of foods that you eat. Even if you don't need to lose weight, Lose It! is a great way to make sure you're eating healthy and not on a track that will cause you to gain weight.
Mint.com Personal Finance
Money, you love and hate it, and this is the year you're going to get your finances on track and learn to better budget your spending. Mint.com Personal Finance is an excellent app to help you reach your goal. Available on the iPhone, iPad, and web, Mint.com allows you to track, budget, and manage your money from anywhere. Simply add your bank, credit, loan, and retirement accounts and Mint will categorize your transactions, produce graphical representations of your spending, send you reminders when bills are due, and more.
Budget with Back in Black
Another great app to help you with your finances is Budget with Back and Black. It breaks down your finances to the essentials, one month at a time, and looks amazing while it does it. One of the great features of Back in Black is the ability to set savings goals and set up monthly installments and reminders to keep you on track. Back in Black will also organize your spending into categories, let you view your monthly history and budget balance, and more.
Fantastical
Part of having an organized life is to keep a dedicated calendar. It can be easy to leave items off your calendar because of the time it takes to enter new appointments, but not with Fantastical. Fantastical is a calendar app with a unique entry system that allows you to simply type in new appointments in everyday language. "Meeting with Rene next Tuesday at 3p" is all you need to type and Fantastical will take care of the rest and fill out all the appropriate fields for you. Super fast. Super easy.
Clear
If you need more organization in your life, Clear is an excellent app for making and keeping track of lists. It's especially awesome for those who are new to list-making world because it's incredibly simple and fast and not a chore. It also features a gorgeous, gesture-filled UI that actually makes list-making fun.
Evernote
Evernote has been a favorite of organizers and note-takers for ages. With Evernote, you can take notes, save photos, create to-do lists, record voice reminders, and make them all completely searchable and accessible from any device. Many other apps and products also integrate Evernote so that you can easily share data and information from other places into Evernote. Evernote is accessible from just about any mobile device, including the iPhone and iPad, and the web.
30/30
If managing your time more efficiently is a goal of yours for 2013, 30/30 is an excellent time manager for your iPhone. You simply set up a list of tasks and a length of time for each of them. When you start the time, 30/30 will tell you when to move on to the next task. This is especially awesome if you're self-employed.
Day One - Journal
Day One is a journalling app for the iPhone, iPad, and Mac that will help you save your memories, ideas, events, and photos, and keep them synced using iCloud or Dropbox. Long are the days of keeping handwritten journals that can be lost, stolen, or destroyed -- with Day One, your journal is safe in the cloud, easily searchable and sharable, and very beautiful.
Your favorite New Year's Resolution apps?
We admit that this is just a small list of all the amazing apps out there that can assist with keeping your goals this year, so please let us know what we missed and what you're using on your iPhone to ring in the new year. What are your resolutions for 2013?
Get the best of iMore in your inbox, every day!
Former app and photography editor at iMore, Leanna has since moved on to other endeavors. Mother, wife, mathamagician, even though she no longer writes for iMore you can still follow her on Twitter @llofte.
I find that MyFitnessPal is better than Lose It. MyFitnessPal contains a larger database due to allowing members to submit information. This can lead to some inaccurate information, but you can also see how many people confirm information to be accurate. During my experience with Lose It, I found that their database contained inaccurate data for fast food items when compared to the nutrition facts on the establishment's website. MyFitnessPal iTunes Link:
https://itunes.apple.com/us/app/calorie-counter-diet-tracker/id341232718...

Are you tired of going office daily? Earn 50$ per hour working from home with Google! I get paid over $87 per hour working from home with 2 kids at home. I never thought I'd be able to do it but my best friend earns over 10k a month doing this and she convinced me to try. The potential with this is endless. Here is what I've been doing, GoogleCash.fab17.c0m

Half of these apps are not available outside the NA app stores.

I just started using ChallengeLoop to help keep me in shape. They have challenges hosted by fitness bloggers and some cool prizes up for grabs: http://www.challengeloop.com/

Hi, there's a brand new quit smoking app for iPhone. It's called "Quit Pro" and basically helps you track all your cigarettes or cravings (if you've already completely quit) to better understand when, why and even where you smoke or resist the most. It then produces beautiful stats and heat maps. Give it a try. There's a demo video here:
http://www.youtube.com/watch?v=0Parndj9dZ4 And you can download the app from the App Store here:
https://itunes.apple.com/app/id336786774?at=10l3Vy

Epic Win. Absolutely. Amaaaazing to-do app, designed like RPG game. You're exping, improving stats, making your everyday needs more funny. Play with it! Make your quests - e.g. "Smash the dragon" to receive 100 XP (Not just type "Take 100 bucks from dad"), which increase your Strenght (maybe Intelligence). Plus, it has complex settings for tasks and reminders! Highly recommend! We have so much fun with it :-)

Interesting post! Let me share with you a fabulous iPhone app for sharing, watching and creating videos instantly. Check out ClipClock, the ultimate video hub for the most socially shared videos. Find out more about it at clipclock.com/download/20025.