Best Nintendo Switch games for adults 2023
Who says the Switch is for kids?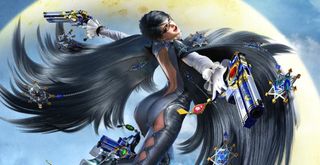 (Image credit: Nintendo)
Since its inception, Nintendo has made a concerted effort to maintain a somewhat squeaky-clean image. With the occasional rare exception, a Nintendo console has always been a place where parents didn't give a second thought about what their kids might be playing. Those days are long gone.
Nintendo is still providing plenty of family-friendly content, but the publisher is no longer opposed to having several mature titles on its system. Here are some of the best Nintendo Switch games that kids probably shouldn't be playing, but adults can enjoy right now.
Doom
The Grandaddy of gory first-person shooters has made its move into the world of Switch. Smashing Doom down to fit in the palm of your hand is quite the achievement. Just as big of an achievement is the very idea that you can engage in the splatter-fest on a Nintendo branded system.
Doom 2016 is a soft reboot for the franchise, and it plays well on the Nintendo Switch. If the idea of frenetic trigger pulling using Joy-Cons isn't appealing, consider grabbing one of the best Nintendo Switch controllers for a more comfortable experience.
Wolfenstein 2: The New Colossus
Killing Nazis doesn't need a justification, but if you want a great narrative to go with the unending violence, Wolfenstein 2: The New Colossus has you covered. Follow B.J. Blazkowicz and his friends as they attempt to free America from the grip of the Reich. You'll get a surprisingly heartfelt story of love, compassion, and desperate struggle.
You'll also get a lot of different ways to burn, impale, chop apart, melt, and shoot the Nazis that stand in your way. It's one you should absolutely play — just not with kids around.
Dark Souls: Remastered
Bandai Namco brought Dark Souls onto the Nintendo Switch, filling the platform's library with yet another classic. This game is a bit difficult for children, and if the difficulty won't scare them away, then the frightening monsters in the game most certainly will.
For anyone that's a bit older and willing to spend some time figuring out the difficult gameplay loop, Dark Souls is archetypal for a reason. The game design is fantastic, and you'll learn to love conquering foes that used to easily crush you.
Inside
Inside is one of the best games for Switch but it's also one of the most disturbing. From the creators of Limbo, Inside puts you in control of a young boy as he sneaks through a dark world populated by horrors, moving ever closer to the center of some bizarre, terrifying experiment. This puzzle-platformer seems innocent at first, but things quickly take a turn down Queasy Lane.
As a result, despite the initially-simple presentation, Inside isn't a great game for kids. If you're a bit older and have a morbid sense of curiosity, then it'll be fun to see what you find inside.
Bayonetta 1 and 2
Bayonetta pretty much does it all when it comes to the sort of things that would get you a Mature rating from the ESRB. There's enough blood, guts, and viscera to make Sam Peckinpah blush. On top of all that, you ought to be prepared for female characters that suggestively gyrate and wear outfits that leave little to the imagination.
If you buy the second game, which we reviewed and loved, physically, you'll get the first game as a free digital download. These are some of the best action games available on Nintendo Switch, so get to slaying!
Bayonetta 3
Bayonetta's first two adventures have been followed up with Bayonetta 3, which finally launched for Nintendo Switch in 2022, years after first being announced. This game introduces some big changes, with a multiversal threat, a new co-protagonist named Viola, and even new gameplay mechanics like the ability to directly control demons.
Of course, it's still a Bayonetta game, which means there are a lot of sultry scenes and skin being shown. Appropriate for kids? Even with the new "Naive Angel" mode that covers Bayonetta up, it's probably not a good choice. Adults that want a fun action game, however, should absolutely check it out.
This is the Police
Just imagine any gritty film you've watched about dirty cops, and that's what you'll find in This Is The Police. Strong language, references to drugs, and violence abounds. You play the role of the police chief as you manage a team of officers in one of the most corrupt cities you'll find.
If you're in the mood for something that's slower-paced but still meant for an older audience, then This is the Police is definitely worth trying out.
The Elder Scrolls V: Skyrim
The Elder Scrolls V: Skyrim is another title that we've reviewed and enjoyed. It doesn't lean into the gore in the same fashion that Doom or Resident Evil might, but there is still a measurable amount of dismemberment. Aside from the occasional decapitation, Skyrim does handle some fairly adult themes.
As the Dragonborn, you'll be free to do anything you want. Take part in Skyrim's civil war, attempt to stop the dark dragon Alduin, or even join a group of assassins. What matters is how you want to play.
Diablo 3: Eternal Collection
When we tested Diablo 3 hands-on, we found ourselves literally fighting through the forces of hell. Some nasty, scary demons are out there trying to wrestle power from the heavens. Your job is to stop them before they destroy the world, with a wide variety of skills and rare items to help you do that. Blood and gore are aplenty — and the dark tones presented throughout this game will surely keep your kid up at night.
For everyone else, Diablo provides an awesome hack-and-slash roleplaying experience. So choose your favorite class and start collecting loot as you butcher hell's armies.
South Park: The Fractured But Whole
If the name of the game or your own personal viewing experience hasn't already tipped you off to its gaucherie, then we'll just tell you: South Park is not a game for children. It certainly looks the part on the surface, but you wouldn't want your tykes becoming friends with these little miscreants.
Once you get past that, however, you'll find a genuinely compelling RPG, with plenty of fun poked at both the titular show and other role-playing games alike.
Alien: Isolation
The Nintendo Switch might not be flush with first-person shooters, but the ones that it does have are some really heavy hitters. 15 years after her mother left, Amanda Ripley returns to the Sevastopol station to find out what happened to her mother. Of course, there's a greater threat lurking in the shadows.
Naturally, being a part of the Alien franchise, Alien: Isolation features some salty language and gore that isn't appropriate for kids. Even if you're older, beware, as the Alien's AI is extremely good and can be quite frightening as it stalks you across the station.
Metro Redux
Metro Redux is a double collection that includes the definitive versions of Metro: 2033 and Metro: Last Light, and all of the DLC. Approach the campaign in different ways with two unique play styles. Try Ranger Mode to remove your HUD and UI for the ultimate immersive experience.
With scary mutant creatures, violence, harsh language, and nudity, these games are hardly suitable for kids to play. But if you're looking for some solid first-person shooters to play on Nintendo Switch, definitely try out Metro Redux.
The Witcher 3: Wild Hunt
The Witcher 3: Wild Hunt is another massive game we tested and loved, with literally hundreds of hours of gameplay, so you may be shocked to learn that the entire game, as well as all of the DLC, is included in one cartridge.
The Witcher 3: Wild Hunt is also a dark fantasy role-playing game. Sex, nudity, violence, and gore flow like mead at a party, making this a must-play for anyone that wants an experience where there are no easy answers.
Saints Row 4: Re-elected
Nintendo Switch owners might not have a new Grand Theft Auto game on their system, but they've got the next best thing. Saints Row 4: Re-elected is a game that has it all — aliens, guns, fast cars, superhero powers, and good ol' fashioned American politics.
Being something of a high-octane satire for Grand Theft Auto, this is definitely a game to play if you need to just at the ridiculousness of everything.
Bulletstorm: Duke of Switch Edition
Bulletstorm is an exhilarating first-person shooter that rewards your kill count as well as your style. Defeat your foes with flair, and double down on the bravado with the Duke Nukem DLC. Play the entire campaign as Duke Nukem, with new voice work from the original voice of Duke Nukem himself.
Between Duke Nukem and the original hyper-violent content of Bulletstorm, it should be clear this is meant to be a game for adults. Do you fit that demographic? Give it a whirl!
Resident Evil Triple Pack
There are so many great Resident Evil games on the Nintendo Switch that it is hard to recommend just one, so we'll recommend three. This Resident Evil Triple Pack includes Resident Evil 4, 5, and 6, the most action-packed entries in the series.
All three games can get quite gory though, as zombies, parasites, and other bioweapons attempt to kill everyone and everything. If you want the most (literal) bang for your buck, this triple pack will give you three new games to get through.
BioShock Collection
The BioShock franchise takes players deep under the sea and high up into the sky. These games can be heavy, dealing with dark political themes and ideology, from libertarianism to the pervasive nature of racism. There's also some scary stuff, particularly with the Slicer enemies in the first two games.
If you're interested in some experiences that'll make you think and debate, however, grab the BioShock Collection. Just be aware that not everything may be as it first appears.
Dead by Daylight
Dead by Daylight gathers some of the greatest horror icons from movies, television, and video games, and drops them in an asymmetrical multiplayer arena. Play as one of four survivors and try to make it out alive, or play as a killer and hunt them all down.
It's a spooky multiplayer game, but it can be fun whether you're playing with friends or just random players online. Just be sure you're not averse to gore before you start playing.
Dragon's Dogma: Dark Arisen
Including all of the DLC and the Dark Arisen expansion pack, Dragon's Dogma: Dark Arisen is the best way to play this massive adventure. Just how violent is it? Well, you'll start the game off getting your heart torn out. Good luck!
This open-world role-playing game is finally getting a sequel, so if you've never played it before, this is the right time to jump in.
Mortal Kombat 11
If you grew up in the '90s, chances are you're well aware of Mortal Kombat's controversial gore. And while the game has evolved into a very competent 2D fighting game, the very bloody fatalities have stayed the same. The Switch version is downgraded visually but maintains rock-solid performance.
With all the characters and DLC now available for purchase, this is the perfect time to jump in and rack up some bloody fights, whether you're a longtime fighting fan or a curious newcomer.
Return of the Obra Dinn
Return of the Obra Dinn is a first-person mystery adventure based on exploration and logical deduction, with an old-school style that's reminiscent of the monochromatic visuals of the Gameboy. What seems like an inexplicable ghost ship at first is truly hiding many secrets.
This may not be everyone's cup of tea, but for those that appreciate detective stories, this is a mature mystery best suited for a dark and stormy night.
Doom Eternal
You might not think it possible for a game to be more action-packed and hyper-violent than Doom 2016, but developer id Software disagrees.
As Hell invades Earth, the Slayer is tasked with saving humanity and ending the demonic threat, permanently. It took a lot of work, but with the help of porting studio Panic Button, the complete Doom reboot story can now be played on Nintendo Switch!