Best Passbook compatible apps for iPhone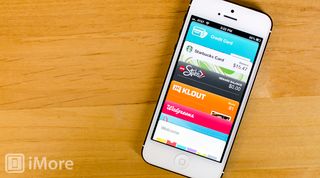 Passbook can be an incredibly useful tool for storing all kinds of things from boarding passes to loyalty cards to gift cards and more. Unfortunately, the App Store doesn't make it so easy to find apps that are Passbook compatible. While there is a list, it isn't updated very frequently and misses a lot of hidden gems that ourselves and many of our readers have found over the past few months.
So if you're itching to add more items to your Passbook and find an actual use for it, here are our favorites:
Starbucks
Why you can trust iMore Our expert reviewers spend hours testing and comparing products and services so you can choose the best for you. Find out more about how we test.
If you are a frequent Starbucks customer, the Starbucks for iPhone app is a great way to keep track of your rewards and pay through your iPhone and Passbook. The app is free and you can link any gift cards or loyalty cards directly through it. From there you can reload your balance, merge cards, and most importantly, add your pass to Passbook for easy access.
The Starbucks app includes location services support as well which means your pass will simply pop up whenever you're within the vicinity of a Starbucks location.
BillGuard
BillGuard is a service that helps you monitor and track transactions on your credit cards. You'll receive notifications of suspicious transactions as well as updates on balances if you have notifications turned on. BillGuard does all this natively but also has excellent Passbook support. The cards that you'd like to monitor or quickly view balances for can easily and quickly be added to Passbook.
Once added, you can flip over the pass inside your Passbook and see a summary of recent transactions. BillGuard will let you monitor and have passes for three credit cards for free. If you'd like to become a premium BillGuard member, you'll have the ability to add up to 10 cards to your BillGuard account for $9.99/month.
Klout
If you're heavily involved in social networks such as Twitter, Facebook, Instagram, Flickr, and more - you've undoubtedly heard of Klout. If you haven't, Klout basically measures your social influence online and rates you by giving you a score after you link up all your social networks. Your score will fall between 1 and 100, with 100 being the highest. Your score will fluctuate based on your online activity and you'll receive notifications from the Klout app when your score rises or falls.
If you'd like quick access to your Klout score, the official Klout app for iPhone has Passbook support built right in. Once you've signed in and got the app all configured, you can add a pass to your Passbook. It'll show you your current Klout score at a quick glance as well as give you a QR code that your friends can scan to access your Klout profile directly from their devices.
AMC Stubs
A lot of theaters (at least state-side) are run by just a few large companies, one of them being AMC. If you visit AMC theaters quite often and you're an AMC Stubs member, the AMC Stubs app is a great way to not only track all the movies you've went to and view your rewards history, but to quickly access your AMC Stubs membership card through Passbook.
After you've added your AMC Stubs member card to your Passbook, you'll notice it will give you a large bar code for employees to scan when you go to the movies. If you have any rewards balances that are currently unused, you'll also see that in the upper right hand corner. If your'e a stubs member and you own an iPhone with Passbook support, this download is a no-brainer.
Square Wallet
Square is becoming one of the easiest ways to pay with large chains like Starbucks now accepting it. It's also a very convenient option for small businesses. One feature that a lot of users may overlook with Square Wallet is that you can send other Square Wallet users gift cards instantly. Just find the place you want to send someone a gift card for, choose the gift card option, enter an amount and message, and off it goes.
The receiver will then have the option to store that gift card in their Passbook until they're ready to use it. The same holds true if you've received gift cards to merchants through Square Wallet. You can add them to your Passbook eliminating the need to launch an app in order to use them.
Your picks?
There are lots of Passbook compatible apps out there and while these are our favorites, we know that you, our readers, are App Store ninjas as well. Let us know what your favorite Passbook compatible apps are in the comments below!
Get the best of iMore in in your inbox, every day!
iMore senior editor from 2011 to 2015.
Target is awesome, because you have your mobile coupons right there

I might have to actually use Passbook now that there are more apps using it.

i used cineplex a couple months ago,pretty cool

This piggy backs off of what Rene's article was about earlier today. Apple really needs to do something with this app. I mean when I saw it announced I was extremely excited but it has fallen short of what it could be. I have tried to use it but just like Siri I have yet to incorporate it into my daily life. I do like this article it definitely brought to light some things I didn't know about.

Without support for 1D barcodes (I read that they won't typically scan off a phone with older barcode readers) I have had little use for Passbook. The cards in my wallet are almost entirely unsupported and all 1D bar codes. I too was excited about this app only to have it fall short. Target is the one exception I've tried and getting the mobile coupons into Passbook is too much of a pain. [edit] I tried Google Offers once. It was easy to use except the cashier thought I was putting her on when I asked her to scan my phone.

This. That's my big issue. Things i have cards for aren't supported and normally it's a scanner issue. I use starbucks occasionally but the actual starbucks app does the same and more like adding money so i don't delete it and use it in lieu of passbook. But i have loyalty cards for 4 local grocery stores, Ralphs, Albertons, Sprouts, And Vons. None of my local stores can scan a barcode off a phone. Luckily i just use my phone number but it's easier to just scan a phone but it alas i simply can't. So passbook for me is a good idea simply unfulfilled.

I like Starbucks and AMC; use them all the time. I am worried about Square. Is it really safe to use when you can jailbreak your iPhone and steal data. It's not just on iPhone, its all phones. I'm worried that anyone with a rooted / jailbroken phone could steal data. Ally what do you recommend to combat this?

I don't see it being a problem. Without your Square Wallet passcode and plus, merchants see a photo of you pop up before they accept payment (whatever you set) - if that person isn't you, a responsible merchant wouldn't accept a payment.

Really? I figured if their iPhone was secretly jailbroken or their Android rooted, they could record things like card numbers or w/e without ur knowledge?

Well, you link your card with Square Wallet ahead of time. You aren't entering your card #. Square encrypts it. Is there always a risk? Sure. But that's with any payment you process on the web, over the phone, over the web etc - but no more than any other.

OOOOOOOO...very good to know. Thanks.

I mainly use it for Walgreens & sometimes Starbucks (I usually just use the Starbucks app)

I agree with that last part stephen007 mentioned. When I try using my phone in these retail stores, the clerks look at me like I have two heads. I think it's a great step towards ecommerce, I just feel like an idiot using it (for now).

AMC? Really? Your local AMC theater must be more advanced than mine. Although all of my local theaters have advertisements saying they can scan my AMC Stubs card off my phone, none of them actually can. They just read the number off the phone and type it in. And the app itself is pretty unreliable in my opinion. I gave up trying to log in with my account on that app.

Wow, that's odd. I used CardStar before Passbook existed to store my loyalty cards (and still do for ones that aren't Passbook supported) and a lot of places scanned them before there were even "passes" per-say.

KeyRing is a way better app than passbook. Its easier to set up and compatible with more vendors! https://itunes.apple.com/app/key-ring-reward-cards/id372547556?mt=8&at=1...

I can't speak for Passbook as I find all of my needs met with KEYRING. I like that you can now store front and back pictures of the actual card you are using. So at Costco and I can show the clerk my club card using KEYRING and show my face on the card back if they want further proof that it's my actual club membership card.

I travel a lot and the SPG app works really well in Passbook.

I am going to have to start trying to use passbook.

This app really works well with my airline tickets and Starbucks, but now to discover the additional apps available may make this more appealing. I think you are right apple needs to do more about discovering this app. Thanks for the tip on the compatible apps.

I think the list confirms what I have been thinking - Passport is extremely limited still.

I don't use Passbook very often w/ the exception of at Starbucks. Was wondering about some other recommended apps. Goons try Square Wallet. Thanks for the tips.

It's probably not relevant to anyone outside America's NE rail corridor, but Amtrak's app/passbook is wonderful if you are riding the Acela (may work with the regional trains too, but I haven't tried it yet). You can purchase a ticket from the app, then send it to your passbook. When the conductor comes around to check tickets, they can now scan your directly from your phone.

Thanks sooooo much for this post! I've been meaning to download more apps just strictly to use the Passbook app (maybe to seem cool ha) but couldn't really find any necessary for download besides Starbucks. I also really like Eventbrite for concerts and other events (obvi). Was really useful for SXSW (music, film, digital festival) in Austin, TX too.

Apple has failed to direct consumers to their Passbook product and to utilize a great feature. Thanks iMore!

I think I might have to try out Square Wallet.

Shopkick- rewards can be put straight in to Passbook to be scanned a lot easier than in the app itself.

United Airlines app. Boarding passes are super easy now.

Agreed! This has really been the only thing I've done with Passbook, but love it. I've been meaning to try AMC...just downloaded it.

The aeroflot app is pretty cool with integration (back and forth) with boading passes (in Passbook). Also as a reminder, no need to use app - Passes can be issued direct the from web, email or QR codes even... and then the Pass is often all you need. Here's one that includes facebook connect for a personalised loyalty pass: http://abba-java.com/loyaltypass

I am about to kill this app off my phone. I have found no useful application that I can use so far. It does not have any of the airline apps that I would use to fly with such as KLM, Emirates, Swiss Air. I can't load any of my store cards or reward cards. The only app I can use on this app so far is Starbucks and even that they would not accept at the motorway service in the UK. So overall, I am very dissappointed. I was really hoping to have my reward cards linked, store card and travel tickets, cinema etc etc. In my view, somebody did a very good sale on apple to get this app through but they seem to lack the follow up to get anybody else interested. What a shame.

I gone through, and read every comment, and I've noticed a common thread, everyone seems to blame apple for the lack of compatibility of apps and passbook. I think the misconception here is apple has nothing to actually do with the compatibility of apps and passbook. Apple has done there part and allowed developers to make there apps compatible with passbook, but its up the the app developers to make the app work with passbook. Not that this really matters, but I will agree with a lot of you and say, I enjoy the apps I do use with passbook but would love to see other developers (companies) who accept mobile payments integrate there product with passbook. I personal also would like to see Apple add a setting to hide passbook compatible app from the spring board, after all you can access them from passbook already so why take up the space. Oh wait i'm jailbroke so I can already do that mainly. ; )
Thank you for signing up to iMore. You will receive a verification email shortly.
There was a problem. Please refresh the page and try again.