Best photo extension apps for iPhone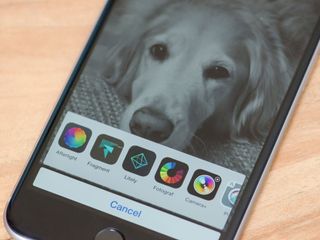 Photo extensions mean you no longer have to jump from image editing app to image editing apps, opening and saving as you go, hoping you never make a mistake because there's just no going back. Instead, you simply open Apple's built in Photos app, tap the photo extensions button, and all the filters and effects you've installed from the App Store instantly become available to you right where you are.
All you have to do is enabled them first. Oh, and find them. That's where this list comes in. If you're looking for the best iPhone apps for photo editing, here they are!
1. Afterlight
Why you can trust iMore Our expert reviewers spend hours testing and comparing products and services so you can choose the best for you. Find out more about how we test.
For easy edits
Afterlight is simple to use and contains all the filters and effects you need to quickly fix up almost any photo on the go. If you're just starting out with photo extensions, start out with Afterlight.
2. Flare Effects
For pizzaz plus
Flare Effects offers a carefully curated selection of 20 filters that are both original and eye-catching. If you get the companion app for Mac, Flare 2 (opens in new tab), you can also create your own custom filters and that makes Flare Effects even more powerful.
3. Camera+
For advanced editors
Camera+ offers everything from basic to advanced editing tools, filters, and a featured called Clarity Pro that can really makes your photos pop. If you want to make fine-tuned adjustments, you'll want to try Camara+.
(Camera+ also offers full manual camera controls.)
4. Litely
For subtle filters
Litely offers a great selection of tasteful, restrained filters. Some of the filters are included and you can buy additional filters via in-app purchase. You can apply the filters through using photo extensions, but if you launch the Litely app you can get a split screen views so you can compare edits before you make them.
5. Effects Studio
For image overlays
Effects Studio offers options like blending and blurring. You can apply a good selection of overlays right from the photo extension, but you can also launch the Effects Studio app for finer tuning and adjustments.
6. Fragment
For perspective play
Fragment can turn your photos into prismatic works of art with just a tap. Add frames and choose from tons of different patterns to make your photos look literally out of this world. Or out of this dimensions. Either way, Fragment is ideal for landscapes and architecture.
7. Fotograf
For classic photo filters
Fotograf offers a great selection of classic photography filters that you can tweak and tune to your heart's content. Thanks to non-destructive editing, you can apply a filter, test it, try it, tweak it, and find that perfect vintage look.
8. Pixlr
For boundless borders
Pixlr lets you not only apply overlays but borders as well. You can mix and match them on the fly to make sure you get exactly the effect you want. You can also go to the Pixlr app for editing features.
9. Quick
For meme masters
Quick lets you apply text overlays to any photo you'd like. In other words — it's a meme generator. There's a decent amount of fonts to choose from and you can change the color as well. If you want even more fonts, you can pick up a 16 pack via in-app purchase.
10. Halftone 2
For comic crafters
Halftone 2 lets you quickly apply frames and comic strip style overlays to all your pictures In order to put collages together, you'll have to use the actual Halftone 2 app. But if you just want a quick comic effect, the Halftone 2 photo extension gets the job done.
11. Workflow
For GIF generators
Workflow isn't a photo extension, but with it you can create a script that will combine photos into an animated GIF right from the action list in the Share sheet. Not only that, you can use Workflow to perform all sorts of other automations. It's pure win.
Your favorite photo extension apps for iPhone?
If you've been taking advantage of the convenience photo extensions offers, what apps do you have loaded up that support them? Be sure to let me know in the comments!
iMore senior editor from 2011 to 2015.