Best photo filter apps for iPhone: Snapseed, Litely, Mextures, and more!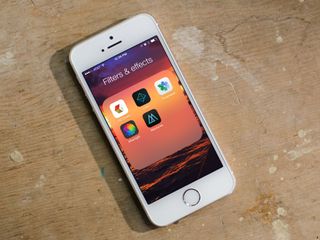 Looking for the best iPhone apps for adding filters and effects to your photos? We all share photos everyday, whether it be with friends and family or the world via a service like Instagram. If you're looking to make the best of a bad shot or make a great shot that much more creative and unique, photo filter and effect apps are what you want. The App Store has plenty of them to choose from, but which ones are the very best?
VSCO Cam
Why you can trust iMore Our expert reviewers spend hours testing and comparing products and services so you can choose the best for you. Find out more about how we test.
VSCO Cam not only works as a camera replacement app but has one of the largest and most unique collections of filters and effects you're going to find. Since VSCO Cam functions as a complete camera replacement, you've got your crop and edit tools as well. Once you're done you can choose from several already available filters or you can browse through packs VSCO Cam offers for sale. New filters and effects are added often which means you won't ever get stuck reusing the same filters over and over.
For a filter collection that never gets old, get VSCO Cam.
Litely
Litely is very much like VSCO Cam and offers a limited number of filters and effects for free. You can then choose to buy additional filter packs which will be updated regularly. Just as VSCO does, Litely can keep an entire library containing all the edits you've made. There are also basic editing tools such as vibrance, exposure, and more. As you work you can also compare your edits to the original photo with the split screen feature.
For more subtle filters and effects that enhance instead of completely change your photos, check out Litely.
Snapseed
Snapseed has been one of my favorite filter and effects apps for a long time because the possibilities of what you can create with it are endless. Two people could open and edit the same photo and come out with something completely different every time. Add multiple filters or edits over each other and keep adding to them. Once you've achieved the look you like, you can share your photo or just export it to your Camera Roll. There aren't a huge amount of preset filters to choose from but combining edits over each other pretty much acts as a custom filter creation tool.
For filter and edit tools with endless possibilities, Snapseed is a must have.
Afterlight
Afterlight has over 50 filters and 60 textures that you can add to your photos. You can layer them on top of each other, combine them with basic edits, and more. Like Litely, the filters in Afterlight are a lot more subtle than some of the ones you'll find in apps like Instagram. Combining them with basic edits can create an image that's tasteful and uniquely yours.
If having lots of filter options and textures is important to you, Afterlight should be in your photography arsenal.
Mextures
Mextures also lets you combine filters and basic edits but does it in a very unique way. If you find a blend you really like, you can save it to your formulas for use later. You can also import formulas create by other Mextures users. The Polish feature lets you tone layered images even further by adding film presets and editing presets such as exposure, white balance, fade, tint, and more. Since Mextures works as a series of layers on top of layers, you can quickly go back or revert to a previous state by just deleting a layer.
If you prefer editing in layers and want more dramatic filter effects, you want Mextures.
$1.99 - Download Now (opens in new tab)
Your favorite filter and effect apps for iPhone?
Which photo and effects app for iPhone is your favorite? If it's one of the above, let me know why. If it's a different one and I missed it, tell me all about it!
Get the best of iMore in in your inbox, every day!
iMore senior editor from 2011 to 2015.
Hello Allyson I know all the mentioned apps but you probably don´t know one I really like. In my oppinion it is the best one because the UI is nice as well as the possibilities to edit pictures.
My personal favorit is.... "Aviary" - just have a look Best regards from Germany
Tommy

I like the first three, but always land on Snapseed because I have found taking a photo works best on the iPhone but editing a photo works best on the iPad and Snapseed is best for that because of how it uses the iPad real estate.

Definitely VSCO. I came from the Analog world of films, scanners and mechanical cameras (Nikon F3HP and Fuji GW690 were the weapons of choice). And when I got my first iPhone two years ago, I went through several apps that were supposed to give analog feel to the photos but most of them are over-thought/complicated. With film there's hardly any post-processing especially if you start off with the right emulsion and a decent scanner (I was using a Nikon). I've never been a big fan over-processing. And if I had to post-process, I want the easiest route which is what VSCOCam provides. I also have Mextures on my phone. Again a simple application (if you want it to be). I just use stock and guest formulas. Sent from the iMore App

VSCO - there are lots of other mock-analogue/artsy filter apps out there (Faded, Analogue Film, Landcam etc) but IMO VSCO's filters are the most distinctive, while still looking natural, and tasteful. I also like that you can live preview the filter on the actual photos, rather than a stock pic as in e.g. Afterlight. My other favourites are Camerabag2 and Oggl. Again, varied and tasteful effects but more funky than VSCO. Camerabag2's filters are adjustable, plus you can save your own recipes and import additional filters from the Mac app. I don't like that you have to create an account to use Oggl, but you can import your purchased films and lenses from Hipstamatic and edit photos taken with other apps, which I long wished that Hipstamatic would allow. Snapseed - for frames and selective adjustments.

VSCOcam and Snapseed. Side note: "You can then choose to buy additional filter packs which will be updated regularly." What is this based on? Them telling you they will? They've updated their app once to date.

Stackables is good too. Kind of like mextures. Sent from the iMore App

Well speaking of photo filtering and forgetting about "Camera360" & "HelloCamera" is not fair. They are the best apps with awesome filters. Sent from the iMore App

Mextures has definitely been my go-to app for filters/effects... I also you it in combination with VSCO, Moldiv and Vintique

Hey Allyson,
Like your list. All of them are great but "iFilter create your own filter" is one of my favorites. It lets you design your own filter or correct presets. It's a great mix of all the mentioned apps above.
Thank you for signing up to iMore. You will receive a verification email shortly.
There was a problem. Please refresh the page and try again.