Best photo and video storage apps for iPhone and iPad: Flickr, Dropbox, 500px, and more!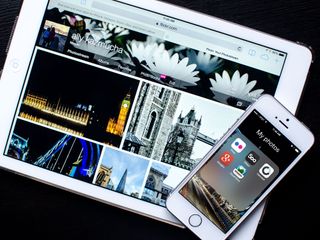 Looking for the best iPhone apps and best iPad apps to store all your photos and videos and keep them safe? Well, you should be! Pictures and videos can take up a lot of space, and for people that don't have large capacity iPhones or iPads, running out of storage is a common problem. Storage limitations aside, if your iPhone or iPad were to ever get damaged, lost, or stolen, you don't want all your memories to go with it. Luckily, the App Store has lots of alternatives. But which iPhone and iPad photo and video storage apps are the absolute best?
Flickr
You can always trust iMore. Our team of Apple experts have years of experience testing all kinds of tech and gadgets, so you can be sure our recommendations and criticisms are accurate and helpful. Find out more about how we test.
Flickr is a completely free option powered by Yahoo and gives you 1TB of storage space for your photos. Flickr also supports photo and video capture as well as upload. For folks who won't remember to upload their photos at regular intervals, just set Flickr to back them up for you through the auto-upload feature. Aside from storing your photos you can also share them with others publicly or selectively as well as check out all the amazing photos that make up the Flickr community. Unfortunately, Flickr isn't available for the iPad. You can however log in through Safari which is a passable solution until Flickr releases a native iPad app.
If your biggest concern is free storage and don't mind not having native iPad support, you want Flickr.
500px
500px is also an online photo community but unlike Flickr, you can also choose to sell your work on 500px. For free you can upload 20 photos a week or you can choose a paid plan to take advantage of unlimited uploads and tons more features. A few bucks a month also gets you unlimited private sets which means your collection is safe and for your eyes only, as long as you have a membership. Not to mention the 500px app is gorgeously designed and universally supported for both iPhone and iPad.
If you're interested in selling your photos and don't mind spending a few bucks a month for unlimited uploads, give 500px a good look.
Carousel by Dropbox
Carousel is a new app by Dropbox that automatically filters in your photos for beautiful gallery views. Like Flickr, Carousel also supports automatic uploads so you never have to remember to back up your photos. Start conversations and swap photos privately with any other Dropbox user. Like a photo they have? Instantly save it to your own Dropbox. Since Carousel is just a gallery viewer for Dropbox, whatever storage space you already have, you can use. If you're new to Dropbox, you get 2GB to start with and can pay for more as you need it.
Carousel is currently iPhone only, so if iPad support is a must, Carousel won't be your best option, at least not yet. If you're already using Dropbox and don't care about publicly sharing your photos, Carousel is a great option.
Google+
The Google+ app for iPhone and iPad features an automatic upload feature as well that lets you conveniently store your photos and videos. Nothing you upload is ever shared until you choose to share it. In order to conserve on space, Google defaults to uploading your photos at a max of 2048 pixels on the largest side. You can upload full size images from your computer but keep in mind you may need to sign up for more storage if you want to store the highest resolution photos available. Google+ also offers a lot of photo editing tools and options that are super convenient for on the fly changes and adjustments.
If you already use Google Drive and/or other Google products, Google+'s unique set of editing tools and auto-upload feature make is a fairly decent option.
Amazon Cloud Drive
Amazon Cloud Drive lets you use your existing Amazon account to log in and tap into a free 5GB for photo storage. Like some of the other options, Amazon Cloud Storage also offers an auto-upload feature so you never have to remember to upload photos. The Amazon Cloud Drive app isn't anything fancy and doesn't have many add-ons but it's super simple to use and great for anyone who just wants raw storage. Amazon Cloud Drive is also universally supported for iPhone and iPad.
If you want a no frills option and already have an Amazon account, it doesn't get much simpler than Amazon Cloud Drive.
Your favorite photo and video storage apps for iPhone and iPad?
If you have a cloud storage plan in place for backing up your photos, what did you decide on and why? Be sure to let me know in the comments!
Get the best of iMore in your inbox, every day!
iMore senior editor from 2011 to 2015.
So if I understand correctly, anything stored to Flickr can be viewed by anyone in the Flickr community?
As in: nothing is private? Sent from the iMore App

No, you can set it to keep photos private. But it's automatically set to public.

Not correct. You can change the settings so it defaults to private every single time.

I think LandRovers meant that it's set to public by default rather than automatically.

Thanks all. I need a great inline storage solution for pics of jobs we do so I can show them to other prospective clients. But people don't necessarily want there info plastered all over the net for the whole world to see. Sent from the iMore App

No. You can make pictures private and infact an entire album. While uploading its upto you to make it private or public.

I know it's not only for photos, but one drive does give you 10gbs free. That seems pretty good for photos.

This. Onedrive ( former Skydrive) is so underrated. It's almost like its Microsoft so its not cool enough. I've used other services but find Onedrive to be perfect for my requirements... let's me create and edit folders, upload automatically from Camera Roll and the layout is seamless across different Mobile OS. Recently I got a free bump of another 3 Gb and i've 10 Gb free space available now. Cool! I don't mind trying Flickr over and above Onedrive but I don't want to accidentally share things with the entire world as Flickr acts like a Social network for photos. Sent from the iMore App

Agreed as well. Although I use Flickr for my personal / family stuff, I use OneDrive for business (my domain uses Office 365 Small Business). Microsoft just recently announced 1TB of storage in a OneDrive for Business account. (Granted, it's a paid plan, but it's very affordable, and many people may actually have this and not really realize they get the free space.)

Flickr is the no brainer here - 1TB storage and full res photos makes it a very easy decision for me.

There is also Box, Mediafire, and Copy. Sent from the iMore App

Box was my go to video storage app. Now that the Flickr iPhone app allows you to upload videos, Iv'e been using that. 1TB beats Box's 50GB any day. Box is still an awesome app though.

The only problem I have with flickr is that when uploading via the app, EXIF info is not preserved. Anyone experience otherwise?

What about OneDrive. Has both an iPhone and iPad app, more free storage space than Dropbox, and you can get 100GB free with just 100 points when you search with Bing and join Bing rewards.
Plus OneDrive syncs just as easy as Dropbox.
Microsoft needs to do more to get the word out about OneDrive, and I think more people should look at them as a great free storage for pictures.

The only thing that sucks about flickr is that you can't create an account unless you have a mobile number & not everyone has one. I would love to use it but can't due to that! Sent from the iMore App

I don't want my photos and videos stored on a social network. I only need raw storage with simplicity to share, so I use Google Drive. Plus if need be, you cannot beat 100GB's for 1.99 a month.
Also with Drive, it syncs well with your Gmail account. And you can also store your documents as well.
I prefer to keep all my photos, videos, and documents in one place.
I was also using Amazon for awhile. The layout is beautiful, just as long as you can live with the limitations.

When copy first came out they were offering 15gigs per referral. I managed to get up to 100gigs. Free. No subscription. Now, copy does not show up in the "open in" option from other apps. I hope this will be fixed in an update someday but I am still trying to see which service I plan to use. I'm testing out Flickr now.

You can use IFTTT (If this then that) for some of the auto upload features if some of your storage solutions don't have an auto feature. I have 2 'recipes' which automatically send every photo saved to my iPhone's Camera Roll to my Box account and every Pic on post on FB auto uploaded to a DropBox folder.

Good suggestion (IFTTT). I'll check it out. Thanks!

I use a variety of services for storing my photos. I use Dropbox and flickr to store my iPad photos, (some of which are public on flickr) and OneDrive for about 21 gigs of photos I have clicked over the years. It works out quiet well for me because of two reasons. First is the fact that all of my OneDrive storage is free (thank you Microsoft!) and i need to keep all of my photos on my physical hard drive too, so Flickr is a no go.

Sounds like a good work flow. Thanks for sharing!

On the iPad you can use the app FlickStackr for automatic upload to Flickr. And yes, of course it is possible to have all pictures per default completely private on Flickr.

I agree that this is a no-brainer. Flickr: set default to private, set to auto upload from my iPhone, uploads the entire photo, & because Flickr is designed for photo's... you can organize, share, etc. When Yahoo moved to 1Tb for free, there was no decision to make. I certainly use the other cloud storage options for other files (dropbox, box, onedrive, etc), but because photo's are HUGE, I keep them out of those storage spaces and put photo's exclusively on Flickr.

Flickr's 1TB free is great But if you shoot even short video clips regularly, that will start to fill up over just a few years. My family (4 cameras & 6 phones) uses the $40/year SmugMug plan. Unlimited storage & access. Video files limited to 20 min. or 3GB.

I use Shutterfly for my photos and love it, can upload from all my devices..have not tried the others for videos yet, but will.

I use many Google products, and G+ with all it's features is good enough for me. I've got one wish though; I hope Google updates Snapseed for iOS (photo editing tools by NIK) so that one can edit the photos you got in the G cloud. To clarify: edit online photos on the iPad without downloading the file. If you can call that clarifying...
It's too cumbersome uploading and downloading a bunch (hundreds or thousands) of files you already have in the cloud!

Great summary of the solutions currently available. We are working on a photo storage and management app called CaptureLife that is taking a very different approach, especially from a user experience perspective, than these other solution. If interested, join the free and limited BETA list at www.capturelife.com. Thanks!

I know the Flickr handles the photos very well. How about the Videos?
do they handle it better? Any size restriction?

Hi Allyson! You asked for suggestions – and after reading this review I think Picturelife is really missing here. We're used by hundreds of thousands of people and just released a brand-new iOS app that is gaining critical acclaim. Check it out! https://picturelife.com/ https://itunes.apple.com/us/app/picturelife/id48723333?at=10l3Vy

Flickr is more a Social Network. It's like Instagram, but for full sized Images and Full Resolution Video. It would be great, if it used its own independent Log In system like Tumblr, but no one I know wants to sign up for an entire Yahoo! account just to use Flickr, when they can just Share pictures with you (at horrible quality, but more people don't care) on Facebook. I wanted desperately to use it, but if All I'm using it for is to store photos, then I rather use a traditional Cloud Storage service like OneDrive which makes it easy to share to existing (and more more widely used) Social Networks like Facebook and Twitter (if you use that). Also, while it's easy to get all of your stuff onto Flickr, they make it as difficult as they ever could to get your stuff off of there. No bulk download, for example, so in the event of a catastrophe you may find yourself in a bit of a bind if you want to download an offline copy of your data. I was in such a situation, and decided to just... delete the account and call it a wash. I switched to OneDrive. 500px's free account is simply not enough even for casual use. It is basically a Trial Service, and the price they charge for their paid services is a bit dubious, though the lower tier isn't too bad especially if you're a Pro and sell your stuff. Their service is very good for Pros. Better than Flickr or any other service, outside of Adobe's, IMO. Google+ Requires a full Google Account like Flickr, and goes a step further but requiring you to sign up for Google+. That's one of the reasons I left Android for iOS. I don't like having extra Social Accounts for stuff that, frankly, should be part of the core service package. I don't use it. Have never used Amazon Cloud Photos, but it seems not much different from DropBox. I prefer OneDrive. It's supported on all major Mobile and Desktop OSes. Has Auto Upload, and integrates very well with Office. If you use a Windows Desktop or Notebook, then it's built right into the OS. It's a bit of a no-brainer option at that point. The thing I hate is that it renames files on upload. Backed Up Files should (never) be renamed - for obvious reasons. So, I dropped it and I"m currently trying iCloud Photos, which is accessible via Web Browser, with Photo Stream turned on (accessible from Windows if I ever decide to install iCloud there). Carousel seems like something worthless, especially between iOS users who can use iCloud Photo Sharing and gain almost all of the features it offers without having to use a third party service/log in.