Best pocketable power banks to charge your iPhone on-the-go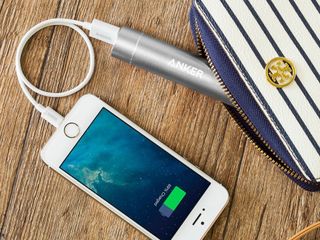 No matter how hard we try, hooking your gadgets up to a wall charger to top off your battery isn't always an option. Whether you're at a ball game, camping in the wilderness, or simply having a night out on the town, a pocket-friendly power bank can save your battery life from depletion when in a bind. Available in all shapes and sizes, these affordable batteries range from a little packs that offer a single full charge for your iPhone up to a larger and more powerful 10000mAh batteries that will charge your phone four or five times.
Anker PowerCore+ Mini 3350mAh Power Bank
Why you can trust iMore Our expert reviewers spend hours testing and comparing products and services so you can choose the best for you. Find out more about how we test.
This compact power bank from Anker features a sleek aluminum design that measures only 3.7 inches in length. Its durable construction means it can handle drops and the built-in PowerIQ technology delivers a safe 1 amp charge to your device. You'll find an LED on the front next to a single USB output and a Micro-USB input. Safety measures have also been implemented, including surge protection and short circuit protection for any device that's connected. Expect nearly 2 full charges on the iPhone 6s and just over a full charge on the iPhone 6s Plus.
See at Amazon (opens in new tab)
Aukey Mini 5000mAh Power Bank
Sharing a similar design to above-mentioned Anker, the Aukey Mini packs a larger 5000mAh capacity into a shorter 3.5-inch aluminum shell, but is slightly larger in diameter (1.18 inches). This power bank has been drop-tested and utilizes premium LG battery cells inside that provide up to a 1.5-amp charge through its single USB output. There's a charging LED on the front and a 3.3-foot Micro-USB cable is included. Expect about 3 full charges on the iPhone 6s and close to 2 charges on the iPhone 6s Plus.
See at Amazon (opens in new tab)
Anker Astro E1 5200mAh Power Bank
Anker's Astro E1 power bank packs 5200mAh into a 3.8-inch by 1.7-inch package. It sports a single USB output that's capable of charging at 2 amps for devices that can accept more than the typical 1 amp. The drop-tested shell is smooth to the touch and features four LED's for checking battery life on top. Anker's PowerIQ technology has been incorporated for detecting your connected device's fastest charging rate. The included Micro-USB cable recharges the unit at 1 amp. Expect 3 charges to the iPhone 6s and about 2 charges on the iPhone 6s Plus.
See at Amazon (opens in new tab)
Aukey Slim 6000mAh Power Bank
Aukey's slim 6000mAh power bank features a convenient 2-amp Lightning input for charging the battery and a single USB output that pushes a maximum of 2.4 amps to your connected device. This power bank is a bit larger than previous options (5.9 x 2.26-inches), but is incredibly slim, measuring just under half an inch in thickness. Aukey has also included their standard safety measures inside to prevent charging mishaps. No cables are included. Expect 3-1/2 charges on the iPhone 6s and just over 2 on the iPhone 6s Plus.
See at Amazon (opens in new tab)
EasyAcc 2nd Gen 10000mAh Power Bank
The largest on our list is the EasyAcc which rocks a 10000mAh capacity and measures only 5.67 x 2.95 x 0.58 inches. Its smooth outer shell slides easily in and out of pockets, and the convenient LED light on the front is perfect in low-light conditions. The Micro-USB input charges the bank at 2 amps while the single USB output is capable of pushing up to 2.4 amps. A variety of safety features have also been implemented to prevent damage to your connected device. Expect nearly 6 charges on the iPhone 6s and around 3-1/2 on the iPhone 6s Plus.
See at Amazon (opens in new tab)
iXCC Micro-USB to Lightning Adapter
The caveat with many power banks, including these ultra-portable options we've selected, is that they usually only include a Micro-USB cable. Though we and you would prefer a built-in Lightning cable so we have one fewer thing to carry, but if you don't have a spare to carry around, there is still an option to make use of those included Micro-USB cables: this compact Micro-USB to Lightning adapter. It's simple, durable, Apple-certified, and compatible with every Lightning device.
See at Amazon (opens in new tab)
Get the best of iMore in in your inbox, every day!
Your friendly neighborhood accessories guru
My little iFrogz works great. It has enough mAh for at least one full charge on my 6s Plus.

I'm interested in the Amazon Basics battery packs. They're on sale right now at some pretty good prices!

I've got the Anker Astro E1 and highly recommend it, I can get around 2.5 charges of my 5S and the LED indicator is very useful. Sent from the iMore App

Brent - For all these batteries you claim that for phone model 'X' one should expect N number of charges (presumably you're talking about taking a phone from near empty to a full charge). Power banks will lose some of their available power in the transfer from the battery to the phone - for some products the attrition rate can be as much as 30%. So that 3350mAh battery with a 30% attrition rate (if that is accurate with this power pack) would yield about 1.3 charges of a 6S, not nearly 2.

Get a 6S Plus and you'll rarely need one of these - I use my 6S Plus ALL DAY constantly - and it always lasts until I go to bed. I don't have to sit there with it plugged into my laptop constantly like an a-hole - or have it plugged into a battery in my pocket like a savage.
Thank you for signing up to iMore. You will receive a verification email shortly.
There was a problem. Please refresh the page and try again.