Best point of sale apps for iPhone and iPad: Square, LightSpeed, GoPayment, and more!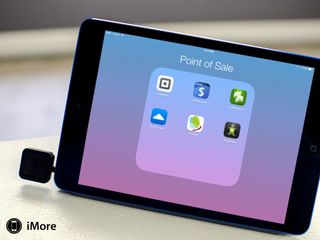 Small business owners are using the iPad to perform transactions every single day. From processing credit cards to tracking sales to printing receipts and accepting signatures, the iPad can do it all. And it can often do it at a much lower price point than traditional credit card terminals. Whether you have an inventory to maintain or just need to quickly process credit card payments, there's a payment system for the iPad that's right for you. But which ones are the best?
Square
Why you can trust iMore Our expert reviewers spend hours testing and comparing products and services so you can choose the best for you. Find out more about how we test.
Square is a strictly mobile payment app that's just as easy to use as it is to set up. Just plug the card reader into the headphone jack and start swiping. There's support for receipt printing, kitchen tickets, and more. It's 2.75% per swipe with no annual or monthly fees. If you're a larger business, you can also inquire about custom pricing. It's simpler and a lot less complicated than other options and if your needs are pretty basic, it's a great starting point.
If you want simplicity and don't have a complicated sales process, Square is a perfect place to start.
Intuit GoPayment
GoPayment is similar to Square but offers a little more flexibility in payments. Pay $13 a month and pay 1.75% a swipe or pay no monthly fee and pay 2.75% a month, which is the same as Square and many others. If you use Quickbooks to manage the finances for your business, GoPayment seamlessly integrates and syncs all your data which saves a lot of import work for either you or your accountant.
If you already use Quickbooks or process enough sales that the 1.75% rate is more beneficial, GoPayment won't disappoint.
LightSpeed Retail
LightSpeed Retail isn't just an iPad payment app but a complete point of sale and inventory management system. You can also build your own eCommerce store to sell your items online if you choose. It's a heck of a lot pricier and you'll need to sign up for a LightSpeed package before you can use the mobile apps, but for businesses that want an all-in-one inventory and POS system, LightSpeed is hands down one of the best. It also handles multiple store locations so if that's something you're thinking about, definitely consider setting up for that now. LightSpeed works with a good amount of payment processors too so integration shouldn't be a huge deal.
For more complicated setups and for an all-in-one solution for iPhone, iPad, and Mac, LightSpeed smokes the competition, but for a price.
iPOSIM
iPOSIM, part of the POSIM family of products, is similar to LightSpeed and also offers a complete inventory management system. Like LightSpeed, you have to pay for licenses to use the mobile apps in addition to the Mac app. iPOSIM isn't as polished as LightSpeed but does offer some functionality that others don't, such as the ability to work with decimals. I found this out when a friend of mine was looking for a POS system for her quilt shop. She needed to sell increments of fabric and Lightspeed wouldn't do what we needed it to, but POSIM did. The trade-off was a less polished app that's iPhone only and less freedom for payment integration, but it's worth it if meticulous inventory management is a must.
If you need to work with decimals or increments when selling products and managing inventory, POSIM is one of the only options available not only for iPhone, but for the Mac as well.
ShopKeep
ShopKeep is a payment system for iPad that's most similar to the likes of Square but also offers inventory management. At $49 a month, it isn't a bad deal if you are looking for something that isn't as advanced or in-depth as LightSpeed or POSIM. There aren't as many options but basic inventory tracking works and works well. ShopKeep also integrates with a vast amount of payment processors as well.
If you like the idea of Square but just don't find it to be as powerful as you'd like, ShopKeep may be worth a look.
PayPal Here
PayPal here is very similar to the likes of Square and also charges 2.7% per swipe. Okay, it's half a percent cheaper but who's counting? The difference is that you can also process PayPal payments from customers as well as payments made by check. The iPad app is easy to use and requires no monthly or yearly commitment. You can even get 1% cash back if you have your funds but on a PayPal banking card. Individuals can even use PayPal here to take payments from others as long as they don't exceed $500 a month.
If you want to accept PayPal payments or take a lot of checks, PayPal Here is the only good option.
Your picks?
If you run a small business, do you use a point-of-sale payment app on your iPad? If not, are you considering one? If so, which one, what made you choose it, and how's it working out for you?
iMore senior editor from 2011 to 2015.
I use Intuit GoPayment. It works on iPhone and iPad, is accessible online via Mac or PC, and even iPad I think.
I nearly always use iOS for CC payments. It quick and simple. Sent from the iMore App

This is a very helpful review. Thank you! I am a LightSpeed Certifed Reseller/ trainer. One correction on LightSpeed. It does do bundling and break apart for fractional sales. We have a wine shop as a customer.... He buys buy the case and sells by the glass...it is very doable.... Yes, iposim is easier in THAT regard but as you mentioned! no where near the elegance and feature set. Also, LightSpeed recently purchased Merchant OS and is now offering a monthly pay cloud solution for iPads and other tablets.

You can break down inventory but not stuff like fabric. My friend has a quilt shop. We got about 6 people on the phone at LightSpeed and no one knew how to break down selling 6 yards of fabric or 1.25 out of a spool. If you know how, please relay the info to me, and LightSpeed lol Sent from the iMore App

Although I'm defined as a "Apple Fan Boy"--- I have been using Google Wallet for a lot of money transactions lately. I make and sell items on Craigslist in my hometown and accept cash and Google Wallet transactions. Been considering a POS system for my iPhone/iPad but not sure yet. Good article!

Apple fan or not. Google Wallet works pretty seamlessly.

We have a full-service restaurant and use Groupon's Breadcrumb Pro app for daily sales and the simpler "Breadcrump POS" app for certain events. We use Groupon Merchants for CC transactions which are processed directly via the Pro app and also via their mobile app for iPhone. It ties together well. But I'd like to hear is if anyone else here uses either of these Groupon apps and what's your experience? Also, does anyone use the apps reviewed above in a restaurant environment? Sent from the iMore App

I wonder if Apple can and will "Sherlock" all these apps. They could easily release a general retail version of EasyPay + iBeacons with TouchID authentication. Complete inventory tracking, security, and in-store merchandising analytics for retailers, ultra-simple and fast self-checkout for shoppers. And there are what, 400+ million active iTunes accounts with credit card numbers? I'd bet a dollar that Apple will make a move to disrupt retail long before they get serious about disrupting the TV industry.

QuickSale by Intellixense does an amazing job if you have a lot of inventory and pictures of your items. We use it for selling at events and art shows, very fast, simple and professional.

What about Shopify? How do they hold up against all these?

This point of sale apps for iPhone and iPad are very much useful info shared.

Intuit Pay has a super user friendly interface. Also charged at 2.75%. Sent from the iMore App

is it possible to set up a cash drawer and receipt printer with gopayments with an ipad? If can someone explain how to do it and which equipment is compatible?
Thank you for signing up to iMore. You will receive a verification email shortly.
There was a problem. Please refresh the page and try again.