Best prom apps for iPhone: OpenTable, ASOS, ProFlowers, and more!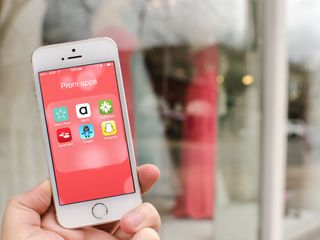 Looking for the best iPhone apps to help you prepare for your prom? For many juniors and seniors at many schools, prom is just around the corner and that means it's time to pick out a dress, find a suit or tux, place flowers on order, book a table, arrange festivities, and do all the other things that go along with planning a perfect prom. Luckily the App Store has a bunch of apps to help you make your prom the best one ever. But which iPhone apps are the absolute best for prom planning?
OpenTable
Why you can trust iMore Our expert reviewers spend hours testing and comparing products and services so you can choose the best for you. Find out more about how we test.
When it comes to booking a restaurant reservation right from your iPhone, it doesn't get any easier than OpenTable. Actually, if you've got an iPhone 4s or above, you can just ask Siri to find restaurants around you. As long as you've got OpenTable installed, you can use Siri to make a reservation in a few short taps.
The last thing you want is to not have a place to eat before heading to the prom. For that, there's OpenTable.
ASOS
One of the first things most people do, particularly the ladies, is look for the perfect prom dress. ASOS is a great shopping app that not only gives you competitive prices on your favorite designers, it lets you view each outfit right on the runway so you know exactly what you're getting. You can even complete you purchase right inside the ASOS app if you want. Guys aren't left out too, as there's an entire section just for them too. Simply fire up ASOS and search for suits, prom dresses, shoes, or any other accessory you want.
ASOS can have you on your way to finding the perfect outfit for prom in no time.
ProFlowers
No guy can head off to pick up his date without flowers or a corsage in hand. ProFlowers saves you the hassle of having to order from a local shop and having to go pick it up. Simply place an order, select the date you'd like the flowers to arrive at your doorstep, and pay through the app. That's it. As long as you place your order a few days ahead of time, you should be good. I've used ProFlowers numerous times and the results have always been fantastic. They're also a lot more reasonable than other online flower order services.
If you want great service and gorgeous flowers for your date delivered right to your doorstep, ProFlowers is the way to go.
Plan'it Prom
Prom can be super expensive if you let it get out of control. That's where Plan'it Prom steps in to help you stay on track. Whether you're a parent or a prom goer, before purchasing anything, fire up Plan'it Prom and decide what you'd like your budget to be for everything from the dress to shoes to add-ons and more. Once you know what to expect, the rest of the process can be more fun and less stress.
If you need to stick to a budget this prom season, you need Plan'it Prom.
Snapchat
While a lot of photos will be looked at years from now as great memories, there may be some you don't want making the rounds at school on Monday, or showing up on your Facebook profile when next you interview for a job. (Hey, we don't judge!) For times like that, there's Snapchat. Take a photo, set a timer, and send it off. The person on the receiving end can only view it for the allotted amount of time you specified and then it self destructs leaving no evidence of it to be found.
When it comes to selectively sharing silly or embarrassing pics that you don't want to haunt you forever, there's Snapchat
Songza
For most prom goers, the party is far from over after the dance ends. If you plan on having people over after prom, heading out for a drive with your date, or anything else, music is always a must. Songza is one of the best radio streaming services available that's not only free, but guaranteed to have a playlist or genre your date will approve of. If you need to play music for long periods of time to keep the party going, Songza won't disappoint there either.
If you need music to carry on the party after the dance, Songza will mix up something great that everybody loves.
Your picks for best iPhone prom apps?
If you're filling up your iPhone with apps before prom, what ones would you never go without and why? Be sure to let me know in the comments!
Get the best of iMore in your inbox, every day!
iMore senior editor from 2011 to 2015.
"Just around the corner"?! Actually, my youngest's prom was last weekend---too bad, he might have appreciated this... :-(

I thought the title of the article said something else. Had to do a double take. =P

I know what u did there. Sent from the iMore App

Hahaha Rene said the same thing.

I know but that is not a zero but the letter o.