Best radio apps for iPhone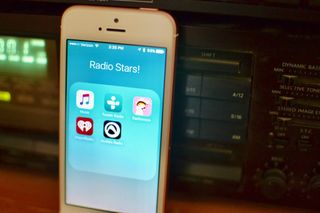 The best: Beats 1
If you are a subscriber to Apple Music, you've got an exclusive, high-quality, worldwide radio station right at your fingertips.
Bottom-line: If you subscribe to Apple Music, Beats 1 is a no-brainer. You can listen to great music from top-notch deejays from around the world.
The details: Why Beats 1 is number one
With Beats 1, you can tune into professionals in the music business as they virtually spin records for your enjoyment. Deejays include such famed anchors as Zane Lowe, Ebro Darden, and Julie Adenuga, and feature celebrity guest hosts like Elton John and Dr. Dre.
You don't have to listen live. If the current Beats 1 deejay doesn't fit your style, browse through previous shows and listen to anything you like on-demand.
Beats 1 is deeply integrated into the Apple ecosystem, so you can listen on iPhone, iPad, iPod touch, and Apple TV. You can also control playback from your Apple Watch. It's the radio app for Apple Music fans.
Runner-up: TuneIn Radio
See on App Store (opens in new tab)
TuneIn Radio features 100,000 radio stations from around the world that you can stream live. You can also check in with well-known talk shows and even your favorite podcasts. With a monthly subscription, you'll get access to live play-by-plays from MLB, NFL, and BPL games throughout their season. Plus, you can choose from more than 600 genre-based music stations and listen to 40,000 audiobooks.
Bottom-line: This app is perfect for listening to broadcast radio stations all over the world. If you want to dig deeper, the monthly subscription provides even more listening content.
Listen through time: Radiooooo
See on App Store (opens in new tab)
Radiooooo is an experimental music streaming service that lets you travel around the world through time. Start as far back as the beginning of the 20th century and choose from any country around the world. You'll be whisked away to a stream of music from that era and location.
Bottom-line: If you really want to discover an amazing array of music from days gone by, tune in to Radiooooo, pick a country and a decade, and sit back for a listening adventure through time.
For the mainstream listener: iHeart Radio
See on App Store (opens in new tab)
The iHeart Radio app gives you complete access to all of the company's broadcasted stations. You can check out what's playing on your local station or pick from specific genres, like oldies and college hits. You can also check out the news and sports scores on the go or find a new podcast to sink your teeth into.
Bottom-line: If your musical tastes aren't demanding, but you want the ability to pick your genre, check out iHeart Radio.
For the eclectic listener: Audials Radio
See on App Store (opens in new tab)
Audials Radio has a pretty huge collection of internet radio stations, including videos and podcasts. It is especially helpful for listeners looking for a specific genre. You can filter searches by genre, countries, top hits, and top artists, making it easier to find that music style to scratch your itch. You can also record a station you are listening to, so you can play it back later, preserving that moment in time when you found the perfect dance mix.
Bottom-line: Use Audials Radio if you like browsing through different genres of internet radio music from around the world.
The conclusion: Beats 1 beats all
Beats 1 has the best deejays in the business, spinning top trends and new tunes for you to discover. If you have a subscription to Apple Music, you can head over to the Beats 1 section on your Music app to get your groove on right now.
Get the best of iMore in in your inbox, every day!
Lory is a renaissance woman, writing news, reviews, and how-to guides for iMore. She also fancies herself a bit of a rock star in her town and spends too much time reading comic books. If she's not typing away at her keyboard, you can probably find her at Disneyland or watching Star Wars (or both).
I like Beats 1 and listen to it regularly, but it's #1 only if you like the music they play, which is not to everyone's taste. In any event, it's an apples to oranges comparison because Beats 1 is only one station, while the Radio apps give you access to many different stations. A better, though imperfect, comparison would be Apple Music's many channels compared with the radio apps.

OMG..... Thank you so much for letting me know about Radiooooo..................Half the music I listen to now to decompress at home with is from the 20's, 30's and 40's...... Now I can listen to different countries from that time period too..... Amazing.

You don't need an Apple Music subscription to listen to Beats 1

I have to second the previous commenter's post: Beats1 is only good if you like the music they play. Every time I've sampled Beats1, the deejay has been playing mostly EDM while constantly yammering on and on. I can't stand EDM (haha, a big reason why I hate partying in Vegas), and the deejays' constant talking got on my nerves. If they had a real HipHop/R&B show (and I mean REAL, not this radio pop-rap crap that is marketed as hip hop) I would happily subscribe. Note: Because I was so turned off by the shows that I sampled during the 3-month trial period, I didn't explore enough to see if there was already a show that fit my taste. It may already exist, but Beats would be much more appealing to me if there were a Beats1, Beats2, Beats3, etc... so that you didn't have to listen at a certain time of day or go digging through a catalog of pre-recorded shows. This is why I've long preferred Pandora to other streaming services, because I can create stations that fit my mood at the time: a 90's/early2000s hip hop station for when I want to hype myself up, an R&B station for when I want to groove... *shrug* I even have a station of my favorite standup comedians! I keep considering Apple Music, but 90% of the time I just want to play a station that fits my taste and mood at the moment rather than play any specific song (in which case I usually just launch the Youtube app). Beats1 unfortunately doesn't seem to fill that need at the moment.

Ah for the day when their really IS a radio in the iPhone. I live in an area with frequent bad weather / road closures / power outage & that also has spotty cellular coverage here & there. An OTA FM radio can make the difference in a a dodgy situation. Just ask residents of any area like mine or, anyone who's lived through a disaster, recently. Sent from the iMore App

Would be nice to have a real radio. That doesn't use data and is helpful in low cellular reception areas. Or when things go bad and there is no cellular reception. Sent from the iMore App

I still have my old HD Radio add-on that I use on an old 30-pin iPod to listen to terrestrial radio. It's free, no monthly fee and doesn't use up my data plan, I just have to endure commercials. That isn't so strange, some of the channels I pay for for online use contain commercials too. That old HD Radio attachment works really well, HD broadcasts sound fantastic, although there aren't that many radio stations transmitting them around the country. Car radio manufacturers never jumped on that bandwagon, never including that capability in car radios nowadays.

Beats 1, the 24/7 HipHop R&B station is completely useless to the rest of us who like other types of music. I've tuned in a few times just to see if they've discovered any different music, only to be disappointed. Fortunately, with Apple Music, I can completely ignore Beats 1, and spend my time with the endless supply of quality music available there.

Yes, if you don't like rap or hiphop, Beats1 is absolutely useless. Apple needs to come up with some additional formats for the rest of us.

I've got to put a vote in for RadioTunes (formerly SkyTunes). They have a huge selection of genres and stations, all of which they curate in house. The sound quality is top notch. The app works great and they are one of the MusicChoice channels that you can stream on T-Mobile without incurring data usage. It's worth checking them out.

This is a misleading headline and mixed up headline. All but Tunein seem to be radio stations (Beats1) or services (the others). Real radio apps are things like Tunein, Radium (very good), Simple Radio (good). IMHO!

Tune in and i heart radio are the answer. They are the ones where you can get the radio stations i want local sports talk and local music. Beats isn't that. Nothing against beats 1 but I don't see how it even qualifies. It doesn't receive radio stations.

Too much radio.. 100,000 stations on TuneIn... You'd be there all day on listening too good stuff... Even I have my limits. Particularly when all this uses Cellular data, unless u listen constantly on Wi-fi only.. but then u may have data caps. Although u have more stations, I love the days of Nokia where while u only had FM to listen to, at least u didn't have to worry about data caps..... The antenna was used to pickup... Those where the days,, and now their gone.

I use TuneIn to listen to my local NPR/PRI station, or to favorites across the country. My wife turned me onto to this one, but there are two different apps, with slightly different icons. I don't know what the difference is. Still considering getting an iPod nano so I can listen to real radio without straining my data cap.

I am an Apple Music subscriber, and have used its more general radio feature to listen to, say, "Weather Report Radio" (jazz fusion), but I've never actually used Beats1 radio. Maybe I will get around to it someday, who knows? I have been a regular TuneIn user for about a year and a half now....but not to listen to music radio. Instead, I am an aspiring polyglot, hoping to get to at least basic use-level in as many languages I can, so I use it to find news or talk radio in the language and use it as a cheap surrogate to the immersion I lack otherwise being a mid-30's, middle-class family man from a mid-sized city in the Midwest, even if it's far and away the most up and coming Midwest midsize, and probably even the premier one behind Indy - specifically Des Moines. I mostly listen to the station for the language I'm currently working on, but I do keep stations for languages I intend to get to in the future and occasionally listen to them to "prime the pump", as it were, as well as keeping stations for the two languages I've already worked through. TuneIn is incredibly useful for this!!! Now, I had never heard of Radiooooo before now, but I was so enamored with the idea that I immediately installed it! I'm already loving it!!! I listened to a little 30's Brazilian music, a little 2010's music from India, and have been spending the time since listening to 80's Japan music ----- and loving it!!!! Thank you sooooooo much for tipping me off to Radioooooo!!!!! いいです!!! :-D

Didn't get past the Beats1 choice. You're comparing different things - Beats 1 is effectively a radio station. Apps like Tunein are the app equivalent of radios themselves, letting you add stations and tune to different ones when you want.

Any discussion involving music and apps is useless.

I bet you're a fan of some band no one else has ever heard of and have all three of their albums on vinyl.

TuneIn is a great aggregation of most radio stations' internet streams. It eliminates the need for most station's apps. Also I've bumped up to the premium version so I can listen to sports games. iHeartRadio is fine, especially if you're like me and like to listen to Christmas music all year round (it helps me think cool during the summer months).

What about Simple Radio? Not sure where I got this app, but I think it's rather new. Looks like fun, but I'm still to busy with TuneIn Radio to give it a try yet...

I love Beats 1 because I hear music I never would've found, but as far as streaming apps go, I've been using Tunein Radio since it was called Radio-Time. I was searching for a Tunein alternative for my Apple TV 4 and I came across the 'Receiver' app. Besides the Apple TV, it also has an iPhone, iPad and Apple Watch app. THIS APP ROCKS! It has all the stations in Tunein (same catalog) plus a few local stations that won't show up in Tunein. Receiver has de-throned Tunein as my goto streaming music player. The layout is so much more intuitive and simple. I now have all my local stations on my Apple TV which is connected to a Soundbar speaker system. I had an impossible time trying to find an affordable receiver to plug into my Vizio Soundbar Surround Sound system so I could get local radio, but the Receiver app (https://itunes.apple.com/de/app/receiver-radio-mit-den-besten/id31165812...) solved this problem handily. I'm very surprised it wasn't mentioned in this article. If You love Tunein, check out Receiver. It's the only app to make me put tunein down after all these years. iHeart is good too.
Thank you for signing up to iMore. You will receive a verification email shortly.
There was a problem. Please refresh the page and try again.