Best reddit apps for iPhone: Never miss a meme-inducing subreddit post again!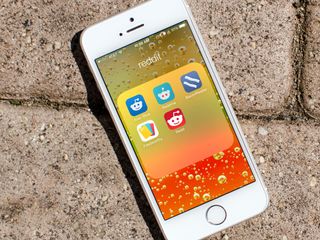 Looking for the best iPhone apps to help you keep up with reddit? Whether you're a casual reddit browser or spend time lurking specific subreddits on a regular basis, there are lots of reddit apps in the App Store. Some of us just like browsing specific topics to find funny memes while others enjoy learning and engaging with the rest of the reddit community. No matter what your reddit style is, there are lots of reddit clients for iPhone to choose from. The real question becomes what are the absolute best reddit apps for iPhone?
Alien Blue
Why you can trust iMore Our expert reviewers spend hours testing and comparing products and services so you can choose the best for you. Find out more about how we test.
Alien Blue has long been a favorite client among hardcore reddit users due to the overwhelming feature set it offers. The beautiful interface and design is an added bonus. Free users can view images inline, browse their subreddits, edit your own comments, toggle between a day and night mode, and much more. If you choose to upgrade to Pro via an in-app purchase of $1.99, you also get multiple account support, the ability to create and submit posts, gorgeous canvas and gallery views of images, and more.
For a reddit client that packs a feature set that just can't be matched, you want Alien Blue.
Reddme
Reddme is a newer reddit client for iPhone that offers a ton of features for an extremely decent price. With support for text customization and a gorgeous night theme, there's a lot to like about Reddme. The interface features a card style layout that makes it easy to browse subreddits. You can sign in to your reddit account in order to subscribe and unsubscribe to subreddits, create and edit your own posts, search keywords, and much more. Reddme also supports iCloud syncing across devices, which makes us think an iPad version may be planned for the future.
For a reddit app that lets you do more for less that also comes with a great card style interface, be sure to give Reddme a try.
BaconReader
BaconReader was designed from the ground up with iOS 7 guidelines in mind. With full gesture support, navigating BaconReader is a breeze. When it comes to feature set, BaconReader supports multiple reddit accounts and lets you easily swipe between them, the ability to favorite subreddits without having to add them to your front page, and much more. And for those who enjoy a good laugh, BaconReader is one of the only reddit apps that lets you doodle on images before posting them.
If you want a reddit experience that's heavily iOS 7, or just want to be able to mark up images before posting, get BaconReader.
Feedworthy
Feedworthy takes a different approach to reddit and focuses heavily upon image presentation. With support for inline images and gifs, albums from imgur, a gorgeous night mode, and more, Feedworthy is hands down one of the best designed reddit apps I've seen, and it's also fast. What I love the most about Feedworthy is that it makes doing the things you want to do most often while browsing reddit extremely simple, such as using tap and hold to share or expanding and collapsing comments only when you need them. Everything about Feedworthy is well thought out and executed.
If you browse images on reddit more than anything, you'll love the experience Feedworthy can offer you.
Redd
Redd is a less advanced reddit app than some of the others but what it lacks in feature set, it makes up for in usability. You can post stories to subreddits, upvote and downvote comments and stories, share posts to social networks and read it later services, and more. Redd also features a nice dark theme along with a decent photo viewer.
If you're more of a browser than a poster and just want an easy to use reddit solution, give Redd a try.
Your vote for best reddit app for iPhone?
If you browse reddit on a fairly regular basis, what reddit app do you find to be the best and why did you choose it over the others? Be sure to let me know in the comments!
iMore senior editor from 2011 to 2015.
Longtime Alien Blue user - though admittedly have not given any of the others except BaconReader a try.

Alien Blue is the Tweetbot of Reddit apps.

No love for Narwhal? it beat Alien Blue to a place on my phone.

I agree with Narwhal for Reddit. Great app & fully optimized for ios 7. The only other Reddit client i find usable is Alien Blue. Sent from the iMore App

Thanks! I'll check that one out too! Sent from the iMore App

Yup Ally. And they have a Night Mode too which is my default mode for both Alien Blue and Narwhal. Sent from the iMore App

I'm more interested in where that wallpaper came from at the top of the article?!

ditto. I have the same question.

Here you go! https://www.dropbox.com/s/sawka1iptyy7ggp/Photo20152052... Sent from the iMore App

Alien Blue is among the increasing list of iPad apps that I wish worked on my Macs as well. I avoid visiting Reddit directly anymore and wait for when I can do it from my iPad with Alien Blue. (Or my iPhone in a pinch.)

With all the discussion and controversy over listing apps with in-app purchases as "free". I think it's time for blogs like iMore to start listing apps as "free with in-app purchases" and explain what the in-app purchases are.

Meme Design - Generator | Creator | Maker for Memes and Photo | Image Captions. https://itunes.apple.com/app/id490532286?at=10l3Vy *TOP 10* Entertainment app in 25 countries, July 2014
Easiest & Most Elegant Meme Maker in the appstore!
4.5 Star Rating since 2012
FEATURES:
*260+ different meme templates!
*Change the color of your text!
*Drag your text anywhere on the image
*App stores all work to recaption or share later
*Share: Reddit, Email, Twitter and Facebook
*Save to your photo album
*Beautiful interface and crisp graphics
*More memes constantly being added
*Full iOS 8.2 support
*Use templates or camera roll and quickly add text.
*Completely Advertisement FREE
*Separate design for both iPad and iPhone/iPod platforms
*All the popular memes: Bad Luck Brian, Ceiling Cat, Business Cat, Courage Wolf, Disaster Girl, Bachelor Frog, Philosoraptor, Socially Awkward Penguin, Success Kid, Troll Face, Y U NO, and hundreds more...

Visit here to find amazing meme designs.
https://itunes.apple.com/app/id490532286?at=10l3Vy

I've been cracking myself up with this meme app i love the name - Memewhip!
heres the link i don't know if they have android version yet it's on iTunes for iPad i know
Thank you for signing up to iMore. You will receive a verification email shortly.
There was a problem. Please refresh the page and try again.