Best run tracking apps for iPhone: RunKeeper, Map My Run, iSmoothRun, and more!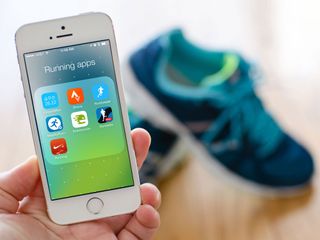 (opens in new tab)
Looking for the best iPhone apps to help you track your runs? Run tracking apps for iPhone can help you log all of your miles, attain all of your goals, and much more. Whether you're getting ready to run your first 5K or your third marathon, odds are there's a running app in the App Store to suit your needs. The best part? None of them require extra accessories like a fitness tracker — they simply use GPS or motion data from your iPhone. But which ones are the absolute best?
iSmoothRun Pro
Why you can trust iMore Our expert reviewers spend hours testing and comparing products and services so you can choose the best for you. Find out more about how we test.
iSmoothRun Pro is one of the most advanced run tracking apps you're going to find for iPhone. Not only does it track your runs, it can track interval training and help you schedule a workout plan to meet your running goals. iPhone 5s users can use iSmoothRun as an all day step tracker as well. iSmoothRun supports all Bluetooth sensors and ANT+ hardware which makes it a great all around choice for serious runners.
If you're looking for the most advanced and feature packed running app combined with support for an incredible amount of external hardware, look no further than iSmoothRun Pro.
RunKeeper
RunKeeper lets you track not only runs, but pretty much any kind of training you can think of from walking to cycling to strength training and more. You can track your personal records and set goals for yourself, whether it be a weight loss goal, a distance goal, or something else. You can then view your past goals, set future ones, and see which ones you achieved and which ones you didn't.
If your main focus is continuously setting goals, RunKeeper is a solid choice.
Map My Run+
Map My Run tracks even more activity types than RunKeeper, including intimacy, and provides many statistics including calories burned, distance, pace, and more. It can also tie in with services such as My Fitness Pal in order to sync nutrition and exercise data back and forth. If you choose to, you can track your nutrition data right within Map My Run instead. You can also tie in several different monitors from Polar, Garmin, and others in settings. You can even set up notifications for when friends complete workouts in case you need an extra push.
If you want lots of activity types to choose from and like to compete with friends on best times, look no further than Map My Run+.
Endomondo
Endomondo lets you create your own routes and either keep them for your own use or share them with the Endomondo community. You can also connect with My Fitness Pal in order to share data back and forth, similar to Map My Run. There is a section of Endomondo that offers fitness tests in order to test your fitness level, which is a nice feature for beginning runners. Endomondo also partners with many companies in order to provide sponsored challenges that are constantly changing.
If you want to compete in challenges with others around the country or want to see what your fitness level through various fitness tests, be sure to check out Endomondo.
Runtastic
Runtastic can track running, jogging, and walking activity. I've found the charts and information inside Runtastic to be some of the easiest to read. Runtastic also lets you purchase motivational stories inside the app to listen to while you run. They're updated regularly so you always have new ones to pick from.
If you want a run tracking app that's a little more human and less competitive, check out Runtastic.
Strava Run
Strava Run is one of the only run tracking apps that uses the motion co-processor in the iPhone 5s to track not only more data, but far more accurate data. You can link up all kinds of sensors in order to measure speed, cadence, heart rate, and more. Strava Run is one of the only run tracker apps that supports Bluetooth LE sensors. When it comes to actually tracking runs, just hit the start button and go. You can explore segments around you and complete them as well as join up on many challenges offered by the Strava community.
If you have an iPhone 5s and want the most accurate data possible, check out Strava Run.
Nike+ Running
Nike+ Running uses Nike's own NikeFuel system and lets you compete against friends, track runs, and complete coaching sessions. You can choose what kind of runner you are and let Nike tailor coaching sessions to your current level. Since Nike+ Running utilizes your current Nike ID, if you use any other Nike+ products such as a FuelBand SE and the FuelBand app, your points sync with your account.
If you're already tied into the Nike+ system or want a run tracking app with coaching that doesn't cost extra, check out Nike+ Running.
Your picks?
Pick your favorite with the poll. We'll highlight the best later this week!
Get the best of iMore in in your inbox, every day!
iMore senior editor from 2011 to 2015.
Not sure if you meant to imply this or not, but Runkeeper also has almost all of the features you mentioned for Map My Run (short of intimacy tracking). It too has statistics including calories burned, distance, pace, and more. It can also tie in with services such as My Fitness Pal and even FitBit in order to sync nutrition and exercise data back and forth. You can also tie in monitors from Polar, and can also compete with friends. Lastly, it also makes use of the M7 in the iPhone 5S for tracking walks even when you forget to open the app and start tracking.

Runtastic can do most of those things too. I think Ally just wanted to show us the highlights of each app, and let us know those exist; it's not a thorough review of each. Sent from the iMore App

I would expect every single one of these apps to track calories, pace, distance, etc.. otherwise they wouldn't be included. I highlighted features that make them different from each other so people can better decide which is right for them. RunKeeper is great w/ goals, others aren't as good, etc...

I have had very inconsistant performance when it comes to Runkeeper's use of the M7. As I understand it, the app will record or use M7 data when there is a certain amount (in minutes) of continuous activity. I use the app consistently for many of my walks and bike rides and whether or not the app registers the activity and has M7 data has been very spotty. I have missed many situations where I have had continuous activity and Runkeeper would not pick up the M7 data no matter what I tried. I have contacted Runkeeper support and have not received any feedback from them. I have thus deleted the app and am currently using Pedometer+ which is a lot lighter in terms of data acquisition but is consistent in reading M7 data.

I experienced the same. It wasn't any more accurate than any others. Only one I found to produce consistently more accurate data that supports the M7 was Strava. Moves is accurate too in my experience.

I'll have to give Strava a try. Thanks Ally.

I have just about all of these on my phone (yes it's a bit of an obsession....ok it's a <complete> obsession!) and I like Endomondo best of all. I also use Wahoo Fitness app as a sort of 'central repository' app, which then flows data into the rest of them, automatically. So when I go running or biking, I fire up three apps:
- Endomondo
- Wahoo Fitness (with the little Wahoo RFLKT thing on my handlebars, which acts as a mini 'viewer' to what's going on with the Wahoo app on the phone)
- Polar Beat (did I say I have an obsession!!) And I also use an LG Tone + model stereo BT headset to listen to music and also have my time and activity data read out to me - per mile pace, etc. As far as all the apps go, even though I have ALL of them on my phone, I tend to prefer Endo over all of them.....

I have used RunKeeper for several years and Runtastic for about a year now. Not for actual running, but for tracking hikes and walks. They both seem to have pretty decent "sharing" features that I never use. And I believe they both allow you to save and review your routes to determine personal bests etc. if you create a login account. Haven't done that either. Runtastic has more options for workout type. You can choose sports other than running/walking, like American Football, Ice Hockey, Standup Paddling, Golfing, etc. I like Runtastic's British English voice (because it reminds me of Lara Croft), but I think Runkeeper has more useful enunciations at time and distance intervals. Oddly, when I use them simultaneously their total mileage differs by about 0.1 mile for every mile traveled. That's a pretty huge discrepancy. Not sure which one is more accurate.

I use CycleMeter, but it also supports running, walking, etc. Abvio also make a Runmeter app.

RunMeter is my fav. Bummer it wasn't in this list. Abvio does a great job on their apps.

I tested about 30 of these apps in 2010-2012, and my champ was Runmeter. I tend to use GPS watches these days, as to get real time pace information, you need to see the data (hearing it just isn't efficient enough). Having it on your wrist is better than having a phone in a pouch with headphones in the ear (for my use case, anyway).

Do these apps only work with cellular connections?
If so, are there alternatives that can track time, distance, speed, ect while hiking trails outside of cellular range?
Any suggestions would be greatly appreciated, thanks. Sent from the iMore App

Most if not all let you manually log entries. But to track you gps is needed.

Ok, thanks Ally. Input appreciated. Sent from the iMore App

If your hiking trail has effective enough sky line-of-sight, your iPhone will be able to use its GPS to track your wandering, without cell coverage. Just obtain an offline hiking trail before you go, alltrails is one such possible option. The other issue is battery life, depending on how long you're venturing for. NewTrent's 14000 mAh battery is a nice combination of small form factor and monster battery (typically does me for about week of travelling with an iPhone, for example, and can charge 2 devices at once).

Allyson, could you please share that beautiful green/blue wallpaper? i Love it! Thanks!

iSmoothRun can track distance indoors by using the accelerometer. Obviously it will not be as accurate because your candance can change without actually speeding up or slowing down. The accelerometer probably isn't the best for something like hiking though. But It's better than nothing.

I've used digifit for years,it's hard to beat and should've made your review. Posted via the Android iMore App!

i use the Nike app primarily because it has the best control of music controls. you can set the orientation and i find it the easiest to use when it's on my armband, arms swinging, and have that plastic making it hard to press screen buttons. I've used all of these except Strava. I started with map my run. It' ok but mid run i realized i found it easier to change songs with Nike. They all did the mapping pretty much exactly the same.

I used Runkeeper for awhile and switch Runtastic because the calorie counts was more accurate. RunKeeper appears to give very high numbers. Both are great apps, I just prefer to have a more realistic calorie number. Sent from the iMore App

I used Endomondo for a very long time, but recently changed over to Runkeeper. Endomondo started bringing too much spam into their news feed feature. Also they started removing features that were part of a PRO feature and started making them Premium features that is part of their new paid subscription service. I don't mind paying for these services, but I don't like on principle of removing features from a PRO edition to sway me to pay to get them back. I switched to Runkeeper when I moved to the UK from the US because I started doing more Half Marathons as running is more active over here. I paid for the Elite subscription ($19.99) because of one feature alone...The ability for my wife to see me run and cheer/comment me on the course through the app on her iPhone as I am running about I think the Nike app is great for beginners, but having all your data locked into there ecosystem tends to frustrate people when they decide to get more serious with their tracking and decide to move into a more dedicated sports tracker and find out they can not export their data. Endo lets you do this one at a time, and Runkeeper lets you do a bulk export. Not sure about the other sports trackers. I use Moves for all my M7 tracking. It is hands down the best app for general step and activity tracking. And with the integration of Foursquare showing where you have been is an excellent addition of tracking where and what you did all day.

The Garmin Fit app is also a great supplement to those that use a Garmin GPS watch or plan to buy one in the future so that all of their activities can be logged in one place. Posted via the Android iMore App!

iSmoothrun is hands down the best running/tracking app there is. It's very intuitive to use and has a very clean minimalistic interface. My favourite.

I've been using Runmeter from Abvio for years. I wish that was on the list. It's a great run tracker with a ton of features, and they do a great job of keeping it up-to-date. If anything, it may have too many features for some people, but I have found it to be incredibly useful. Sent from the iMore App

Allyson, could you please share that beautiful green/blue wallpaper? i Love it! Thanks!

I have both Map My Run and Runner Keeper. My biggest problem with them is that they are not accurate. Runner keeper is a little better in comparison. However, when I am running a race, such as the half marathon I just completed a few days ago, both apps recorded that I ran over 15 miles instead of the actual 13.1 miles. I worried that by using them, I am under training consistently and am over optimistic going into the race. Any input which of the above apps is the most accurate?
Thank you for signing up to iMore. You will receive a verification email shortly.
There was a problem. Please refresh the page and try again.