Best run and walk tracking app for iPhone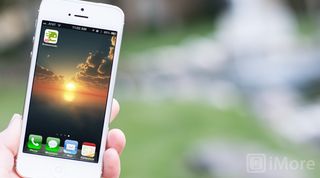 Walking and running are hugely popular ways to exercise, and there are several really good iPhone apps that aim to help you keep track of the walking or running you're doing. Since February is Fitness Month at iMore and Mobile Nations, we took a look at the most popular ones, and figured out which one was the best for most people.
That app is Endomondo Pro, and here's why we picked it.
Interface and design
The first thing you'll notice upon launching Endomondo Pro is the interface. It's one of those times when you really learn to appreciate the simplicity of some apps. Everything you need to see is presented to you on one screen, neatly organized, and easily accessible. It becomes obvious right off the bat what you're supposed to do in order to start an activity or log your workout.
The main screen of Endomondo Pro, the workout menu, provides you with the information you need during a run, walk, or other event at a glance. You'll see statistics such as total duration, distance, calories burned, heart rate, and the type of event that you're tracking such as running, walking, cycling, or whatever preset you've selected for that session.
This workout menu is also where you can start, stop, and pause a session as well as choosing a workout type. You'll also see the GPS signal strength which can, of course, affect accuracy when counting steps and tracking statistics.
While you'll spend most of your time inside of the workout menu when using Endomondo Pro, you can also access some other useful features from the main navigation menu. In order to access it, just tap on the menu icon in the upper left hand corner. From here you'll get quite a few more options that we'll go over in more depth below.
Overall, the interface of Endomondo Pro is extremely simple to just pick up and start using. This is one thing that really appealed to me. Dieting and exercising, especially if you're doing so to achieve weight loss, is frustrating enough on its own. It was nice to be able to just start using Endomondo Pro without having to configure a ton of settings and calculations before hand.
Some of the apps we looks at for step counting and run tracking were either too cluttered or didn't provide enough information. Endomondo Pro is a nice compromise that gives you the data you want in a much more simplified way.
Supported activities
Endomondo Pro supports a ton of different kinds of workouts and activities. You can easily switch between them based on what kind of activity you plan on performing. The most obvious ones are there such was running, walking, cycling, mountain biking, and tons more. There are even off-shoots of sports that I wasn't even sure what they were. Bottom line, Endomondo Pro probably has the sport type you're looking for.
From the main workout menu, you can actively change the sport type as often as you'd like for different workouts. If you run in the morning, just tap on the sport type and change it to running. If you walk or perform a different kind of sporting activity later in the day or switch up your workouts day to day, you can again just tap on it and change it for another workout. Each workout you save will log into Endomondo Pro where you can view them in your history. Since everything you save to Endomondo Pro is saved to your account, regardless what device you're logged into, you'll be able to see your progress from past workouts.
Creating and finding routes
When running or walking, a lot of users like to be able to track their routes and progress. Whether you prefer the same routes, go on different ones, or experiment until you find the ones you like, Endomondo Pro can save them for you.
From the navigation menu, choose the Routes option and you'll be given information on routes you have saved. You can also tap on the nearby tab along the top to view any routes that other Endomondo users have saved. This is a nice way to find new areas to run or walk in. You may even find routes that are exactly the length you'd like.
How many routes you find nearby will heavily depend on how many people around you are using Endomondo and sharing their own routes. If you'd like to create your own or don't find any you'd like to use, you can do so by signing into your account on endomondo.com.
I created a few routes for both walking and running and just like the app itself, the website is very easy to navigate and create routes. You start by searching for a starting point by entering it or finding it on the map. You can then drop a point on the map and then continue to drop points to wrap around or twist and turn wherever you'd like. You can also classify that route as a route for running, biking, and more.
You also have options as to who you'd like to be able to see your route. If you want your routes to be private, you can choose the private option. If you'd like other users to be able to utilize and enjoy the routes you've created, you can choose the public option. This means that any Endomondo user that views routes nearby within their own app will see the routes you've created in their area. I was surprised to see there were already a few Endomondo routes created in my area when I first launched the app. I'd assume that users in heavily populated areas will see even more routes already created for them.
GPS & tracking accuracy
The main workout menu screen of Endomondo shows you GPS strength at the very bottom. The better the GPS can track, the more accurate Endomondo Pro will be at delivering the best results and gauging your stats.
I took Endomondo out with me for a day and spent the day counting steps periodically as well as measuring distances with another device. For the most part, Endomondo Pro was spot on if not within just a couple steps or meters off. A lot of this had to do with GPS reception. In areas where the GPS tracking had a high to medium signal, the results were almost always the same and within less than a step or two difference. If I wandered into an area with reception was less than stellar to very poor, Endomondo has more trouble with keeping up with steps and typically fell short.
This is something that's expected with any step or run tracking app that relies on native GPS. I did find Endomondo to be just as accurate, if not more accurate, than RunKeeper, another popular run tracker app available in the App Store.
When it comes to creating routes or scheduling workouts, you'll obviously want them to be in areas where Endomondo Pro can track your activity. For most users, this won't be a problem. In my experience, I only needed a minimum of two signal bars or so (and a data connection) in order for Endomondo to be able to keep up.
Social sharing & community
The social sharing aspects and the community portion of Endomondo Pro are great additions but will highly depend on how engaged the audience around you is. If you have a lot of friends on Facebook or in your contacts that also have iPhones, the odds of you finding some friends that have Endomondo become higher.
Currently, the only way to find friends on Endomondo Pro is to search for your existing friends either by the built-in Address Book or by pulling in your Facebook friends. This is one area where I think Endomondo Pro does need a small amount of improvement. While I did manage to find some friends locally that use the service, it was limited to about 5. If Endomondo were to create their own community where users could have more interaction, I think it would create a fully rounded experience.
As it sits right now, any friends that you've added to Endomondo Pro will have to accept your invitation. After that their data will start feeding into the News Feed section of the app. The only other way you can interact or view data on other users is with a premium yearly or monthly subscription. We'll talk about that in just a few minutes.
There are lots of users out there that don't really care about making their workout routines social. If that sounds like you, this aspect of Endomondo Pro probably won't bother you as much. If you do need that extra encouragement from friends and family to work towards your exercise goals, you may have to do the leg work to see if anyone in your area is using the service already. In my experience, while Endomondo Pro doesn't have a huge following, even in my tiny area I was able to find users that I can interact with.
Pricing
Endomondo Pro for iPhone is currently available in the App Store for $4.99. There is a free slimmed down version available if you'd like to try it before you buy. The $4.99 gets you access to create routes, save a history, choose and customize workouts, and more.
If you'd like even more information and stats, Endomondo does have subscription plans available that offer even more functionality. For $19.99 a year or $2.99 per month, you can gain access to Endomondo Premium. Outside of all the features that Endomondo Pro offers, you'll also get heart rate zone information for better training control, workout comparisons, peer benchmarks to view how you stack up to not only your friends but other Endomondo users as well, training analysis, and weather information for your area that will log with your training sessions.
For most users, the base $4.99 price for Endomondo Pro will do what they need it to do while more advanced or hardcore users that train regularly will find a lot of value in the premium subscription.
The bottom line
There are several walk and run tracking apps available in the App Store and all of them have their benefits and their drawbacks. Endomondo Pro offers a happy medium between functionality and ease of use. While it won't give you as much data as an app with dedicated hardware would give you, the GPS and tracking portion holds its own against RunKeeper.
We found the layout of Endomondo Pro to be enjoyable. Creating routes on your own is also super simple and syncs to your device through your account almost instantly. Whether you're just getting started with step tracker apps or are looking for a new one to replace the current, Endomondo Pro provides a great experience complete with the tools you need to stay on track during training time.
iMore senior editor from 2011 to 2015.
There is much more than can be done with Endomondo that isn't talked about. I think one thing that sets it apart and should have been out in the social part is "Peptalks". I have a few friends that use Endomondo and getting a Peptalk during a workout is always interesting. Whether it is encouraging or trash taking, it's motivating to know someone is acknowledging your working out. Along with social... (On the website) You can set up competitions amongst friends. Creates some motivation amongst each other. In the news feed, with the recent update, you can now see your friends workouts without having to go to the website. If you go to the website and if your friends are working out, you can track their progress with a live feed on the map. Also,anyone that has a public profile will be displayed as well so you can see other users of Endomondo in your area. Just a few things I can think of right now.

Endomondo isn't very good at supporting Bluetooth Smart sensors. For some reason they refused to implement support for speed and cadence sensor, although it's been long requested by users. I doubt there will be any support for future Bluetooth Smart accessories. Nevertheless it shouldn't bother most casual users.

My problem is and will always be.... I have 3000km of history on Nike+ that it can't import... so it's still no good. Sigh
And I sure as heck am not throwing away THAT progress

Superb app for working out with you iPhone. Now applications for iOS are assisting users in their physical activities as well.

If you are in the UK there is an iPhone App that provides details walks from city walks to countryside rambles. It's called iFootpath and the website is http://www.iFootpath.com The app also has a great tracker so that you can track a walk and upload it to the website - the website has a GPS editor which allows you to alter the route and move waypoints, etc.

If you are looking for a simple app that just tracks your walking stats, check out HealthyWalk. This app has a simplistic and elegant design. The best part is that it's free and there's no ad. It only works on iPhone 5S, however, since it utilizes the 5S's built-in motion processor.
Get the best of iMore in in your inbox, every day!
Thank you for signing up to iMore. You will receive a verification email shortly.
There was a problem. Please refresh the page and try again.