Best shopping and grocery list apps for iPhone: Pushpins, AnyList, and more!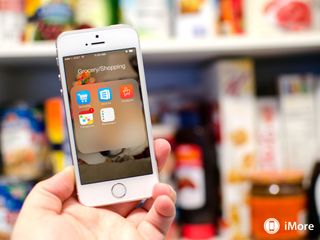 Our iPhones are great at helping us manage our busy lives and doing regular things like getting groceries and shopping for home goods is no exception. Instead of wasting time looking for things or marking things off on paper, grocery and shopping list apps can make your life a lot easier, and help ensure you don't forget anything. Whether it's a routine trip to the grocery store or time to make a packing list for an upcoming vacation, iMore has you covered. Here are our current favorite shopping list apps available in the App Store!
Pushpins
Why you can trust iMore Our expert reviewers spend hours testing and comparing products and services so you can choose the best for you. Find out more about how we test.
Pushpins combines shopping list functionality with saving money by using your location to find available coupons. You can even link up dozens of loyalty cards and clip your coupons right to it. Pushins also has a recipe section that can give you ideas if you're drawing a blank on what to cook for a meal. Since the ingredient list is right there, Pushpins can add everything right to your shopping list for you.
If you're a coupon clipper, you need Pushpins.
AnyList
AnyList lets you create any kind of list you'd want, grocery and shopping lists included. Subcategories are supported as are recipes. The premium version of AnyList is available as an in-app purchase and gives you the ability to add photos, apply custom themes, passcode lock AnyList, and more. Even as a free app, it's got loads of functionality that will suit most people just fine.
If you want the most versatile listing making app or want an all-in-one recipe and grocery app, AnyList is a great choice.
Groceries - Smart Shopping List
Groceries is a gorgeous shopping list app that's method of organization that's one of the most intuitive. Create as many lists as you'd like, sort items quickly by type, swipe to check things off. You don't even have to classify items either, Groceries handles all that for you and even auto-completes items you're typing as you enter them for faster entry. The main list view shows a percentage complete as well for a quick overview. Need to share lists? No problem, Groceries lets you do that too.
For lightning fast item entry, a great interface, and awesome list organization, get Groceries.
Fantastical 2
Fantastical 2 may not be a dedicated shopping list but it is great at managing lists and reminders. If other people in your household are iPhone users, they've already got Reminders built-in, which Fantastical 2 plays awesomely well with. Share a list and they can view and interact with it instantly, no signups or extra logins required. It's simple, it's easy, and it gets the job done. Oh, and did we mention it's a much better calendar app than the stock one too?
If you want to manage all your things in one place and share a lot of lists, get Fantastical 2.
Reminders app
If your needs are simple and compatibility for sharing is your biggest concern, the native Reminders app that comes stock on every iPhone and iPad makes a decent shopping list app as well. Create as many lists as you want, share them with any other person using an iPhone or iPad (or email them to anyone), and more. It's free and no download is required.
If your needs are simple, stick with the Reminders app.
Your picks?
These are the apps I've found to be the best for hitting the grocery store, or any other kind of store for that matter. But as always, I know you guys are great at digging through the App Store and finding all kinds of amazing apps. If you use something different, make sure you let us know what and why in the comments!
Get the best of iMore in in your inbox, every day!
iMore senior editor from 2011 to 2015.
Grocery IQ. Sharing, multiple lists, and very accurate barcode scanning as well for real quick entry of items you may already have in your cubbards. :)

The wife and I use AnyList. The main reason I like it is it syncs automatically with her iPhone. No fuss. We both can view/update instantly anytime. Sent from the iMore App

I use Avocado for the same reason. The silly "hugs" and "kisses" BS they added in for couple is annoying, but ignorable for the list sharing feature.

I've been happily using GroceryIQ for years, perhaps only because I used it first, but I find its ability for anybody in my family to modify the lists invaluable, and its huge product DB and ability to organize stores and aisles are both nice as well. Sent from the iMore App

I used to use Grocery IQ until I started using the Food on the Table App. I find it much easier to use due to the interface, but that's just my opinion. There's so many grocery store apps coming out on the market these days, it's crazy not to save money when going shopping, especially with the ease of technology. Look at this list right here: http://frugalforless.com/top-10-apps-for-saving-money-at-the-grocery-store/ Do you guys think grocery stores will get mad at the use of these apps and technologies to take away at their profits? Probably not... they're rich enough!

My wife and I used to use GroceryIQ for a bit, but didn't stick with it. The feature she wanted was a way to put in her own recipes, and then select a recipe to have all the ingredients added to the shopping list. Do any of the current grocery apps support that feature? It seems many of them have their own built-in recipes that can be used to generate shopping lists; but do they also allow you to enter and save your own recipes?

Yes, AnyList has this feature. You can enter your own recipes, and tap on ingredients to add them to your shopping lists. - Jeff (AnyList Co-Founder)

Wunderlist didn't make the cut eh? Sent from the iMore App

I use Paperless to keep track of groceries, household chores, clothing and CD collecting.

I've been using Grocery Gadget for years and I love it. You can create and modify grocery lists on your PC or via the iPhone app. The premium version allows you to create groups and share grocery lists with others and update the list live on each phone. So if you and the wife are shopping separately, if I pick up the milk and check it off, it'll check off on her phone as well. The only issue I have with the service is that the website won't delete items you've bought on the app. It used to work, but stopped some time ago. Other than that, it's a great app!

Anylist, been using it for years now.

Just wanted to add, these new ads that make the screen go up and down are annoying as all get out. I know you need to make money, still annoying.

Out of Milk does it for me.

Wow all of these are great options. Ice been using grocery gadget. I'm going to check out any list. Thanks for the review of these apps! Sent from the iMore App

Hey Ally: Can you maybe put together a post of a few apps that work well together? I know reminders and Fantastical work well together, but since Reminders doesn't do badges except for reminders that are due, it's not always the best app. I'd love to start condensing the plethora of apps I've downloaded at iMore's suggestion that work wonderfully by themselves, but not necessarily in conjunction with others, such as a few listed here that are great for shopping lists, but not so great for task lists or lists in general. Just my two cent request. Keep up the great work!

List Master. it is not strictly a shopping program but you can create highly customized lists and even include dollar fields that will track your grocery list expenditures. it's almost a micro spreadsheet program and fairly simple to use.

My wife and I use AnyList. Excellent app that instantaneously updates on both of our iPhones. Many times I've noticed her modifying the list at the supermarket and was able to add a couple of last minute items before she left. Can't say enough good about it! Sent from the iMore App

This. I've downloaded a few of the others here to try but AnyList works very well! Sent from the iMore App

Osta - Grocery Aide
Coming soon to App Store
https://sites.google.com/site/groceryaide/

Osta - Grocery Aide is now available in the App Store.
Osta has automatic weekly lists with suggestions. Sync and share (live) with Dropbox.

I kind of like the standard notes app to keep track of my various lists.

I don't need to share lists with anyone. My main wish is to find an app like Grocery Gadget who Web/Mac intercase is as easy to use as it's iPhone app interface. Grocery Gadget's Web site hasn't been updated for 3 years and doesn't even have a search bar to quickly find and mark items that you want to buy like the iPhone app does. It makes you think that the developer just took the money and ran.

I have tried several of the apps mentioned above but none is as hassle free as Tote Bag. Though they need to revamp its design for ios 7

My wife and I have been using Our Shared Lists. It's more of a general list app than a grocery app, but it has some nice privacy features like list encryption, which I haven't seen elsewhere.

These apps are targeted shoppers only. Recently I have found an extension to create shopping app Simicart by Magestore. It means that you can create your own app without technical knowledge. It costs $199 and they provide free lifetime support. You can visit their website <a href="http://www.magestore.com/simicart/pricing.html/">SimiCart</a>

$199 is steep for a shopping app. How does it compare to the ones on this list?

Grocery gadget worked well until I started using multiple devices. I quickly discovered that it failed to sync and when I went shopping , times that I added on my iPad were't on the list on my iPhone. I need an easy to use app that let's you quickly add items to your list , mark them as purchased , show prices and totals and what store each item is at. On top of that, it need to have reliable syncing so that I can switch devices without missing items from my list. In the meantime, I have to be careful to only use one device to create my lists. I'll try Anylist and Shopping pro to see if they are up to snuff.

My family now uses Centrallo for all our organization needs-- in particular, shared grocery & recipe lists between my wife and I... We add multimedia such as photos of voice notes or fool-proof specifics and it's really helpful. Definitely worth checking out. It's in the App Store, but Android users have to hold out a little bit. I hear their Android version will be ready in a few weeks, though.

My wife just found a nice little app called 'Idealist'.
We've been using 'Buy me a pie' for some time, but this one is very cool, I like the UI. The preloaded database is pretty decent, though it doesn't support iCloud.
http://www.idealistshopping.com

I've been using a great app called Shop Wrist. The app is a one step add item image or text to the shopping list and it works with Apple Watch. All I have to do is push the app icon and point my phone at whatever it is I want to add to the list. Finally found one that is easier to use than pencil and paper. :)
https://appsto.re/us/josg5.i
Thank you for signing up to iMore. You will receive a verification email shortly.
There was a problem. Please refresh the page and try again.