Best sleep apps for iPhone: Sleep Cycle, Noisli, Recharge, and more!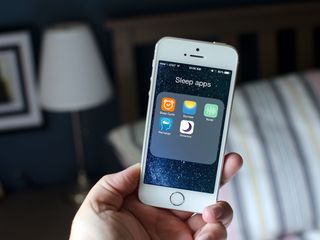 (opens in new tab)
Looking for the best iPhone apps to help you get a great night's sleep? We all know that getting enough rest is extremely important to our overall health. Whether you just need some help getting to sleep or you want to track your activity to see why you're so tired the next day, there are tons of apps available in the App Store that can help. Most of them don't require the use of an additional fitness tracker either. But which apps for iPhone are the absolute best at tracking and helping you get the best night's sleep possible?
Sleep Cycle
Why you can trust iMore Our expert reviewers spend hours testing and comparing products and services so you can choose the best for you. Find out more about how we test.
Sleep Cycle alarm clock is a smart alarm app that attempts to wake you up and the best possible moment so you aren't interrupted during deep sleep. Simply set an alarm and place your iPhone at the side of your pillow while plugged in. The Sleep Cycle app will monitor your movement by using the accelerometer in your iPhone and always wake you during light sleep instead of deep sleep. Sleep Cycle can even work in the background once you close it. In the morning you can see a full sleep analysis of how you slept the night before. Sleep Cycle can even integrate with Phillips HUE bulbs if you already own them.
For complete sleep analysis paired with a smart alarm, Sleep Cycle is one of the best available.
Sunriser
Sunriser is a very unique smart alarm that instead of focusing on waking you up during light sleep, aims to get you the most out of each day by waking you up at the same time the sun rises in your area. On the main screen of Sunriser, you'll be shown a countdown timer to when your alarm will go off. If you want, you can also tell Sunriser to wake you up at a specific time instead of when the sun rises. Either way, the simplicity of the Sunriser app may appeal to those that want a better alarm app than the built-in option.
If you want to get the most possible hours out of your day, every, get Sunriser.
Noisli
Noisli is an elegant and beautifully designed ambient noise app that lets you choose the types of sounds you want to hear and for how long you'd like to hear them. The Noisli app itself can also change color to suit any kind of situation whether you're just trying to relax or want to fall asleep. If you have favorite noise presets, you can save those as well and access them in just a few taps. Since Noisli stores all your sounds locally, you can use it even without an internet connection.
For a simple and well designed ambient noise app, look no further than Noisli.
Recharge
All of us have messy schedules sometimes and there's nothing we can do to avoid it. Recharge aims to get us back into a healthy sleep and physical activity schedule over 6 weeks. Not only does Recharge aim to gradually get you back to a regular bedtime interval, it also mixes in regular daily exercise to make sure that you're as healthy as you can be in all aspects of your day. At the end of each day you can see a daily report of how you did and how on track you are to a regular bed time again.
For folks that need some help establishing a regular sleep and exercise routine, look no further than Recharge.
Dreameo
Dreameo is a beautifully crafted sleep journal that lets you log all your dreams and can help you analyze them. Along with searching for dream meanings and interpretations, you can add any notes you'd like to each dream while you remember the details so you can reference them later. Dreameo is also working on rolling out an entire social network where dreamers can comment, view, and interact on each other's dreams.
When it comes to dream journals and interpretation, you need Dreameo.
Your picks for best sleep apps for iPhone?
If you use a sleep tracking app or other kind of sleep app to help you get a good night's rest, be sure to let us know what it is and why you picked it in the comments!
Get the best of iMore in in your inbox, every day!
iMore senior editor from 2011 to 2015.
I use Noisli regularly, it's great.

The poll doesn't allow the option of "Other".

I wish I could find an app that would let me turn off vibrate for an alarm and create an ascending volume alarm, so that I'm not awakened by my phone trying to fly off of my nightstand every morning.

I find Rise works well with such an issue. Sent from the iMore App

I use Sleep Time Sent from the iMore App

+1 (As far as I can tell it has an ascending volume alarm. I have it on the bed near my pillow at night. Although recently the new kitten has started sleeping on it...so I'm unsure of it's accuracy.)

Rain, Rain isn't listed here but has become my second most used app period, after Audible. It's a wonderful app - I paid $4 Total I think to disable ads (so I don't mis-touch when I am groggy) and for the additional weather sounds set and it's been worth every cent many times over. I rely so much on it I ended up buying a cheap Airplay wifi speaker for the bedroom so I didn't have to keep propping up the iPad every night and it's been heaven. It's difficult to imagine going to sleep without it at this point, and I get to sleep so much more quickly I wouldn't want to try. Best part is because it's on my iPad and not some external device, I can always take it with me as well.

I prefer 24/7 it tracks everything Sent from the iMore App

My favorite sleeping app is Turnitoff. Its free and I didn't have to visit the App Store ;)

If apps don't help, check Rhythmic Entrainment out: https://www.stronginstitute.com/rei-audio-cds/rei-sleep-rhythms-cd.html or https://www.stronginstitute.com/rei-sleep-program.html

I have used Sleeptime to check my sleep cycle. They have a paid, and free version.

Try this one: http://defonic.com Why this is awesome: a fabulous background noise/video generator for improving the performance on creative tasks by prompting abstract thinking.
Thank you for signing up to iMore. You will receive a verification email shortly.
There was a problem. Please refresh the page and try again.