Why trust us? Because we know smart homes. Our houses, apartments, and offices are filled with connected home accessories. We're always trying new products and that means we aren't afraid to install a smart lock (or four) on our doors. Put simply, we've very nearly tried them all, and that's why we decided that the August Smart Lock Pro is our top pick. It has simple installation, compatibility with multiple smart home systems, excellent design, and easy-to-use app. It gives you everything you need to add smart, wireless access to your home for you, your family, and your chosen guests.
Best Overall: August Smart Lock Pro
The August Smart Lock Pro is for anyone looking to simplify the process of entering and leaving their home.
If you get tired of fumbling with keys, worrying about whether your locked the door when you left the house, buying new spare keys for your children, or precariously placing a spare key in one of those entirely unsafe fake rocks, this smart lock is for you. August lets you create virtual keys for friends and family staying at your place, and keep tabs on the comings and goings of your household using a built-in 24/7 activity log.
Its appearance is immediately striking and will give any door a futuristic look, with your choice of dark gray or silver finishes. You can use your smartphone to remotely unlock or lock your door, or you can set up a proximity lock: Your door will unlock when you get approach with your phone and lock when you move away.
The August Smart Lock requires no wiring and installs using an existing deadbolt. It also works with HomeKit, Alexa, and Google Assistant, so you can control it with Siri and the Home app for iOS and just about every other smart device you own.
Pros:
Simple installation
Works with Alexa, Google Assistant, and HomeKit
Long battery life
Automatically locks and unlocks your door for you
Virtual keys
Cons:
Only works with single-cylinder deadbolts
Best overall
An easy way to add smart, wireless access to your home.
With its simple installation and rock-solid locking mechanism, you can be sure your August Smart Lock Pro will be up and running reliably in no time.
Best for Nest: Nest x Yale Lock
The Nest × Yale Lock supports notifications, letting you know when someone operates the lock. You can set up passcodes that expire after a period of time if you plan on having guests or need a maintenance person to gain temporary access to your home. What's more, the lock uses geofencing tools to automatically lock when you're not around — no more forgotten doors.
The lock replaces your deadbolt, offering a tamper-proof and secure solution to keep your door locked up tight. If the lock ever senses tampering, it will send you a notification. There's also a handy feature I'm particularly excited about: If your lock ever loses power, you can use a 9-volt battery to quickly charge and unlock the door.
The Nest × Yale Lock is perfect for anyone that has Nest products in their home. It's built to integrate with the system and requires the Nest Connect or Nest Guard in order to interface with the rest of your Nest system and connect with the Nest app.
Pros:
Reliable
Long battery life
Tamper-Proof
Simple installation
Cons:
Pricey
No Apple HomeKit support
Best for Nest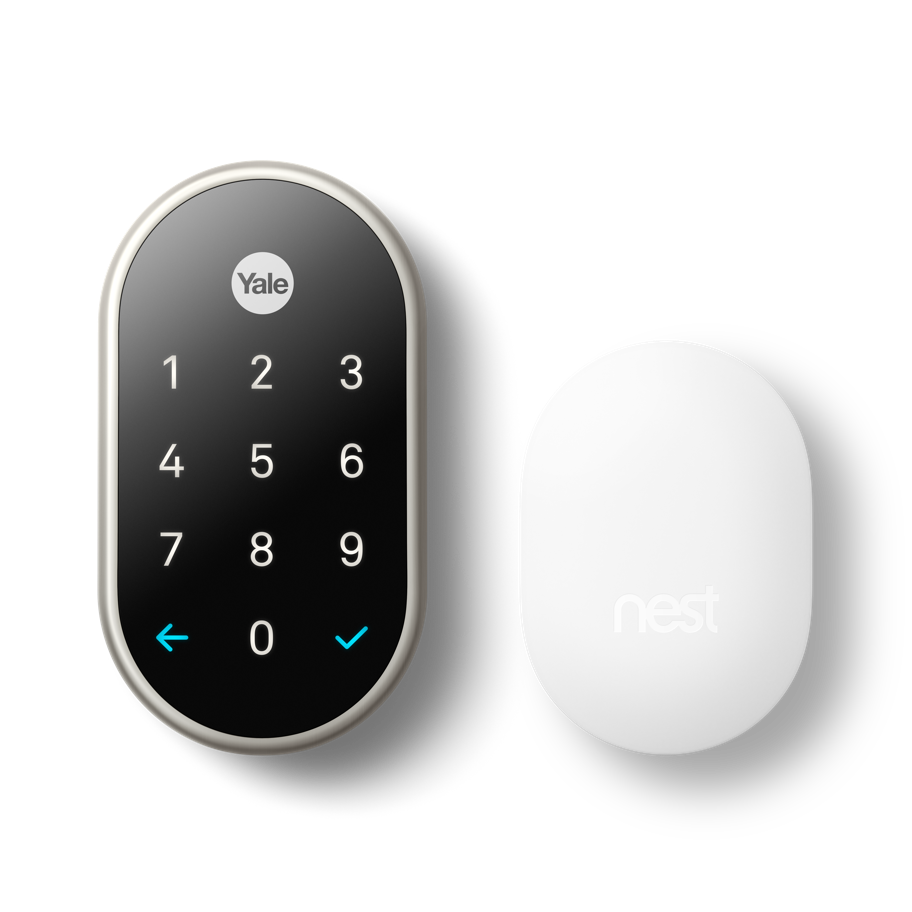 For Nest enthusiasts
Nest teamed up with Yale to create this tamper-proof, key-free deadbolt for your home that works with your existing Nest ecosystem.
Best Look: Schlage Connect
This smart lock has a touchscreen keypad for entering your entry code. There's also a vacation mode to disable all codes while you're away. The two-piece system is available in aged bronze, polished bright brass, or a satin nickel finish to suit your home's style.
If you enjoy receiving up-to-the-minute information about the activity in your home, have a look at the Schlage Connect.
Pros:
Affordable
Simple installation
Colorful
Cons:
Only works with single-cylinder deadbolts
Best Look
Add smart, wireless access to your home on the cheap
The Schlage Connect smart lock works with Amazon Alexa, Z-Wave, and Wink. Its simple installation and built-in alarm will make entry simple — but only for those who have been granted access to your home.
Best Budget Pick: Kwikset Kevo
The Kwikset Kevo is a small but mighty smart lock that lets you simply touch your smartphone to your door handle in order to gain fast access to your house and home.
And if you forget your smartphone at home, never fear: you can pick up the Kevo fob that offers the same one-touch design that you can clip onto your keychain.
Using the Kevo app, you can track exactly who is locking and unlocking your door and any time, allowing you to monitor and make sure your family is safe — all for a ridiculously affordable price tag.
Pros:
Sleek Design
Affordable
Simple
Cons:
Only works with single-cylinder deadbolts
Additional accessories sold seperately
Best Budget Pick
Tap, lock, and track who's coming and leaving
The Kwikset Kevo is an affordable and reliable smart lock that's easy to install, provides strong resistance against foced entry, and even detects your location before you tap your smartphone to the door.
Bottom line
The August Smart Lock Pro provides the most functionality for the most people, it's incredibly easy to install, and purchasing it opens you up to August's entire line of smart home products — including a smart keypad and doorbell camera. It's reliable, it's stylish, and it's perfect for anyone looking to add smart, wireless access to their home.
Credits — The team that worked on this guide
Cella Lao Rousseau writes for iMore on social and photography. She's a best-selling horror author and true crime enthusiast, so she knows all about protecting herself from things that go bump in the night. Follow her on Twitter and Instagram: @hellorousseau
Joe Keller is a senior editor at iMore. He's a big fan of HomeKit gadgets, and especially fond of security. He knows how important a quality and reliable lock is. Follow him on Twitter @jkeller87.
This post may contain affiliate links. See our disclosure policy for more details.