Best Taxi and Ride-Sharing Apps for iPhone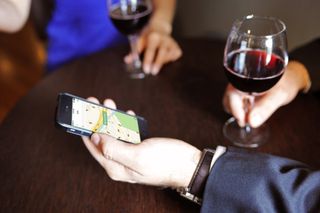 Whether you're planning to indulge in liquid libations this weekend, you just don't feel like walking through our lovely Smarch weather, or the public transit in your city isn't as good as it could be, you can pull up a ride-sharing and taxi app and be on your way in no time.
Here are some of the best apps for getting around your town.
Note: Not every app is available in every city, so we've recommended a variety of different apps to (hopefully) cover all your transportation bases.
Should you ride share or take a cab?
Why you can trust iMore Our expert reviewers spend hours testing and comparing products and services so you can choose the best for you. Find out more about how we test.
Unsure whether you should use a ride-sharing app or a taxi service? Our own Lory Gil broke down the difference when she reviewed Curb in 2017:
Lyft
Of the major ride-sharing services, Lyft tends to get the better rap — it was the first app to support tipping, and the company seems to continually experiment with new safety features and options for both its riders and customers.
Lyft offers a traditional single-car and large-car service in all its markets, but it also provides Lyft Line (or, as I like to call it, "the semi-private bus"). If you choose Lyft Line, you'll pay less to ride with 3-5 strangers who are taking similar routes. Your ride may last a bit longer, but if you're looking to save a few dollars (and meet interesting people!) it might be the way to go.
If you're in a major city in the US that supports Lyft, it's definitely worth trying out.
Uber
Let's get this out of the way: Uber's business practices don't particularly thrill anyone at iMore, myself included, and I try to avoid taking the service whenever possible. But if you're in an area where taking other transportation isn't an option, Uber is likely there: The service is available in 632 cities and counting worldwide.
Like Lyft, you can choose from several car options, including UberX andUberXL; major cities also have other cars available, including the upgraded Select and Black services, handicap-accessible Assist and WAV, and the Lyft Line-esque Pool and Shared Pool options. In some cities, you can even hire taxis from inside the Uber app (though Uber takes a cut of your fare).
If it's not a ride you seek, Uber also (weirdly) offers a delivery service called UberEats: You can summon a car to do a pickup order from your favorite restaurant and have it dropped off at your door.
Blacklane
If you need to rent a car for a lengthier period of time or want a fancy transportation experience, consider Blacklane: The high-end chauffeur service offers pre-booked black cars, SUVs, and limos in over 250 cities around the world; you can pick up a car for an airport ride, multi-hour adventure, or event. It'll cost you more than your average ride share or taxi cab, but most of that is the driver's time and your own experience.
Curb
Curb is the only proper taxi app on this list: It works in over 60 cities across the United States, tying the app to taxi drivers in your neighborhood.
You can use Curb like you would Lyft, pre-paying for your ride and tracking your progress, though you can also elect to pay for your ride in cash if you prefer. For a more traditional taxi experience, check out Curb. (And check out Lory's review of Curb, too!)
Your picks?
If you frequently take taxis or rent cars, what iPhone apps have you found to be the most useful? Let us know below!
Get the best of iMore in your inbox, every day!
Serenity was formerly the Managing Editor at iMore, and now works for Apple. She's been talking, writing about, and tinkering with Apple products since she was old enough to double-click. In her spare time, she sketches, sings, and in her secret superhero life, plays roller derby. Follow her on Twitter @settern.
I used Uber on my recent trip to India. Worked really well.

I've been a Zipcar member for years and always enjoyed the app. They only recently updated for iOS 7. Sent from the iMore App

I used Lyft twice and I am greatly satisfied. They do DMV background checks for their drivers and are about 50% cheaper then a regular cab. Sent from the iMore App

I used Lyft twice and I am greatly satisfied. They do DMV background checks for their drivers and are about 50% cheaper then a regular cab. Sent from the iMore App

Lyft is currently being sued by the wonderful city I live in. Any of the for hire driver services that don't have taxi/limo licenses and city permits are currently banned by city ordinance here. Hopefully the city can get their heads out of their asses and get with the times and allow fresh new ways for competition for the same of riders/passengers and the hard working, otherwise qualified drivers to do their thing.
I hate the established taxi company here. I'm a bartender and on occasion after getting frustrated with constant calls and a cab NOT showing up, I've called a limo service to ensure intoxicated persons arrived home safe and without drunken driving charges or worse! Sent from the iMore App

Where do you live? Just curious! Sent from the iMore App

You should consider calling for a tow truck if your customers drove to your bar. A tow driver will deliver the car and the driver to their home, costs less than a DUII and solves the problem of recovering their car the next day.

On a recent trip to India, I was so excited to use uber, but it just had no drivers available when I wanted a ride. They have just 1 or two drivers in the city, and claim that as one of the 70 or 100 cities they cover. It's irritating because I drummed up the expectations so much, my friends were wondering what's so cool about uber. It's out of the world when it works. (Just never worked for me) I have used it in SF/LA/DC and it work quite well (except for their s(pl)urge pricing. My India experience leads me to question how well uber performs in smaller cities in US or outside US.

Allyson, you should try Summon (see summon.com)! This app offers a choice of taxi or personal car. Unlike Uber and Lyft, Summon opposes surge pricing. Summon also has a unique program called FareBack, which gives customers a credit on each ride to use towards future Summon rides. This makes Summon the least expensive on-demand rides app.

Awesome, thanks for the tip!

Allyson, great review! I love my Note 4. In what town/state is that Hospoda & Pivnice place? It sounds like it might be a Czech restaurant, which I'm always searching for!

I like flyerwheel.
https://www.flywheel.com/
This app is endorsed by SFMTA Muni.It helps you find and price local taxi cabs in SF. Sent from the iMore App

I saw that too. I didn't include that and Summon just because it's pretty much tied very few areas. Sent from the iMore App

Allyson, I know it's in limited locations, but Flywheel is a vitally important service. You would be doing a great service to help it become more widely known. Hopefully that will lead to it being rolled out in more areas.
I have no connection to Flywheel (or any cab or ride service), but Flywheel is the ONLY ride service I'll use.

Curb works great for me. The taxi's are always on time and I like the option to pay with credit card or cash.

Exclusive Taxi and Car Service has a app if your in the jersey shore are go to exclusivetaxiandcarservice.com to download

It can definitely be a good idea to look into riding a taxi. In a lot of places it can be really difficult to even get a taxi to take you somewhere, then you have to deal with the price. Apps like these could definitely help make things significantly easier for people.
http://aaagreencab.com

I hate to say it, but I have never used any of these apps. I actually ride public transportation whenever I can, but my schedule does not abide by the transit authority's. I probably take about 10 taxis a week. I think I will give Uber and Lyft a try. They seem to be the most popular and established services. http://www.deltasurreygreencab.com/services/wsdindex.php

I had no idea that this service existed! I usually call my friends to come pick me up from things that are really far from my apartment. However, now that I know that this taxi service exists throughout the U.S. I can stop relying on my friends! Thank you so much for this information!
http://newdaycars.com/

I had no idea that there were so many different apps for taxi services. I'll be traveling to a big city so I want to make sure I get a good taxi service. It seems like a good idea to try out one of these apps. Thanks for sharing. http://newdaycars.com/

As for me, I have always enjoyed watching all-round views from some altitudes. I enjoy watching them in my hometown and as soon as I am in some new city, I start looking for such spots right away. When I am in such a place, I just hold my breath and observe the beauty. At such moments I think about how our life is excellent, what beauty it offers us and how important it is to value each moment of our lives. From such places it is so exciting to observe city views and imagine how thousands of people live in there and experience so many different feelings. I understand that I am not alone, that I have so many chances and that I can reach all my goals. The views of nature are also exciting, as while watching them, I wonder how such beauty can be created and how it is important not to spoil it.
I have to say that the information here was the most complete that I found anywhere. I am definitely bookmarking this to come back and read later.
Regards
Amanda G / Editor at www.atlanticchoice.com Rent a car

Green Cabs NZ have a new app called the Go Green app. All their drivers are certified and have background checks and security cameras. You can track the cars as they come to you. I like it. https://www.imore.com/e?link=https2F2Flinks%2F1...