Best Thanksgiving apps for iPhone and iPad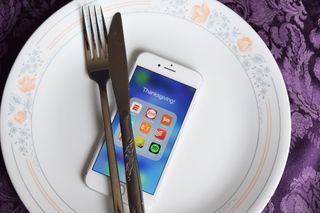 Thanksgiving can be a hectic time of year for many folks. Yeah, it's a couple days off and a joyous time to spend with family and friends, but the lead-up and day-of planning and preparing can be nuts!
We've rounded up the very best apps to help see you through all facets of Thanksgiving in fun and freakout-free fashion!
Cooking
You can always trust iMore. Our team of Apple experts have years of experience testing all kinds of tech and gadgets, so you can be sure our recommendations and criticisms are accurate and helpful. Find out more about how we test.
Quite possibly the most important part of Thanksgiving is the mighty feast, upon which your entire family will judge you for the year to come. If you're doing the cooking this year, then check out these awesome and helpful cooking apps.
Food Network in the Kitchen
Looking to impress the whole gang this Thanksgiving? Then allow all your favorite TV chefs into your home to help you make this year a treat for the senses!
Food Network in the Kitchen gives you instant access to some of the most popular recipes to be featured on the network, from superstar chefs, like Alton Brown, Bobby Flay, Giada De Laurentiis, and the king of flavor country himself, Guy Fieri!
If you're looking for inspiration and something a little different this year, check out Food Network in the Kitchen.
Allrecipes Dinner Spinner
Like Tinder for recipes, the Allrecipes Dinner Spinner lets you get i touch with over 30 million other home cooks who are there to help you and each other discover the best of the best in home cooking.
You get a personalized feed of recipes that are tailored to your tastes, your own profile of everything you've created, step-by-step cooking videos, and you can even swipe right on recipes to view similar recipes (you know, if they're hot!).
Yummly is hella cool because it features a search engine that can tailor searches to your specific needs. So, if, say, you're cooking for 20 people who all happen to be gluten-free, you can add that criterion to your search, while also searching for meals to feed many people at a time.
You'll also get meal recommendations, helpful how-to videos, nutrition tracking and more.
With over a million recipes, there's definitely something for even the pickiest eaters (lookin' at you, Aunt Doris. JUST EAT IT!).
Task management
If you're hosting Thanksgiving, you probably have a million things to get done before noon and a couple million more before folks start arriving at four. Download a great to-do app, and problem solved!
Todoist, or not Todoist? Todoist! Duuuhh!
Todoist is your to-do list dream come true. You can build and share to-do-lists and reminders of every kind, so if Jimmy's out and about, you can remind him to pick up the Turkey on his way home.
You can also use Smart Schedule to help you find the best due dates for your tasks, and you can add tasks on the go and manage them from any device, so you can start on your iPhone while you clean the house and move to your iPad when you hit the kitchen for 8 hours while you thanklessly slave over a hot stove.
If you have stuff to do, then Todoist is here to help you keep track of all of it.
Shopping
Thanksgiving can be expensive, and if you're decorating or buying boatloads of groceries, you'll want to score a deal wherever you can!
This app does exactly what its name implies: provides you with coupons from all over the place. If you're doing the big shop for this Thanksgiving, The Coupons App has you covered at retailers from Kroger to Hobby Lobby to Costco to Best Buy and many more.
So if you're cooking, decorating, or buying a big screen to watch the game on, consult The Coupons App and save big.
And if you want to escape it all and just go out to eat, there are coupons from a ton of great restaurants too!
Do you… flip out over savings? Who doesn't? But compiling the flyers and coupons for every store in your area can be cumbersome and even a little overwhelming.
The Flipp app does it for you! You can search for flyer deals for the stores where you shop, and you can even search by item or brand.
Really craving name-brand mayonnaise? Search it up and save! You can even add your loyalty and points card to the app so that it becomes your one stop for shop… ing.
Music
If you're entertaining on Thanksgiving, you'll want a great music app to help set the tone for the evening. Your own shuffled playlist might reveal your penchant for Norwegian trip hop or your "Coping with Diarrhea" audiobook. The best music apps curate playlists for you so that you can avoid embarrassment and let the good tunes roll.
Spotify is the mac daddy of music apps. It features thousands of curated playlists that are searchable by artist, genre, mood, and much more.
The app is free to download, but you can subscribe to Spotify Premium for $12.99 a month and receive unlimited track skips, the ability to play any song any time and listen offline, and ad-free music (so worth it!).
If you're looking for the perfect soundtrack to your upcoming family argument, check out Spotify!
Duh. If you have an Apple device, you have Apple Music. It's the bees' knees. Subscribe for $9.99 a month (free for the first 3 months) and enjoy your choice of around 40 million songs, while creating playlists of your own, listening to curated playlists, and downloading all the music you want.
It's basically just unlimited music. You'll never listen to it all and new songs are always being added. If you're looking for the perfect way to set the Thanksgiving mood, then Apple Music is a great way to go.
If you're looking for great live music and a bit of visual entertainment to go along with your Thanksgiving Day festivities, Qello Concerts is a great app. You have access to tons of awesome concerts and music documentaries, and not just the audio either.
AirPlay the app to your Apple TV and enjoy concerts from some of the world's biggest artists, like Rush, Beyoncé, Lady Gaga, Metallica, Paul McCartney, and many, many more.
Footy footy football
If you won't have time to watch any of the games this Thanksgiving, then a great sports app will help you keep up with your favorite NFL teams. (Just sneak a peek at your phone between courses!)
theScore is a wonderful app for fans of any sport at all. Just launch it, pick your favorite teams and leagues, and you'll receive all the news, scores, and highlights you need to keep up-to-date on the happenings around the NFL.
Because ESPN. The end.
Just kidding. ESPN is another great source for all things sports. Pick your favorite teams, get quick access to scores, receive real-time notifications on updates and news, and much more!
Just turn your phone on silent when the [insert favorite] is playing the [insert team you hate], because it'll be blowing up with touchdown notifications!
Get stuffed!
Which apps are your favorites for getting through the holidays? Sound off in the comments below!
Updated November 2017: These are definitely the best apps to see you through everything that comes your way on Thanksgiving!
Get more iMore in your inbox!
Our news, reviews, opinions, and easy to follow guides can turn any iPhone owner into an Apple aficionado
Mick is a staff writer who's as frugal as they come, so he always does extensive research (much to the exhaustion of his wife) before making a purchase. If it's not worth the price, Mick ain't buying.