Best third-party music player apps for iPhone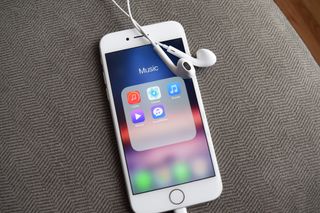 If you yearn for the days when the iOS Music app was just the Music app and not just a vehicle for Apple Music, you're not alone. Sadly, you just can't get that experience anymore with the native app. That being said, all is not lost, since you can still download some awesome third-party apps to control your tuneage.
Cesium
If you're looking for the classic Music app feel, then Cesium should be your go-to. It's just like you're used to, with a very pleasant interface and everything where you think it should be — it just makes sense.
All the buttons are laid out nicely and the Now Playing screen is elegant. All you have to do is allow the app to access your Music Library and all of your music, including stuff you download from iTunes, is there, just like using the iOS app.
If you want an experience that's as close to the way iOS used to be as possible, then Cesium's your bag, baby.
$1.99, with in-app purchases - Download now

(opens in new tab)
Listen: The Gesture Music Player
Listen is a cool app. You control your music library with gestures. Two-finger swipes let you control volume and scrub through tracks, while taps and single-finger gestures let you switch tracks, share them with friends, play and pause, and more.
The Now Playing screen is minimalist and gorgeous, and searching through your tunes is well-laid out and simple. If you're a tap-happy individual, then this may not be the app for you, since there's a lot you can do with just a tap and drag, but if you like a smooth interface where all your actions flow, then give Listen a try.
The free version is great, but if you want premium features, like curated radio stations, then you'll have to pay.
Free, with in-app purchases - Download now

(opens in new tab)
Ecoute
Ecoute is perfect if you like more of a bare-bones music experience on your iPhone. If you can't be bothered to share your tunes or connect via social media and all you want to do is listen to your music, then this is the app for you. I mean, you totally can share what you're listening to via Facebook and Twitter, but it's not in your face. It sports a very clean interface and lets you filter your music seven ways, so that you can listen to exactly what you want in the moment. You can even listen exclusively to stuff you've purchased from iTunes.
Ecoute synchronizes your playback numbers and last played dates, so your stats are never skewed and remain the same across devices. You can also view your queue and move songs around and remove them to your liking, even when shuffle is on. It's perfect for picky listeners!
Stezza
Stezza is for folks who like a simple layout without much fuss. You can customize the background color and some buttons, but that's about it. The home interface is broken up into panes, so you can see what's playing now, play/pause, skip tracks, turn shuffle on and off, and more. You can even AirPlay all of your tunes, including those purchased from iTunes.
You can tweet and share what you're listening to on Instagram and view movies and TV shows as well. If you like a pared-down interface that's simple and obvious, then definitely give Stezza a try. It's all about being quick and easy.
SoundShare
SoundShare is all about community, so if you love your tunes and want to let everyone else know what you love, while also discovering new music, then this one's for you! You have to create a free account, and then you can connect with users from all over the world, finding out their tastes, while sharing your own.
The interface does take some getting used to, but once you have your bearings, it's easy to share your music or check out streaming services, like Spotify, Apple Music, and Deezer. You can see and play everything your SoundShare friends listen to, and you can even like and comment on songs. It's basically like Instagram for music. If you hate those people who try and recommend music all the time, then stay away, but if you are one of those people, then rejoice — you have a platform just for you!
SoundShare just got a facelift, and while it's a little broken for now, future updates will likely fix all the bugs.
What's your favorite?
Do you have a favorite third-party music player/manager? Let us know in the comments below!
Mick is a staff writer who's as frugal as they come, so he always does extensive research (much to the exhaustion of his wife) before making a purchase. If it's not worth the price, Mick ain't buying.
I use on my iPhone 6S plus "ONKYO HF Player", free player and comes with preset headphone type. One reason I use this player is because comes with equalizer and linear-phase FIR filter. The quality is much better than the music app.
One thing this app needs to improve is the playlist, it's not friendly, but I hope future versions fix that. It comes with black theme so is very good to use during nights. Flip the app in landscape mode and you have the equalizer. This is the app music I use all the time, you can also control the app from your apple watch.

Does anyone know the best music player with international music? I have a lot international music I want to add to my phone but iTunes keeps thinking it knows where the tracks are from (it doesn't).

No mention of Vox? http://appshopper.com/music/vox-player Don't pay for it. It's periodically free. The dark interface is very nice and playlists are more central to the experience than on the native music app. Honestly, I can't stand the stock app since Apple Music (no thank you) came to be. Vox has been great. Note: I still use iTunes to create smart playlists. That's how I sync my music. Only 4 start + songs are synced. If I knock a song down to 3 starts, it gets removed from my iPhone (but not my collection) when I get home.

I'm more than happy with Amazon Music Player, works perfectly in offline mode on my iPod Touch. Also use Swinsian on my iMac instead of iTunes. Sent from the iMore App

Do any of these work if your music is in the cloud? I use iTunes Much so I don't keep local copies of my music.

Cesium supports iTunes Match, according to their website.

Alternatively go into settings, Apple Music and turn off 'Show Apple Music'. This gives you a stripped back player that syncs old school with iTunes :-) Posted via the iMore App for Android

Cesium is easily the best music player I've ever used in iPhone. Customizable, fast, beautiful interface, and works great with iTunes Match. I have a huge library of almost 80,000 tracks, and Cesium makes navigating this a dream. Other players, with the exception of Ecoute, make navigating a large library an absolute nightmare.
I should also mention, support from the developer is fantastic. Very responsive to suggestions and bug reports. Cesium keeps getting better and better, and it's already the best player by a mile.

Problem with Cesium is that it is not actually a music player as it relies on Music app. When you terminate the app, music still plays and that defeats the purpose of it as a music player and I don't care how good it looks!!

My number one reason for using Cesium was the UI.. the instant I installed iOS 10, I went looking for a Music player app that would replace the stock Music app that was destroyed (design wise) in iOS 10... it looked more like a News Reader than a music player.. I love the fact that Cesium provides the look and feel of the iOS 8 music app and allows me to sync my Music as I always did using iTunes.. it also provides support for iTunes Match and Apple Music so everyone is happy.. I have no issue with Apple's Audio kit engine but more with the ugly UI designed for iOS 10's music app and Cesium makes me want to listen to my library again on iOS. it also brings back star ratings front and center so that'S a big plus for me... and everything sync back to my iTunes Library on my Mac!

The Zune UI was the best for music in my opinion. If they would release that on iOS I would be all over it!!

I lover party monster surprised I didn't see it here http://www.steamclock.com/partymonster/

Perhaps an old post but reposted !!

TunesFlow is the best I've seen. It's not free though.

I like Next Song Player very much. It creates playlists based on rankings of artists, albums and songs, which is a very nice feature. And the player shows the star rating, that I keep on using.

I use PlayerXtreme to play all my music files, audio and video. It supports all formats. Great app.

Feature Wish #1: Programmable Replay and Skip buttons -- Does anyone know of an iOS music player app with a programmable replay (10, 15, 30 sec, etc.) button and a skip ahead (10, 15, 30 sec, etc.) button? Does anyone know why music players typically don't have these features already? Does Apple or some other interest put constraints on music player features?

I think "CarbonPlay" is one of the better options. And it is more than just a music player.

I recommend foobar2000. Plays most audio formats and music can be transferred via FTP. https://itunes.apple.com/us/app/foobar2000/id1072807669?mt=8&at=10l3Vy

A couple of months before the first iPhone was announced, there was news of a patent showing a touch screen iPod. After the announcement, I presumed the patent was actually for the iPhone but since no one knew of it, the story was misreported. Or maybe it actually was for the first iPod Touch. Whatever.
Point is, I'd love an app that replicated the original clickwheel iPod. Silly, stupid, I know, but still.

Harken For iPhone is definitely worth a look. :)
Get the best of iMore in in your inbox, every day!
Thank you for signing up to iMore. You will receive a verification email shortly.
There was a problem. Please refresh the page and try again.