Best ticket finder apps for iPhone: Rukkus, Applauze, SeatGeek, and more!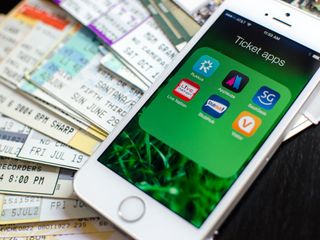 If you're looking to get out on the town and hit some concerts and local events, you'll want to make sure you have the absolute best iPhone apps available to help you get the best ticket prices and info available. Nowadays it's extremely easy to buy tickets to sporting events, concerts, the theater, and any other kind of event in just the tap or click of a button. However, when buying tickets you also want to make sure that you know what you're getting and that you're not overpaying. Although there are lots of ticketing apps available for iPhone, we think these ticket apps are currently the best!
Rukkus
Why you can trust iMore Our expert reviewers spend hours testing and comparing products and services so you can choose the best for you. Find out more about how we test.
Rukkus can use your current location and the music that's already in your music library to provide recommendations for venues around you. Currently Rukkus plays host to over 100,000 events at any given time. Rukkus does this by pulling results from all the large ticket hubs on the web including StubHub, Ticketmaster, eBay, and more. Rukkus currently supports ticket finding and purchasing services for sporting events, concerts, and theater tickets.
For a ticket app that serves up personalized results based on your tastes and ticket buying history, be sure you give Rukkus a try.
Applauze
Applauze is silmiar to Rukkus in some ways but along with offering tickets for concerts, sporting, events, and theater, there is also a large emphasis on local community events. When you find an event you think looks interesting, you can save it for later or buy tickets immediately. You can also share events with friends and Applauze automatically creates a chatroom so you and your friends can discuss and coordinate plans. Even better yet, if your friends join Applauze and purchase tickets, you each get a $5 credit.
For a social ticket finding and buying experience that lets you involve your friends, Applauze is what you want.
SeatGeek
Like Rukkus, SeatGeek can also pull in your iTunes library in order to serve up concert and event information it thinks is more relevant to you. The thing I love about SeatGeek is that you immediately see pricing and where tickets are located on detailed maps. In my experience, SeatGeek does a great job pulling in seating charts for most venues, so you always know exactly what you're getting before you tap the buy button. SeatGeek also aggregates from popular ticketing agencies such as StubHub, eBay, and others so you get the best prices possible for events.
If you're the type that wants to know exactly what kind of deal you're getting, complete with seating charts for most venues, check out SeatGeek.
Live Nation
Live Nation does a great job at pulling in festivals and smaller concerts that other ticketing apps somehow seem to miss. From concerts at baseball fields to local shows by local bands, you'll most likely find it with Live Nation. When you're ready to purchase tickets however, Live Nation simply uses the in-app browser to load the source. This means you may not get the best deal booking through the app but that doesn't mean it isn't a great resource for finding events other apps let fall through the tracks.
If you're looking for local shows and events in your area and just aren't finding them in other ticketing apps, be sure to browse Live Nation.
StubHub
StubHub is a long time favorite when it comes to buying tickets to every type of event imaginable. The StubHub app brings that experience right in the palm of your hand. My favorite thing about the StubHub app is the level of control is brings. You can drill down by artists or by venue. This is great for time when you want to find something to do nearby and know the venues and just want to see what's coming up. Lots of StubHub venues also come complete with event maps so you know what you're buying.
For more control over your ticket buying experience, StubHub is one of the most trust sources available.
Viator Tours
For folks that are traveling or in an area that's new to them, checking out local landmarks and attractions typically become top priority. The Viator Tours app brings great prices and perks to your iPhone. Just tell Viator where you are or where you're going to be visiting and it can serve up lots of attractions and deals. In some areas, you can even show your iPhone in order to skip the line. Not only will Viator save you money, it'll help you explore and discover new things you never would have found otherwise.
For attraction tickets and deals when traveling, look no further than Viator Tours.
Your vote for best ticket purchasing apps for iPhone?
If you frequent local events, concerts, and more, how do you purchase your tickets? Do you use an app on your iPhone, and if so, which ones do you find to be the best? Be sure to let me know in the comments!
Get the best of iMore in in your inbox, every day!
iMore senior editor from 2011 to 2015.
Thank you for signing up to iMore. You will receive a verification email shortly.
There was a problem. Please refresh the page and try again.