Best Touch ID apps for iPhone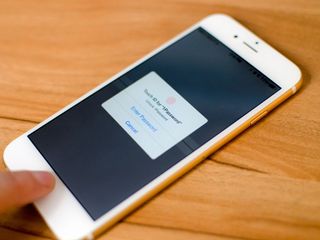 Touch ID isn't just for unlocking your iPhone: App Store apps can integrate Touch ID if they choose, too. Given that we store lots of personal and sensitive information on our iPhone, it's important to safeguard certain apps with passwords — or, in the case of Touch ID, fingerprint protection. Here are some of the best iPhone apps that do a great job of integrating Touch ID.
PayPal
Why you can trust iMore Our expert reviewers spend hours testing and comparing products and services so you can choose the best for you. Find out more about how we test.
What better way to for stuff online than PayPal, and what better way to use PayPal on your iPhone than with Touch ID? You can usually save your PayPal credentials, and if someone gets ahold of your iPhone, you could be seeing some unusual purchases appear on your next credit card statement.
Protect your PayPal account and protect your money with Touch ID and the PayPal app!
Evernote
Take notes, set reminders, and a whole lot more with Evernote — one of the best notes apps around. You can also save things you find online, and keep it all protected from prying eyes with Touch ID.
1Password
If you're only concerned about keeping one app secure, it should be your password manager. 1Password offers support for any login type you could think of, 2FA support, Dropbox sync, iCloud sync, password generation, and tons more. It's also available for virtually every platform.
Dashlane
Dashlane is another password manager very similar to 1Password. Store passwords and logins, create new passwords, and lots more. The main difference between the two is that 1Password costs a little more up front. Dashlane is subscription based.
LastPass
Another favorite password manager is LastPass. LastPass is also subscription based like Dashlane and provides a lot of the same great features. The main difference is that LastPass also offers premium and enterprise options the others can't come close to offering. For options when it comes to password management and security, there's none better than LastPass.
It even comes with an Apple Watch app so that you can make sure you're secure on all fronts.
Mint
Mint links in all your personal finance accounts and helps you figure out where your money is going and how you can better manage it. You can also hook in investment accounts and set budgets for individual categories. Touch ID support adds an extra layer of security to your sensitive data without compromising convenience.
Authy
Authy is one of the easiest ways to generate tokens for two factor authentication on the go. Hook in your Google, Facebook, Dropbox, AWS, and many other kinds of accounts and you're ready to go. Next time you need to verify a login, no need to mess with bar codes and other verification methods. Touch ID support makes your tokens even more accessible, but not less secure.
Scanner Pro
If you have a lot of documents to scan and manage on a regular basis, Scanner Pro is what you want. Not only can you scan, merge, and clean up documents, you can also password protect them for prying eyes. Touch ID support allows you to access them even quicker without sacrificing convenience.
Documents 5
Documents 5 is Readdle's central hub for all your documents. It integrates with all of Readdle's other productivity apps and functions as a PDF reader, media player, and download manager all in one. With Touch ID support you can always make sure sensitive documents never get accessed by anyone unauthorized.
Day One
Day One is a beautiful journaling app that lets you gather your thoughts in the most elegant of ways. With features such as image support, Markdown, and beautiful day and calendar views, it's pretty much the best way to track your private thoughts on iOS. Touch ID support balances privacy and easy access so security doesn't slow you down.
Dropbox
We store a lot in the cloud these days and Dropbox is no exception. If you store anything in Dropbox, you should always have it password protected on your iPhone. Touch ID support makes dealing with annoying passwords when accessing Dropbox pretty much a non-issue.
Your favorite apps with Touch ID?
If you take your privacy and security seriously, what apps are you using that support Touch ID? And more importantly, what apps do you have that you seriously wish would add Touch ID support? Let me know in the comments!
Get the best of iMore in your inbox, every day!
Mick is a staff writer who's as frugal as they come, so he always does extensive research (much to the exhaustion of his wife) before making a purchase. If it's not worth the price, Mick ain't buying.
I use to be a Mint user but have switched to using Prism. It also uses Touch ID.

Hmm, never heard of it, I'll check it out, thanks!

Really good app. Nice interface too.

1. Mint Bills (previously Check) allows you to pay bills from your phone. Very good app.
2. Alarm.com app. Access my alarm system at home.
3. American Express app

Never could get the scanning to work properly on Scanner Pro, so I went to Scanbot which also uses Touch ID.

I REALLY like InstaPDF these days too. Insta available on Mac!

I'm going to give it a try. Sent from the iMore App

I use Scanbot myself and it hasn't let me down. Touch ID requires the Pro ggrade though. Worth the money since it also gives you OCR, custom file naming and theme options.

Another shout out for Scanbot. My current favourite and supports TouchID. Sent from the iMore App

MSecure is what I use for a password wallet. It lets me add or change the fields in the database which that are reflected on all the cards that use that particular one. Sent from the iMore App

Wow. Are you ever focussed on security! There are only 2 or 3 apps here that AREN'T about security. Too much fear and worrying for me. Life is short!

You DO realize that Touch ID is ABOUT security right?! I didn't really see the need of mentioning apps that don't necessarily require additional security. I don't need to password protect my recipes or other kinds of apps that don't contain personal info.

I'm sure when I say this that I'm saying it on behalf of a lot of people here: just shut up for once. It's just a post about Touch ID apps and asking for a share of other apps that they missed. Get a grip.

@Gazoobee Stop trolling mate. I've never seen a comment of yours with anything less than -2 There are some genuine people trying to help each other, calling out on every single they think is wrong with the universe.

"Too much fear and worrying for me." Do you worry more if you don't lock the front door or if you had to use 2 keys to lock the door and the deadbolt?

Evernote for me. I use it all the time and TouchID is just a time saver. Now why havent banks integrated tID? I will like to see Wellsfargo, BOA and CapitalOne apps getting tID I have super complicated passwords on those apps and inputing them everytime is a hassle.

I didn't mention Evernote because it irks me that they only allow premium users to password protect the app. Security should never be a paid feature, it should be given to every user.

+1 On the why ALL BANKS haven't all integrated Touch ID yet. I personally feel that this should be a standard feature for all banks, as anyone can look over your shoulder and see you typing in a password, but just pressing the home button with your finger simply eliminates all that, so would reduce bank fraud dramatically without all the cumbersome steps that banks currently have to make you go through just to access their apps. I gotta love Amazon for being one of the first retailers to have touch ID built in. This is definitely my most used at current. As for third party Apps that offer generic password support, while I do think it's a good thing that people have thought to do that, I actually wish that this was a standard built in Apple feature rather than having to outsource it. Main reason is that I think many of us worry about how safe our passwords really are with app vendors they don't know, but I would trust ones built by companies with proven track records for data security like Apple, Amazon ,and Banks alot more not to abuse something like this. So even though many of the third party password app vendors are probably legit and above board, it's more a piece of mind thing, which is why I have never opted for any of the third party password apps no mater how tempted I have been to make my life simpler in that way. That being said, I would still trust TouchID on apps that are built into the logon system of a third party company's own shopping or banking website, as they would not want those passwords to leak, but it's more just apps that store all your passwords for everything you own that I would not trust anyone other than Apple to create an app for, as when you understand how rife corporate espionage can get, and when you consider that (no matter how stringent the TouchID protocols are in not actually storing the passwords) how easy it is for any App developer to keylog anything you type into their own app, so I could see how that could still have huge potential for disaster. MORAL OF THE STORY: Please Apple and All Banks make TouchID standard, as you would in effect be making us all alot safer (and at the very least, feel that way!) ;)

Some banks have integrated Touch ID but requires you to sign in and go into the settings within apps themselves at least for mine it does that. Sent from the iMore App

About touch ID. The courts have said using touch ID to access a phone allows law enforcement to search your phone without consent - since you already give implied consent when being fingerprinted the same logic applies to the phone. But when you need to enter a code to access your code, law enforcement is not allowed to force you to incriminate yourself by demanding and using your code if you simply tell them no. So protect your phone by using a passcode, but use touch ID for the apps.

A passcode is always required after re-boot or if you haven't unlocked the device for 48 hours. So any time you're worried just hard-reboot your phone - takes about 10 seconds. Or don't keep incriminating things on your phone.

I would like to b able to put a Touch ID lock on like my photo's app,my texting app,my Facebook,contacts..basically any and every app on the device .To b able to secure with Touch ID..like why do I have to download an app for it..should b able to use that where you wish .. Sent from the iMore App

I wish Apple would bring Touch ID to individual apps as well.

ya ur right i do think it

Just curious, why? Is it so you can let others use your phone or something like that?

So when my son is using my phone I don't have to worry bout him seeing things he shouldn't be seeing Sent from the iMore App

I downloaded "Photovault" and that uses touchID. Obviously not nearly as nice as the photos app (it's actually bland), but it hides the necessary photos/videos.

Great suggestion! Sent from the iMore App

I love having Touch ID on my "Accounts 2" checkbook app and "eWallet", another password management app which I use constantly. I agree it would be great to have a setting to turn it on for ANY installed app. Sent from the iMore App

I reckon a few of the better third-party email apps support Touch ID as well. Dispatch, my preferred email client for work related accounts, also supports Touch ID. Also like how it shows just a blank box in the iOS app-switcher if you've got Touch ID/Passcode protection enabled, which I think is a nice touch.

I use Transmit. It's a great FTP program with Password security to protect my server. Sent from the iMore App

PWSafe - syncs with app on the Mac via iCloud and uses open file formats that work with PasswerdSafe on Windows. American Express app - manage cards and pay bills, etc Amazon - easy shopping

amazon Sent from the iMore App

Hey ally, you've put 'Dateline' in the Dashlane text blurb. You should edit it :)

Already fixed. Auto correct kept changing it

Even though my favorite apps that use Touch ID are because of Apple Pay, I love it in Starbucks. Other than that, Amazon for sure. Makes things a lot easier. Sent from the iMore App

I can't wait until Bank of American and Citi start allowing touchid. The apps haven't even been updated for iPhone 6/6s yet.

Which Citi app ? I use Touch ID with the Citi Mobile app ?

1. Robinhood (zero commission trade)
2. AMEX

I use SplashID for password management. Another app called "Live Cams Pro" is for viewing webcams at your home, it used to have only PIN-based protection, but now uses TouchID as well. Makes accessing the app so much quicker just holding one's finger down rather than typing a PIN.

It sucks that we can't use Touch ID FOR reviewing apps! Why can't we? That's what I had expected but no...
I review apps more than I purchase. Sent from the iMore App

MacID, obvs. (Disclaimer: I made MacID)

Kane thank you for MacID, I already started spreading the word. Sent from the iMore App

You're very welcome. I run the Twitter and Facebook accounts myself so if you ever need anything give me a shout and I'll do my best :)

So u run Facebook and Twitter Sent from the iMore App

I love your app. I use it several times a day. It impresses the hell out of people the first time they see it

I just started using MacID to unlock my mbR its great. Can't wait to use it on my iMac at home. Sent from the iMore App

GoodReader is TouchID enabled and it works great for file management and document sharing. Sent from the iMore App

Avocado Sent from the iMore App

Wish USAA Bank would implement the feature. Great article Ally....thanks!!

Telegram has finally introduced the touchid unlocking function
It is make sense as the app is about keeping your conversation private and secure! Sent from the iMore App

Amazon. Skydrive. Sent from the iMore App

I should b able to lock up any App with Touch ID and not have to download an app to do it the option should just be in Touch ID Sent from the iMore App

Yes so wen like my son is using my phone I don't have to worry bout him seeing stuff he shouldn't Sent from the iMore App

I use MacID to unlock my Mac using the fingerprint scanner on my iPhone

Current Favs: 1. 1Password
2. Square Cash (Send Money)
3. Amex and Discover. (CCs)
4. Robinhood (Trading Acct) Touch ID wish list: 1. Apple (Messages, Photo & Passbook)
2. Chase & Citizens Bank
3. Flight Apps Sent from the iMore App

The Capital One Wallet app uses Touch ID and is really awesome if you have a capital one card!

This might sound simple. But I'd like photos to have fingerprint scanner. Then I can feel safe about anyone looking at phone Sent from the iMore App

Amazon,1 Password are the most used one's for me.
Wishlist : Whatsapp,Photos and Messages. I wish we there can be some settings where we can lock any app or enable touch id for any app.
This makes it more secure.