Best translation apps for iPhone: iTranslate Voice, iVoice, Google Translate, and more!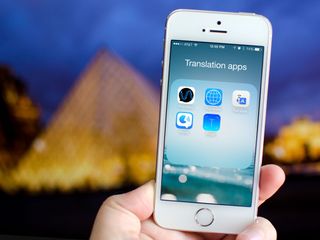 Whether you're traveling to new and interesting places or trying to talk to new and interesting people at home, thanks to the iPhone, language is no longer an absolute barrier to communication. While we don't have Star Trek's universal translator - yet! - we do have plenty of apps on the App Store that can help with translation. We've gone through, tested them out, and figured out which are the absolute best iPhone apps for translation needs. These are the ones I think currently deserve your attention...
iTranslate Voice
Why you can trust iMore Our expert reviewers spend hours testing and comparing products and services so you can choose the best for you. Find out more about how we test.
iTranslate Voice currently supports 42 languages for both translation and dictionary services. Just speak the phrase or word you want to translate and iTranslate Voice speaks the target language. If you are misunderstood, you can tap the pencil to correct iTranslate Voice. AirTranslate lets you pair with someone else wirelessly who also has iTranslate Voice installed. You can both speak your native languages and let iTranslate Voice take care of the rest.
If you need to break down a language barrier quickly and efficiently, look no further than iTranslate Voice.
Google Translate
Google Translate is a free solution that lets you translate 80 languages. You can type, speak, or write your query and Google Translate will respond in the target language. There is also a favorites section within Google Translate that lets you save common phrases you may have to remember which is great for travel to countries where you aren't familiar with the language. Typing in a single word also results in dictionary results.
If you need to translate handwritten languages such as Chinese or Japanese, Google Translate is one of the best options.
iTranslate
iTranslate is by the same developer of iTranslate Voice but supports over 80 languages in this particular version. By default you get can translate via text input but you can add voice recognition, remove ads, and get even more features for an additional in-app purchase. Like Google Translate, iTranslate also supports character input for languages such as Chinese, Japanese, and Latin. However, it takes it one step further with Romanization and can turn symbols into written words of that language quickly and easily. The text prediction feature also helps you type quicker and more efficiently by guessing what you're trying to say beforehand.
For advanced character recognition and faster text input, iTranslate is one of the best.
iVoice Translator Pro
iVoice supports translation in over 30 languages and works as a two-sided translation app. Choose your native language and the target language and then speak what you'd like to translate. iVoice then audibly translates it for you to the target language. The person you are then communicating with can then speak back and let iVoice dictate their response in your own language. While other apps listed above can do this as well, the way iVoice lays out conversations in more human and conversation like, which makes it easier for both parties to use and understand.
For a more conversation like translation option, check out iVoice Translator Pro.
Pixter Scanner OCR
Pixter isn't a dedicated translation app but it can definitely be treated as one. Instead of translating on-demand text, Pixter translates printed text through images. Just snap a photo of a book or a sign you'd like to translate and let Pixter handle the rest. It does this through optical character recognition. Just choose the source language and then output language and you're good to go. Pixter currently supports translation in over 32 languages.
For translating printed text to your own language, you want Pixter.
Your favorite translation apps for iPhone?
Do you use translation apps on your iPhone regularly? If so, what are your current favorites and why do you prefer them over other options? Be sure to let me know in the comments!
Get the best of iMore in your inbox, every day!
iMore senior editor from 2011 to 2015.
I use Google Translate. It's the only G product I use besides Google search.

Thanks for providing a great list of translating apps that really looks great and very easy to use. I would like to suggest to add one more app in your great list, That has a name of OneTongue for iPhone and iPad.
This app translates many of languages.
App:https://itunes.apple.com/us/app/onetongue/id796286897
Read the review:http://www.apppicker.com/reviews/13835/OneTongue-app-review-your-transla...

Google Translate's the best.

I use Pixter and Google Translate not sure why I have both Sent from the iMore App

Great set of apps for an important need for many of us. I use Google Translate a lot, but it seems a couple other options offer other features that could really be useful for us.
Thanks for the great review. :) Sent from the iMore App

WordLens is by far my favourite translation app! Using the camera to translate menus in real time without an Internet connection is amazing! Also super useful if you're grocery shopping in a foreign land, like buying coffee beans in Berlin - so you can avoid buying decaf!
http://www.imore.com/word-lens-iphone-review

Which if any of these work without an internet connection? It's a safe assumption that these will often be used while traveling, when data rates can be exhorbitant without wifi.

Unfortunately most good apps require data connections. But we also live in a day and age where prepaid unlimited data SIM cards are extremely cheap. When we were in the UK we picked up a 3 UK sim with unlimited data for £15 a month. We could add international data all over western Europe to that for extremely cheap. The world is getting a lot smaller these days...

i see, you NEVER traveled to some remote country side places WITHOUT and 3G / 4G signal? visiting big cities with full coverage most people will speak english so what's the point of having a translator app. i would like to speak with people living in remote villages and then you will need a translator so a small book is better. hence on-line translator apps are not suitable IMHO full stop.

I've been using the freetranslation.com app called SDL Translate (for iPhone). Does a decent job with translations and also has document translation which is pretty cool. The Facebook feature seems a bit buggy, hope they fix it.

Hi, Thanks for this nice article. I would like to suggest an Android translator which use new Android's feature (HeadChat) to make users life easier to translate. I really enjoined it and thought maybe it is important to let others know about it. https://www.imore.com/e?link=https2F2Flinks%2F1...

Great article on Translator apps. Except for Google Translate most of these apps charge money for voice translation/speech output. I've found another app which provides unlimited voice translation and speech and would like to mention it here. It's called Language Translator - Free.
Link: http://itunes.apple.com/app/id886668553?at=10l3Vy

Thanks for putting this list of translator apps together. In your next update of the review, could you please take a look at Lutino. It offers a free version, best of class voice recognition and translation (both Google and Nuance), a web page translator, and an easy to use, customizable UI.
App: https://itunes.apple.com/us/app/lutino-basic/id735501223?mt=8&at=10l3Vy
YouTube Video: https://www.youtube.com/watch?v=TaaavPvUbOI

Try my app LinguaLearn Voice on itunes which gives you all these features for free. Pretty intutive and well designed.

Try this nice voice translator app for free:
https://itunes.apple.com/us/app/voice-translator-pro-speech/id687597587?...