Best travel companion apps for iPhone: Foursquare, Airbnb, Duolingo, and more!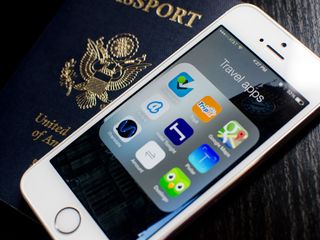 Looking for the best iPhone apps to help you travel smarter? Whether you're planning a family vacation or you have to travel frequently for business, there are hundreds of apps available in the App Store that deal with all aspects of travel. Everything from tourist guides to hotel and restaurant finders and more can be found. But if you're only looking for the absolute best travel apps for iPhone, you've come to the right place.
Foursquare
Why you can trust iMore Our expert reviewers spend hours testing and comparing products and services so you can choose the best for you. Find out more about how we test.
If you could only choose one app to travel with and you asked me what it should be, I'd tell you it should be Foursquare. Sure it's a checkin service but at its core, Foursquare is so much more than that. Actually, Foursquare is full of priceless tidbits and tips from locals. Spending an evening in London but want Thai food? No problem! Foursquare can not only tell you what places are the best, it can give you ratings, tips, hours, and contact information all in one place. It can even route you to Google Maps or Apple Maps for directions if you need them. Any app can recommend popular tourist attractions, but the local tips set Foursquare apart. And you know what they say, when in Rome, do as the Romans do!
For those wanting to explore and discover new places to eat and sights to see while traveling that are off the beaten path, look no further than Foursquare.
Google Maps
Let's face it, Apple Maps is not perfect, then again no mapping service is. However, Google Maps is arguably one of the best. And for anyone traveling in metropolitan areas, the superb transit directions that Google Maps provides are pretty much unparalleled. No matter where you are on the globe, Google Maps and an internet connection can't be beat.
When it comes to transit maps, or just directions in general, Google Maps is still one of the best.
See also:
TripIt for iPhone and iPad
If you travel frequently, TripIt is an absolute must have. It's an entire trip organizer all under one roof. While there is a free version of TripIt that can help you stay organized, the Pro version also includes notifications, the ability to track frequent flier miles, and so much more. Don't want to enter things in manually? Not a problem. TripIt gives you an email address to forward all your plans to and it'll auto-fill and populate everything for you. It really doesn't get any simpler than this for frequent travelers.
For seasoned travelers that just need a better way to keep itineraries, hotel checkins, and flights organized in one place, there's nothing better than TripIt.
Pixter Scanner
If you're traveling in a foreign country where the main language is not your first language, reading things such as traffic and transit signs can become overwhelming and quickly eat up a lot of time. Enter Pixter Scanner for iPhone. This little gem of an app can snap a photo of any text you'd like and then translate it for you to any given language using optical character recognition. Just choose the language the text is written in and what language you'd like it to translate to.
When traveling to a country whose native language isn't your first language, Pixter can make translating signs and other written content painless.
Airbnb
Airbnb lets you book apartments, homes, and flats all over the world. Those that own them aren't big companies, but folks just like you and I. If you want, you can even book a room within a home. Airbnb verifies many of their listings, offers reviews, and lets you communicate with the owner freely. You can also see an availability calendar and manage all your bookings all in one place.
If hotels aren't your thing while traveling, you need Airbnb.
See also:
Hotel Tonight
If you're planning a last minute trip, or decided to extend a current one, Hotel Tonight does exactly what it sounds like it would do. It can find you a great deal on a hotel, tonight. Featuring many destinations across North America, Central America, South America, and Europe, Hotel Tonight can provide you deals that you can't get anywhere else. In most cases, you can even book for the night all the way until 2am.
Sometimes we get into a bind and need a hotel room in a pinch. Hotel Tonight can get you the absolute best deal at the last minute.
Google Translate
Google Translate currently supports over 80 different languages, and it's completely free. You can type, speak, or write your query and Google Translate will respond in the target language anywhere you have an active data connection. There is also a favorites section within Google Translate that lets you save common phrases you may have to remember which is great for travel to countries where you aren't familiar with the language.
If you're looking for a basic translation app that supports tons of languages, give Google Translate a try.
See also:
Duolingo
While Pixter Scanner and iTranslate Voice can help you out of tough language barrier situations, it never hurts to know some of the native language, and the locals will like you even better for it. Duolingo is a language learning app that currently offers lessons in Spanish, French, German, Portuguese, Italian, and English. The best part? The lessons are completely free. Not only that, they're fun. You can even compete with your friends in duels. Earn XP to buy cool stuff and unlock all new levels.
If you want to learn a new language, there's no better place to start than with Duolingo.
Your favorite travel and vacation apps for iPhone?
If you rely on your iPhone while traveling, what apps can you not live without? Are there any that have gotten you out of a bind while traveling? Be sure to let me know in the comments!
Get the best of iMore in in your inbox, every day!
iMore senior editor from 2011 to 2015.
that's good idea and it can useful for us

FlightTrack Pro with the FlightBoard IAP.

TripCase - trip manager
FlightBoard - airport arrival and departure

How can you possibly have a section like this and not mention Waze? The best land-based travel app ever invented and the only single app on my phone I absolutely could not live without. :)

I can see using TripIt and Packing Pro. But otherwise the airline apps and Passbook work for me. My company pays for cars, flights and hotels.

I tried many travel apps but always come back to Kayak. Despite originally being a price comparison and booking app, in my experience it beats itinerary apps like TripCase, FlightTracker and TripIt on features and price. I tested it parallel to some of them and Kayak was always first to send alerts about delays, online check-in opening etc. It also seems to have the most comprehensive database of hotels and includes an itinerary service, flight tracker, packing list, airport info and currency converter, so I don't need extra apps for that (although for currency I prefer xe Pro).

Great timing! I was looking for a non-connected app that would help me set a budget for each type of payment (Cash, Credit Card, other credit card) and track spending for our upcoming cruise. Being that we won't readily have Internet access, this was more difficult to find than I thought. Although more of a monthly budgeting app, I ended up getting "Live Expenses" with the 99 cent multiple payment type upgrade and it seems to fit my needs perfectly! The base app is also free, which is nice (so you can test it prior to buying anything). Maybe other people are looking for the same!

Love TripDeck! Tried TripCase yesterday but removed after a couple of minutes as it was really slow and it's accessing the Internet for almost every single tap - need something stored locally, most people won't be data roaming while traveling.

Stay.com for iPhone is an awesome app!

HotelTonight is very good but only for same day hotel deals. But it works well. I was happy with the deal I got on a last second hotel. For your normal travel booking, you have to try BestTravelCoupon.com. This is a "Travel Search Engine" that searches 100s of travel sites and posts the lowest rates. It's like Kayak but better rates. I found them on a travel review site that did a head-to-head rate comparison with Kayak. BestTravelCoupon beat Kayak on 95% of all searches. To see the rate comparisons visit travel-search-engines.com.

How about Image It for iPhone/androïd : picture dictionary on an app !!!

Places Around app is a great local search app. https://itunes.apple.com/us/app/places-around/id479870823?mt=8&at=10l3Vy

A friend of mine recommended "SquareOff Now" in the AppStore. I used it for my recent Spain travel with friends
and it definitely made all the accounting easy for us. Check out the youtube video http://www.youtube.com/watch?v=7Yr1LbTE1A4

" Bucharest City Puzzle " for iOS and Android ... let me know your opinions :) thanks!

Dear Community! We will be updating our best iPhone apps for Aaviation on http://www.apppicker.com/applists/3750/The-best-aviation-tool-apps-for-i... For our next update(1st October), we are reaching out to the people who knew something about aviation for help. Comments and feedback will guide us very much in this and your help would be appreciated in spreading the word. Award for the best rewiew - $10 iTunes voucher. Thanks in advance Kind regards AppPicker team

Travel Stories Mobile for iOS is good for trip planning and tracking. And it is completely offline which is good for countries with expensive roaming.

Nice list Allyson! Next time, I would recommend you to check out the city guide app series I write for: Spotted by Locals (www.spottedbylocals.com). City guides for tourists who don't want to visit tourists. It's all about the content: the guides are curated by handpicked locals in 56 cities in North America & Europe, who only write about their favorite spots and keep them up-to-date and up-to-season.

You may want to hold your breath on Foursquare with it's features... They will be splitting the app into two. I love Foursquare and really would hate to see the developers finalize this choice. Swarm, will it alienate Foursquare's user base? http://adituscosmos.com/2014/06/11/swarm-will-it-alienate-foursquares-us... My thoughts on Foursquare's new app called Swarm http://adituscosmos.com/2014/05/16/my-thoughts-on-foursquares-new-app-ca...

Tripit can be a pain in the backside. I have had problems with it syncing with my Google calendar for a long time. I finally dumped it and manually enter everything. Took less time than trying to get the calendar to sync from Tripit.

I added events from my last New York, London or current Croatia vacation to the virtual wall of the app named 'ymportant' that my company develops. If you add the best moments of your trip to the wall, you will also be able to access the photos you took around the same time directly later (so that you don't have to scroll a lot when you want to see some vacation photos six months later).
https://itunes.apple.com/us/app/ymportant-life-journal-diary/id795626338...

Hello Everyone! Epical v1.5.0 is now available in the App store!
Here is a little bit more about epical: Ever been somewhere amazing, beautiful, epical! Ever wanted to share it with your friends and family? Anywhere that's epical to you can be turned into a shared location. Each location in epical becomes a mini social network for you and your friends to post photos, comment, like and even get real-time notifications from. Epical is the best way to discover, share and explore places that truly matter to you. Here are a few features of epical:
* Share your travel photos, adventures & hidden locations
* See trending locations from around the world
* Discover new places and people all over the world
* Create a travel log to remember places you have been
* Explore new travel locations and destinations
* Great for Road Trip tracking & saving your vacation memories Epical is GEO SOCIAL
Epical is a location based social networking app that untethers you from physical addresses, making great for travelers and people on the go. Instead epical works with your phone's built-in GPS or geotagged photos to tag and explore any location on earth — the perfect beach, a historic place, a concert, favorite hiking trail, mountaintop, or event — any place that interests YOU. Please give epical a test drive and let us know what you think by replying to this thread. Any and all feedback is welcome, we look forward to everyone's suggestions! Here is the link to epical:
https://itunes.apple.com/us/app/epical/id659217873?mt=8&at=10l3Vy be epical!

Great list. I would also like to recommend this website where all the cool mobile travel apps are collected http://apps4trip.com/ It's very helpful.

Thank you Allyson. I now have a couple more apps to check out. When it comes to itinerary management, I agree with Ninotchka's comments. I too worked with different apps and Kayak "My Trips" consistently met my needs. TripIt consistently disappointed me. Some of the reasons are outlined in my post: http://packinglighttravel.com/travel-tech/favourite-itinerary-management...

I would add tinder and airbnb, and I prefer booking for international hotels

I would add an app called ailocations. It gives your cool statistics about your travel habits. Its free too, check it out:
https://itunes.apple.com/gb/app/id543006585?mt=8&affId=1736887&at=10l3Vy
Thank you for signing up to iMore. You will receive a verification email shortly.
There was a problem. Please refresh the page and try again.