Best turn-by-turn navigation apps for iPhone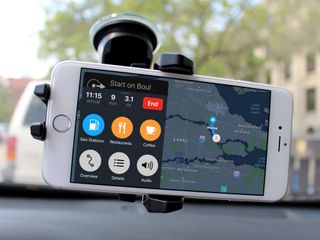 (Image credit: iMore)
The old joke is that men hate stopping and asking for directions, but the truth is that no one likes to. It takes you out of your way and wastes precious time while some yokel argues with another yokel about the fastest route. Download an awesome turn-by-turn navigation app and skip the awkward conversation with a stranger.
Google Maps
Why you can trust iMore Our expert reviewers spend hours testing and comparing products and services so you can choose the best for you. Find out more about how we test.
Google Maps offers driving, transit, biking, and walking directions in hundreds of countries around the world. All four types of transit also support voice-guided turn-by-turn navigation, and it's all free. If you like to have options, Google Maps is one of the best when it comes to showing lots of routes, especially for transit, complete with ETAs. Since Google is one of the most complete search engines in the world, it's hands down the best when it comes to searching for businesses and attractions across the globe.
If you want to be able to search points of interest, Google Maps provides the most accurate results. It's also hard to beat in terms of public transit.
Apple Maps
Maps is built into every iPhone. That means it's the default when tapping on map links inside other apps, works flawlessly in the background, and can continue giving you updates even on the Lock screen. While Apple Maps may not have as much data as Google, it gets better and better with time. So, if all you need are directions from here to there, it gets the job done. iOS 10 had also added a complete redesign and hooked apps right into Maps. That lets you book a reservation or request a ride right from Maps!
Apple Maps has indeed steered me and many of us wrong the odd time, but for Siri integration and seamlessness in your user experience, built-in is always a great way to go (until Siri starts using Google Maps too!).
Waze
Waze, which was acquired by Google in 2013, is a crowd-sourced maps and navigation app that uses travel data from you and people just like you in order to provide real-time information on the quickest routes. If your friends are using Waze, you can connect with them and, if you're going to the same place, you'll see when they'll arrive. Turn-by-turn navigation with Waze is also absolutely free and Waze can even help you find the cheapest gas station while driving.
The best part of Waze is the ability to add points of interest for others to see on the map. If there's a speed trap up ahead, you can add it to the app to alert fellow drivers. If there's a traffic jam, you can let other drivers know why when you drive by the source. Waze really lets you look out for your fellow motorist, which I know seems like a foreign concept, but wouldn't the world be a better place if it wasn't?
MAPS.ME
MAPS.ME has over 8,200 reviews in the App Store, and over 7,000 of those are 4 or 5 stars (6,993 are 5-star!). You get access to reliable, detailed offline maps that provide turn-by-turn navigation, as well as directions to points of interest, and you can save locations as bookmarks to share with friends.
The best part of MAPS.ME is that developer My.com is dedicated to keeping all the app's features free of charge. In fact, part of the app description reads, "All maps inside and all features are free. Always were and will always be." That's reassuring and a nice touch in this age of "freemium" content.
Search different categories (restaurants, tourist destinations, hotels, etc.), share your location via text or social media, and even make hotel bookings on Booking.com right in the app. MAPS.ME is more than turn-by-turn navigation; it's an excellent travel companion.
Remember that offline maps means they need to be downloaded, so don't get caught without an internet connection and no maps either.
CoPilot
The CoPilot app can be just that for you. It features reliable offline GPS so that you're not using up data on the road or missing out on navigation when you hit dead zones. The latest version has been completely overhauled with a new look and more comprehensive features.
If you want voice navigation or traffic alerts and reports, you'll have to pay for them, but if directions are all you need, then you'll do fine with the free stuff. '
You can also choose to pay for region-specific HD apps that start around $10. These are more comprehensive and tailored to their specific area. Again, though, if navigation is all you need, the free version is excellent.
Just keep in mind that offline maps means you have to download them, and some can be upwards of a couple GB.
Free, with in-app purchases - Download now

(opens in new tab)
Scout by Telenav
Scout by Telenav is available to anyone in the United States and aside from offering free turn-by-turn voice guided navigation, Scout is great at helping you find things to do no matter where you are. Points of interest that Scout things you'll find interesting will show up on the map as you're driving. If you're in a big city, Scout can even show you the rates at different parking garages near you so you know you're getting the best deal. You can even search for things before you start your journey and mark things on your route. If you need offline maps, you can purchase them via in-app purchase for a one time fee. If you don't need them, all the other features of Scout are free to use.
If you're in the United States and want voice guided navigation that can double as a personal concierge of sorts, Scout by Telenav is a great option.
Sygic
Sygic comes with the ability to download free offline maps in over 100 countries. With these, you get route planning guidance, information on thousands of points of interest across the globe, and free map updates. If you'd like 3D maps, turn-by-turn voice-guided navigation, lane guidance, speed limit warnings, and more, you can upgrade to one of many different map packages via in-app purchase. You will receive a free trial of the premium version for 7 days so you can try out voice guided navigation before deciding to buy. All maps are powered by TomTom and don't need an internet connection in order to work after they're downloaded. Other premium options available are speed camera warnings, heads-up display views, and much more.
If offline maps are important to you, Sygic offers a ton at no cost to you, but you'll need to pay for turn-by-turn navigation. Many other features are also available a la carte via in-app purchase so you can customize your experience the way you like.
New directions
Do you use a navigation app on your iPhone? Or, do you still use "old school" GPS devices? Let us know your picks in the comments below!
Get the best of iMore in your inbox, every day!
iMore senior editor from 2011 to 2015.
I have been using Navigon since its inception on iOS and it is a full feature rock solid GPS app. Maps are installed onto the device instead of using data , for remote driving where Cell service is sketchy its incredibly useful. Lane assistance, traffic conditions and well spoken prompts make Navigon a great GPS app.

+1 for Navigon -- I've tried others, but Navigon has been the most reliable, always gets me where I need to go. Lots of power under-the-hood with an UI that makes it easy to tap into.

I agree. Navigon is great!

+1 for Navigon. Have Europe edition so download needed map only when go to selected country so do not need to keep all in the memory like TomTom. Works great, very reliable! Tested in SWE, FRA, ITA, SPA, GER so far

I've found waze to be the best for me. It's in desperate need of an iPhone 6/6+ update, but it does tell me where cop cars have been reported. :)

Another plus for Google Maps: the lane guidance can be extremely useful, especially in areas with high traffic.

Waze is by far the best for me in areas with multiple paths. It automatically re-routes you with a faster route (where as Google you have to actually see the turn options and select it). Google is getting its data from Waze now, so using the actual source is the way to go. Waze is by far the best route navigation option. If I'm in a totally new to me neighborhood I'm using Google Maps because of the Lane Assist.

Google maps updates you now as traffic conditions change. Just about a month ago it beeped an alert that I could take another route and save 45 min. There was a traffic jam ahead. I hit said ok and it re routed on the fly while I was going 65 on the tollway.

Tom Tom
TomTom U.S.A. by TomTom
https://appsto.re/us/Y_IDu.i

Think you should state that these are all *free* apps, so you've not included the other paid ones such as Navigon, TomTom and Co-Pilot. The reviews are spot on - just think you should mention these are all free and a do a review set on paid ones :)

Sygic isn't free for navigation - I didn't include TomTom because Sygic provides many of the same offline apps for free. Navigon and Co-Pilot, same reason. I didn't purposely include only "free apps" - I just included the ones that I felt offered the best value and feature set. I just can't offer a reason to buy those when Sygic does offline maps for most without buying anything.

not very useful review as most all of them you NEED WiFi / 3G internet access... nice if you are on a limited data plan OR out in the Outback with NO 3G / WiFi internet access, sleep well.

Well Google maps does do offline maps. If your on a provider like att or Verizon you will very rarely run into areas with no coverage. T-Mobile and Sprint . . . not so much. I also have navigon when I do need offline access which is like never.

i have tried many of the apps you mentioned (google and apple extensively) and i can tell you that navigon turn by turn is much better than those at providing voice notice and details when traveling in unafmiliar. With Google and Apple you have to constantly look at the map to confirm directions which is a safety concern. In US i generally use the apple maps due to integration to iOS, but everywhere else i use Navigon.

I always use Apple Maps. It rarely has any errors and it works flawlessly. Google Maps used to lack turn by turn, so it was completely useless. I know they've added that feature, but too late now. Waze is completely useless in Nevada. It has most of the streets wrong in my town, and it is as likely as not to send you West when you need East.

Garmin for me. I've always been a fan of Garmin. I've tried TomTom and Navigon and they just don't work the way I like. I've also tried Waze and Scout, and found them to be no better, and often worse, than Google Maps both in terms of actual data and also annoying ads. I much prefer having my maps onboard. Not so much now because I'm concerned about data coverage when traveling, but because of data quotas on my cellular plan. While Apple Maps is slowly getting better, it is still way off on too many locations for me to be able to trust it. And the current version of Google Maps appears to have broken the "track up" function, it now only toggles between "straight up" and "angled up" without rotating the map display to show the direction of travel as being up.

Navigon is part of Garmin, so that should make little difference.

Most of these apps get their maps over your data plan. If you had Verizon and an IPhone that couldn't do simultaneous voice and data, that's a problem. You're driving along and someone calls you and your nav system is done. You miss your turns. So having the maps on-board the device is a good idea. I'm a fan of the Garmin apps, and have switched to the viago app which is getting better.

Nope, look at Sygic above, offline maps from TomTom, no cost for many countries.

Att and T-Mobile for the win. Phone and data at the same time. Gotta love gsm.

I generally use Google Maps as it has the most accurate traffic information. The voice guidance is very American centric though, which for a UK audience means we get unfamiliar US terms such as "ramp", as well as odd grammatical constructions and contractions. It feels rather lazy, as other apps offer localised voice guidance. Data is ultimately all that matters though, and Apple Maps, while better than it used to be, still lags behind, especially on local business search. (where Google are hugely superior) As for Waze, despite there being lots of Waze users where I am I find the Waze traffic data to be pretty terrible, and Waze routing is abysmal.

I use Google maps the most. I also use Waze when there are road blocks or traffic jams because it helps me get around them faster. In the event I do not have a good internet signal to use Google maps or Waze then I fall back to Navigon with offline maps to navigate.

If you're going to be using it in a large vehicle the only good choice is Copilot Truck HD. It's Mundo expensive though. On sale for $99 right now. The other choice is so bad is not even worth testing out. Sent from the iMore App

I concur on Navigon. I like that I can email a link to other Navigon users that they can simply tap and it opens the app. I use it in my business as my assistant often needs to go to the same location as me. Sent from the iMore App

Trapster is very good as well Sent from the iMore App

tomtom is the best satnav out there. It's amazing!!!

Yeah, it's great. Told me to turn on the motorway in Heathrow facing the oncoming traffic. Lot's a mistakes in the maps.

I'm on board with Navigon. In my view Waze is a joke in most cases. Most of the apps you recommend may work OK when you're in an urban area with strong cell coverage, but how about when you like the mountains where cell coverage is spotty at best, or have business clients in rural areas? I paid the freight for Navigon and never looked back. It is reliable, accurate, and works wherever I am. As far as I'm concerned, it's a must have app.

Sygic offers TomTom powered offline maps in over 100 countries for free. That's the reason I didn't include Navigon and Garmin. I just feel there are many offerings that cover most people that don't require such a high up front cost.

Are you sure sygic is free? All I knew it provides free trial. Sent from the iMore App

It provides a free trial of premium features, but offline maps are always free. Turn by turn you will need to pay for. But if you just want offline maps, Sygic offers that with no fee. I just found it to give many options which others don't without coughing up a lot of money. Sent from the iMore App

That is not true at least in EU

I agree that is true when you have data coverage, but using most maps selected in your list without data coverage (say when traveling) is a financial disaster. I Would suggest that your statement on just made in this post should have been in your article so people better understand the basis of your article. I would also suggest you have a part (maybe a paragraph) indicating other use cases where you may want one of the paid apps.

Watch for Nokia Here soon. Free offline maps and turn by turn with huge amounts of POI.

In my own limited experience, I find no accuracy difference between Apple Maps and Google Maps. When one is right so it the other. When one is a mile and a half off, so is the other. So I go with the default which all things being equal is best since it gets auto triggered by other things so why not be familiar with it? My favorite thing about Apple Maps is it can be used without a data service. You can get directions at home, start, and then sleep the phone. Then it only wakes up to tell you about turns which saves tons of battery. I don't know if the other apps will do this as well. For me, at least, I don't care. My needs are few.

I find differences in different geographical locations. Where I live they are neck and neck. But in places I've traveled Google is better sometimes. Sent from the iMore App

GPS Drive by MotionX. I have been using it for a long time now, and like it. Sent from the iMore App

I also have been using MotionX for at least 7years. Very pleased with all the features and they seem to keep up with all the others as far as adding additional info ( ie., traffic, accidents, police activity, etc.). Sent from the iMore App

I use Waze for the most part. But I really would like if Google Maps & Waze had 1 app. The police/camera lights feature from Waze is really useful and the lane guidance from Google is great when you're in an area you're not familiar with.

I see some have mentioned TomTom, Navigon, and Garmin. I must say however, most of these reviews, including this one, continue to stress only the free apps. Thats fine, but in this case, most folks get what they pay for. I use Apple Maps often, and Google maps sometimes, but if I am actually traveling, I use my Garmin Nuvi, or, my Garmin Onboard on my iPhone. Serious GPS users know the difference. Although I prefer the GPS power of the Nuvi (yes, its significantly better than the iPhone) The updates are so easy on the iPhone, and the ease of use and features are "almost" as good as the nuvi, and heads above the free apps. Of course, many folks will disagree, but as I said, experienced and serious GPS users will know exactly what I am talking about. One nice thing about using the iPhone, is even though the GPS reception is not as sensitive as the Nuvi (or any real GPS devices), the wifi mapping sometimes helps in Cities. Still haven't found any GPS that can handle some of the canyons in Chicago or NYC yet though.

I am a regular Google Maps user, but I have to say I wish it had one option that Apple Maps has...ability to use the phone speaker for directions if the phone is connected to the car w/bluetooth. I hate that if I am listening to car radio I can't get my turn-by-turn directions from Google Maps. Curious if anyone else has the same complaint??

I have the same issue with Google Maps. I rent cars a lot and use the Bluetooth. I have to stream radio so that I can hear the directions. Good cal out. Sent from the iMore App

Just use an app like iHeart Radio to stream radio stations over the Internet. Problem solved.

Waze is all about commuting. Depending on traffic it chooses the fastest of three routes. When I'm in places I don't know the routes then I use Google maps - it is much better at showing which lane to be in. Sadly that means I like the second most recent version of it, more than the current one. With the current version of Google maps I'm back to using Apple maps more often in places where I'm not familiar with the roads.

What about Navfree GPS?? It's free offline GPS without any costs with turn-by-turn navigation and voice. https://itunes.apple.com/nl/app/navfree-gps-verenigde-staten/id405922167...

These are good. But I found Get Set Go really mind-blowing specially their HUD mode in my car. The windshield of my car is lit up at night ! Check the video here - http://youtu.be/K9QvnABbeVU or www.mnntech.com .. I love their HUD and the fact that it is so simple to use.

Your the author of that program so of course your going to say how great the program is.... Which its not since it freezes and crashes...

iArrow for iOS is another great GPS app. It works offline and helps to save your waypoints to navigate precisely to them later, displays detailed GPS info and does a lot lot more. A simple and very effective app.

Hi All, I just released an indie mapping app for iOS called FastTrip https://appsto.re/us/i20n9.i FastTrip lets you list your favorite trips and set reminders for trips so that you can check on travel times. I developed it so that I would have a quick way of checking my commute time to and from work. Please check it out. Thanks, Rob Marshall

Waze... hands down. The crowd sourcing aspect of the program makes it stand out. There are better maps and navigation out there but knowing about a speed trap, construction, accidents that have just occurred, weather, etc... makes Waze my go-to navigation program.

Google Maps, Apple Maps and Waze were tested against each other on the Today Show here in the U.S. and Waze beat the others hands down. Sent from the iMore App

I've settled on Waze. Side by side it beats them in real world situations almost every single time. Especially when there are accidents or traffic build ups while in route.

Don't forget folks, if you're concerned about privacy, Google Maps keeps a track of everywhere you go and links it to your master file identifier, so hackers, law enforcement, governments, intel groups, etc., can get that same info. Since your master file info is indirectly made available to advertisers and such, think of the ramifications of private companies having access, even if indirectly, to that info.

If you're Edward Snowden, this is a problem for you. If not, then I don't see how it is…

Haha, so you have to be a fugitive to be concerned about privacy?

Or you know, you can just turn it off like EBUK said below. I have limits on my privacy, but having used Google since… well… forever, they've never harmed my privacy and rather used the data to improve their services.

You made that comment before you knew you could turn it off. The fact you have to go to the internet to shut it off and is by default opted in is a privacy breech. You have no idea what google has done with your data. To say they haven't harmed you is hyperbole and besides the discussion point, when a company can link a specific person to specific data that is a privacy concern for a lot of people. Just because you don't care doesn't mean it's not a valid concern. I've read enough of your responses, and I am legitimately asking, are you a teenager?

No, I'm not. And people know Google collects data because they can use it with AI among other things. Maybe they collect your location data so they can see the areas most populated and develop their maps more in said areas? Google haven't harmed me, at all, and I highly doubt they ever will, I've used Google a long time and they're trustworthy.

Unless, of course, you go to your Google privacy settings on the internet and turn location tracking off. Simple.

But if I do that I won't be able to wear my tinfoil hat.

Apple Maps for me, I'm not a fan of TomTom's new subscription system nor do I like their new updated app. The fact that I can just say Hey Siri directions to such and such place is great. While Apple has gotten a lot of flak for the Maps debacle that was they have greatly improved it and I believe that Maps gets its info from TomTom. Either way Apple Maps has yet to fail me and it too offers faster routes when available and it just works

I was in Venice last month and was using Google maps to direct my walking through the city. That was until it directed me into the middle of the Grand Canal. Fortunately Apple Maps knew the route better, and kept me dry.

Navigon is still not added and the new free alternative HERE WeGo (former Nokia Here) should also be mentioned.

I love Waze but since they are Google I am sure we will never see it integrated into CarPlay so it's Apple Maps for me!!!

You're probably right which is annoying. I prefer the CarPlay interface when driving but Android Auto has much better support for third party apps. As far as I can tell Siri only works on the stock iOS apps whereas Google now functions pretty much across the board.

If Waze supported CarPlay or Android Auto I'd use it over any others, but I tend to stick to Google Maps and Apple Maps. However I only use the latter out of necessity as my iPhone is my work phone and my car won't allow me to connect a different phone over Bluetooth when one is connected via carplay. All in all apple maps gets my where I need to be, but is hopeless compared to Google maps in rerouting via traffic, and Siri doesn't understand me half as well compared to Google Now (case in point today was when I asked Siri for directions to a hospital in Yorkshire and she kept trying to send me to a cinema in Warwick).