Best UK transport apps for iPhone and iPad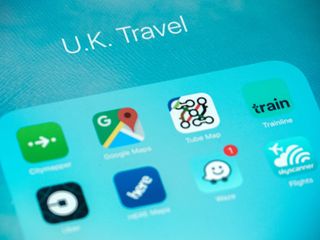 Every iPhone and iPad comes loaded with Apple's Maps app, which has been slowly growing in reliability and feature set over the past couple of years. And that's all well and good. But it's worth considering more specialized travel apps as well, particularly for those of us in the UK.
There's a ton of apps out there for helping you get from A to B, and we've selected the best ones for traversing the British Isles. Read on to discover new and awesome things.
CityMapper
Why you can trust iMore Our expert reviewers spend hours testing and comparing products and services so you can choose the best for you. Find out more about how we test.
CityMapper doesn't cover the whole of the UK, but it is a really great option for anyone who lives or works in London, Manchester or Birmingham. CityMapper is all about helping you get between places in its supported cities, including highly detailed bus, train, tram, underground and taxi data. Naturally, that includes Uber integration, with live pricing and wait times built into the app.
Those are the broad strokes, but it's CityMapper's attention to detail and wealth of smaller features. For a country where, let's face it, it rains a lot, CityMapper can keep you dry with rain-safe routes. And when you're considering ordering an Uber, the app can let you know whether surge pricing is in effect. If a walk is part of journey, CityMapper also lets you know how many calories you'll burn, on average.
SmartCommute is another tentpole feature, letting you know the best way (or combination of ways) to get to work, and back home again — whether it's the fastest way to get there, or simply the most cost-effective.
Of course our recommendation of CityMapper has to be tempered by the fact that it only supports a handful of locations at present, including the three aforementioned UK cities. But if you are in one of those places, CityMapper is pretty much a no-brainer.
Google Maps
Like many Google services, Google Maps is so powerful because of all the data it's able to suck in. As well as delivering a fast and responsive iPhone or iPad-based version of the Maps service you've probably used on the web, Google Maps for iOS has transit routes built in for most major cities, as well as local photo spots, restaurant, bar and cafe reviews and traffic data from Google's Waze service.
Google Maps also gives you access to Google's satellite imagery, 3D mapping data and street view images, as well as navigation data for driving, walking, public transport and cycling. But perhaps its most useful feature is how it links into your Google account, bringing details of appointments, train journeys and flights into your mobile mapping experience.
If you're already onboard with the Google ecosystem, you'll definitely want to give the company's mapping app a try.
Tube Map
There are plenty of other mapping apps that can bring in London Underground info, but if you live or work in London you'll probably want a dedicated app for the Tube. MapWay's Tube Map app is officially licensed by TfL, and includes a bunch of really useful features. The main screen gives you an overview of the capital's underground network, with the ability to zoom and scale as you please, and zero in on individual stations for more information.
If you're just visiting London, or don't spend much time in the city day-to-day, the route planner feature is simple and convenient way to get around, letting you find the fastest or simplest route between two stations or landmarks — including walking to a nearby station if that's quicker. Meanwhile, built-in status updates from TfL will keep you informed of any delays or other service issues on the Underground.
The basic app is ad-supported, with the ability to unlock additional features like exit locations and first and last trains of the day, along with an ad-free mode, through in-app purchases.
Trainline
Trainline has graduated from being a simple app for checking train times and purchasing tickets to an invaluable mobile tool for UK rail travellers. The basic functionality is still there, of course — you can check up on UK train times, and find out how much it'll cost you to book tickets on specific trains at specific times. But like all the best travel apps, Trainline nails the small details, and that's what makes it the best in its field.
Favorite routes can be pinned to your start screen, and departure times and platform information is easily visible next to each journey. The app also links into your Trainline account, should you have one, letting you purchase tickets quickly using saved credit and debit cards, and even use mobile tickets on routes where they're supported. You'll get notifications when your journey is about to begin, letting you know if your train is on time, and which platform you need to head for. Overall, a combination of may small, useful features add up to a convenient, time-saving app.
If you do a lot of travelling by train, Trainline is well worth checking out. You'll still have to pay up for your tickets, but at least the app is free.
Uber
Uber has been slowly expanding its footprint across the UK, to the point where the service is now available throughout many major towns and cities across the country. For the uninitiated, the premise is simple — tell Uber where you want to be picked up, and where you want to go, and it'll track down a ride for you. Though the company itself has courted controversy in recent years, Uber's service is often faster, more convenient and sometimes cheaper than local taxi firms.
You'll get see nearby Ubers on the overview map, and get a live ETA through a fixed notification. Then, once you're moving, you'll get a view of your route to your destination, along with an arrival time estimate which you can share with other people. It's simple and hassle-free, and although it's not always the cheapest way to get around — especially with surge pricing — the convenience of Uber is hard to beat.
The app is free, but you'll want to check Uber's coverage area (opens in new tab) before you download.
HERE Maps
Alongside to Apple Maps and Google Maps, the formerly Nokia-owned HERE has emerged as one of the major alternatives in mapping. HERE's "Nearby" panel lets you easily find useful stuff you might not find in other mapping services — things like taxi stands, parking locations, cash machines and petrol stations.
Of course, one of HERE's biggest features is the ability to download huge areas of mapping data to your local storage, avoiding chewing through your data allowance when you're out and about. (And that's even more useful if you happen to be visiting the UK with a roaming data allowance.) Entire continents can be downloaded — but if you don't fancy that, the UK as a whole will set you back just shy of 700MB. And favorite locations can be tagged in Collections for quick access.
There's also an excellent driving mode, which also works offline. For an entirely free app, it's hard to fault HERE, which boasts just about all the major features of more expensive sat nav systems. It's also significantly cheaper, with a price tag of exactly zero pounds.
Waze
While information from Waze, now owned by Google, is included in Google Maps, the standalone collaborative traffic and navigation app is really useful for avoiding congestion, accident spots, and being aware of fuel prices and police presences. In short, it's everything you need to know when you're on the road. Joining the Waze community lets you contribute to this living map of traffic data, and of course you'll also benefit from info submitted by other members of the community. You can also link your Waze profile to Facebook and import contacts from there, as well as your phone's contacts library.
Waze's turn-by-turn navigation system will help you reach your destination while avoiding hazards, and can even re-navigate on the fly to adapt to changing traffic conditions. The app is highly involved, and there's a lot to explore, but if you spend a lot of time on the road then it's well worth a look.
SkyScanner
Chances are you're not regularly flying around the country. But if you are — and let's face it, flying domestic is often not much more expensive than taking the train — then SkyScanner is a worthy addition to your iPhone or iPad. Like the SkyScanner website, the iOS apps let you search flights from a multitude of carriers, and keeps you up to date when prices change.
It's also easy to see exactly when it's cheapest to fly, as the cost of trips — even domestic flights with in the UK — can vary dramatically from day to day. And with watched flights, you have a place to tag and track individual flights before pulling the trigger and booking.
Price alerts can show up in notifications, or you can configure email alerts for regular updates on price changes for your watched routes. (And if you're flying outside, the UK, then SkyScanner is hugely useful there too.)
Which apps do you use to help you get around? Let us know down in the comments!
Get the best of iMore in your inbox, every day!
I prefer Google Maps for checking on my bus to work in the morning thanks to the handy Today screen Widget. Would be nice if Apple could bring Transit in Apple Maps to my Area of the UK since it's not like Sheffield is a tiny Village. Sent from the iMore App