Best wallpaper to show off your iPhone X screen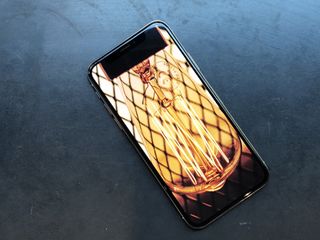 So you just picked up your iPhone X and you're super excited to see that big, beautiful screen, but it hits you:
WHICH WALLPAPER WILL SHOW OFF MY iPHONE X'S TRUE ELEGANCE AND SOPHISTICATION AND SCREEN-Y-NESS?!
1. 🎶 I'm leaaaaaving on a jet plane 🎶
2. May I axe you a question?
3. Ocean viewz
4. Mountains, mountains, and more mountains
5. Into the abyss
6. Just add a dash of Harrods
7. Light 'er up!
8. Lightning only strikes once, right?
9. 🎶 The mountains are aliiiiiiiive with this beautiful suuuun seeeeeeeet 🎶
10. That ocean blue, tho...
11. Just add a dash of paint
12. A little color never hurt nobody!
13. Pass the pencils, please
14. A pop of pink and a rush o' roses
15. Running at sunrise never looked so beautiful
16. String string string
17. Love the vintage look? You'll love this subway shot:
18. Pastel perfection
19. Mangled trees are beautiful, too!
20. That little pop of color your iPhone X needed
21. Vintage beauty meets modern beauty
22. Patterns and windows and symmetry, oh my!
What's your top wallpaper pick for your iPhone X?
Have you found the absolutely most perfect wallpaper for your iPhone X? Maybe you're found a treasure trove of wallpaper options that really make your home button-less screen POP?
Let us know what your top iPhone X wallpaper picks are in the comments below and we'll be sure to check them out!
Cella writes for iMore on social and photography. She's a true crime enthusiast, bestselling horror author, lipstick collector, buzzkill, and Sicilian. Follow her on Twitter and Instagram: @hellorousseau
Also a good source for colorful images: https://www.nasa.gov/multimedia/imagegallery/index.html

Why would you choose photos with such muted colors to show off an AMOLED screen?

That was my thought as well. They look pretty blah on my LCD at work, but being familiar with OLED screens I'm pretty sure these are going to look like poop on the X as well for the most part. The photos themselves are interesting but it's like someone forgot to run them through Lightroom and give them some punch or something.

The lighting one would be excellent with the notch because of how it could blend.

Any chance to put the Pixel 2 live wallpapers on the iphone screen??

Yeah, I don't normally comment - but these wallpapers are really terrible. I'm general they are terrible, but particularly for the iPhone X and an OLED screen. Some of them aren't formatted for the right size. This is a really crappy article.

I would argue that this thread in your own forums has a TON of MUCH better wallpapers to use on the X.... https://forums.imore.com/iphone-x/396005-iphone-x-wallpaper-thread.html
Get the best of iMore in in your inbox, every day!
Thank you for signing up to iMore. You will receive a verification email shortly.
There was a problem. Please refresh the page and try again.