Best waterproof cases for iPad Air 2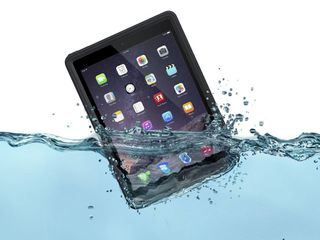 Toting your iPad Air 2 anywhere near water may seem a bit crazy, but with the proper waterproof case keeping things safe and sound, you can finally relax. Top manufacturers including LifeProof, OverBoard, and Aquapac all have water-safe solutions that accommodate your iPad Air 2, and they're built to handle a dive. So, without further ado — let's get to it.
(opens in new tab)
If you're looking for a case that will protect your iPad Air 2 from water damage and impacts while still allowing you to utilize all features — the LifeProof NÜÜD Case is your answer. This brute meets a 810G-516.6 military standard and features an IP-68 rating for handling water immersion up to 6.6ft for an entire hour. Tight gaskets around the display create a waterproof and dirt proof seal that leaves you with a perfect touchscreen experience. It even works with your iPad Air 2's fingerprint scanner. On the back is an anti-reflective optical glass lens that allows you take amazing photos above or below water. Current color options available include black or white/gray.
OverBoard Waterproof Case
Another excellent option keeping out water, sand, and mud is the OverBoard Waterproof Case for iPad Air 2. Slip your tablet inside this protective pouch and lock it up using the Slide Seal System — guaranteed submersible up to 19ft. Even if you aren't using the included shoulder strap or hand loop on the back of the case, it's capable of staying afloat for extra security. The clear front TPU allows complete touchscreen access, and the back is covered with extra padding for additional protection. There's no photo or video capturing while locked inside, but it's still a great waterproof case for general use around any body of water.
Last up is Aquapac's largest waterproof case available, the Large Whanganui. This case is ideal for storing your iPad Air 2, or other beach gear like sunglasses, wallets, sunscreen, you name it. It features the Aquaclip seal that uses 3 levers to twist open and closed when needed, and comes with its own shoulder strap for easy portability. Not only does the Large Whanganui float, but it's also completely submersible with an IPX8 rating. The front is clear for touchscreen use, while the back is more of a light gray — not camera friendly, although slightly transparent.
Your favorite?
That's a wrap on our best waterproof cases for iPad Air 2. Whether you're currently using a waterproof case to keep your tablet safe from splashes or have eyes on one for the festivities this summer, we'd love to hear about it in the comments!
Your friendly neighborhood accessories guru
I stay away from waterproof cases ever since a $60 Otterbox waterproof case failed on my second use with an iPhone. I never broke or damaged a phone until I used a waterproof Otterbox. :o(
Get the best of iMore in in your inbox, every day!
Thank you for signing up to iMore. You will receive a verification email shortly.
There was a problem. Please refresh the page and try again.