Best web browsers for iPhone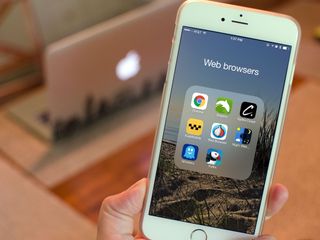 The iPhone's built-in browser, Safari, is perfect for many people. But it's not perfect for everyone. If you want or need something different, like Google account sync, Flash support, or night reading, the App Store has you covered. If you already know which browser you want, great! If not, and you want to try some alternatives, here are our favorites!
Google Chrome
Why you can trust iMore Our expert reviewers spend hours testing and comparing products and services so you can choose the best for you. Find out more about how we test.
For Googlers
If you already use Google Chrome on your desktop computer, odds are you have lots of bookmarks and web history attached to them. Using Google Chrome on iPhone gives you access to any open browser tabs, history across all your linked devices, and any bookmarks you've stored. Chrome also works great with all of Google's other services. For the complete Google ecosystem experience, you want Chrome.
Dolphin
For shortcuts and better accessibility
Dolphin provides a beautiful browsing experience as well as accessibility features, such as the ability to draw gestures. For an additional $0.99 in-app purchase, Dolphin Sonar lets you speak queries instead of typing them. Dolphin also offers native syncing so you can keep your bookmarks, history, and passwords in harmony with whatever browser you use on your computer.
Opera Coast
For better content discovery
In addition to regular web browsing, Coast's goal is to help you find interesting content on the web. It does this by offering up suggestions it thinks you'll be interested in based on what you type in the search bar.
iCab Mobile
For great file handling
What sets iCab Mobile apart is the control it gives you for managing files. Once you link up Dropbox, you can download and upload files to and from your iPhone, so you can access them on the go. You also get multi-user options, full-screen mode, and form filling capabilities. If you want a desktop-class experience on your iPhone, you want iCab.
Night Web Browser
For late night browsing
If you've ever found yourself wishing for a dark mode, Night Web Browser by Alex gives you exactly that. You have complete control over dimming the screen, keyboard, and even YouTube videos inside the browser window. If a night theme is really important to you, give Night Web a try.
Ghostery
To expose web tracking services
Lots of websites track you on the web, including Google, Amazon, and others. Ghostery shows you who's tracking your browsing and helps you do something about it. If privacy matters to you, check out Ghostery.
Red Onion
For anonymous, restriction-free browsing
Ever been on a Wi-Fi network that has blocked you from accessing one of your favorite websites? Just like you can use Tor on the computer to browse anonymously and break free from restrictions, Red Onion lets you do the same on iPhone. Your browsing is also completely password protected.
Puffin
For Flash support and data compression
Puffin compresses data to lower your bandwidth usage and speed up your browsing. That makes it a great choice if you've got a very low data cap, or are in an area with very slow internet speeds. Because Puffin is a proxy and pre-processes the data on its servers, it can also offer Flash support by converting video and controls on the way down. The one downside: Puffin is currently U.S. only.
Your picks?
If Safari doesn't quite fit the bill where your web browsing needs are concerned, what alternative browser have you settled on and why? Be sure to let me know in the comments!
Get the best of iMore in your inbox, every day!
iMore senior editor from 2011 to 2015.
One of the best things Apple did with the iPhone was remove Flash, Android followed. Can't see any reason why you'd want it, it's buggy, slow, and most online Flash applications are certainly not designed for mobile

The Megabus route map is in flash.

While I agree with you totally, for a time we had to download and use Puffin in order to stream from some of our favorite TV network websites, which required Flash. Granted, it's more the fault of the website using older technology (i.e. Flash), but it's what we had to deal with. Even today, we just airplay it from a MacBook to our Apple TV, but still using Flash. It's ridiculous.

Got that Cydia tweak that sets Chrome as default. Love it. I use iCab mobile on the iPad, though, cause I need file handling capabilities on it.

Hi. Can you please tell me what is the tweak's name? Posted via the iMore App for Android

Atomic Web browser is my favorite due to all the settings you can choose.

Atomic is/was great but the last update was in 2012!

Mercury Browser Pro for me. It's got most (or all) of the best features from the browsers listed here combined into one. Ad-blocking, file manager/viewer, user-agent switching, multitouch gestures, file downloading, Dropbox integration, bookmark sync (with Firefox or Chrome), autofill, screen dimming, etc The mutt's nuts, basically. Surprised it isn't on the list. Previously, I'd use Safari in combination with Weblock for ad-blocking, but that only worked on wifi networks.

I used Mercury for a while but it is removed from App Store now for unknown reason. It's not a good signal, so I switched to Dolphin Browser iOS version, hope it helps. Here is the link: http://apple.co/1K3xO75

Agree, I love Dolphin from the moment I got it and it hasn't disappointed me since. One of my fav features that set this app apart from other browsers is gesture which you can set to frequented sites, super intuitive! I have informed all my friends to have a try.

Anything with Flash; especially Google Chrome is in my opinion TRASH!

Chrome doesn't use Flash just like any of the other browser apps (except Puffin) don't use Flash. Not sure what your issue is.

Puffin does work outside U.S.
For me daily browsing is for stock safari. For areas without LTE I use opera mini as it can display any website with the tiniest bit of data. Sent from the iMore App

When Google Chrome adds the ability to run Android apps in the browser (which will happen as soon as this year) it will rocket to the top of any "best browser" list and stay there. So, er, yes, when that happens, even the die-hard Apple fans will be running Android apps on Mac OS X and iOS in their Chrome browser tabs. (And Microsoft and Linux users will be too.)

Uhh.... This does work (in a limited way) in Chrome for PCs/Macs and other PC-like devices. But Google hasn't announced anything like what you're describing for iOS (unless you have some info that you'd like to share with us). Not only would it seem to violate Apple's terms (and thus get Chrome removed), it sounds like it would be a really crappy user experience. There are very few things you can do with Android that you can do as well or better with iOS (things that the vast majority of users care about that you don't need to jailbreak for). But if you really want to run Android apps, get an Android. If you want to run iPhone apps, get an iPhone.

Hi Ally, can you share your wallpaper? Awsome article btw!

I'm. Just. Trying. To. Get. To. Grips. With. This. UDID. Registration. Stuff. On. Wheather. I. Should. Go. For. It. Help. !!

Being a Google Chrome user on desktop using Chrome on iPhone is a no brainer. Everything is just there. Makes sharing info so simple. I have many of the Google apps on my phones and tablets. From Google Voice to Search, Maps, YouTube etc. I still use Safari but only on rare occasions. I have a site where I stream things from which calls for Flash, then I'm forced to use Puffin paid version. Posted via the iMore App

Going to go with iCab on this one. Having different user profiles alone is a big plus in my book... Along with all the modules, UI customizations, filters,etc

Just tried Night web browser after reading this. It was exactly what I was looking for. :)

Personally prefer Web Phantom. Tried some of the browsers above and it seems to be the fastest and safest

You have shared a nice article. In this article, I also would like to share one more web browser, i.e. Nano Browser which is compatible with all the device like iPhone, iPads, android smart phones & tablets, Windows, PCs, Mac, etc.. It's easy to use and free to download. It automatically updates the applications using web store and a browser.

I like this and is very Good mate :D

Hi. Everyone wants the browser who is compatible with each device and running fast. So, I had found browser namely Nano Browser. This browser runs very fast and compatible with all the devices like iphone, I-Pads, MAC,Android, Windows etc. It also provides lots of features which you have not seen in any other browser. And I recommend you all to use this browser once. And I am sure that you like to work on it like I am.
https://www.nanobrowser.com/

I use Safari from time to time, but I bought the Red Browser because I also use Tor on my PC. I also like Ghosterly. I may check out Phantom Browser.