Best web browsers for iPhone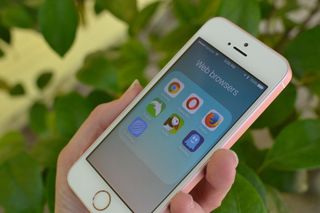 Safari is the built-in web browser for iPhone and iPad and is deeply integrated with the entire system. That means, for example, when you tap a web link inside another app, it'll almost always open in Safari. It also means you get immediate access to any new features Apple rolls out, from iCloud Keychain for password and credit card completion to Handoff for easy task-switching between iOS and the Mac. Not everyone wants to use Safari, though, and that's O.K. There are plenty of other great browsers in the App Store, several with unique and compelling approaches and features all their own. Here are our favorites!
Chrome
Google's web browser is clean, simple, and fast. If you use your Google account in Chrome to save bookmarks and favorites, you can sync the data across all devices, including desktop computers running Chrome. It also syncs open tabs for a Handoff-style experience.
You can perform voice searches with the Google Voice feature. It's not unlike having Siri look something up for you. My favorite feature is Google Translate. The Chrome browser automatically detects when you are visiting a website that is not in your default language and offers to translate it for you. It's a huge time saver when you're reading up on the latest Apple supplier news.
The new tab interface is fast and easy to use. All you have to do is hit the button in the upper right corner to quickly access your open tabs. You can swipe through them with lightning speed. And, if you want to close any of them, just swipe left or right and they're gone.
If you use Chrome on your desktop, the iPhone version is a no-brainer. All of your browsing history (except any incognito visits, of course), open tabs, and bookmarks sync across your devices.
Opera Mini
Opera's mobile web browser is dedicated to conserve your cellular data. It optimizes web pages to reduce the amount of bytes your favorite websites gobble up. Photo quality is automatically lowered and videos are automatically compressed for faster loading and less buffering.
Yes, depending on your settings, that does mean Opera is getting in the middle of all your web traffic, which may be a privacy concern for some. You can check out Opera's privacy page for details and so that you can make an informed choice.
If you use Opera on your desktop, you can sign into your account and sync your history, bookmarks, and Speed Dial links across devices.
Opera Mini's interface is one of the best on the market. You can swipe the Speed Dial screen to the right to access your recent history, or to the left to read up on curated news stories of the day. Bookmarks and Speed Dial links can be customized to fit your web browsing preferences. You can combine multiple Speed Dial links into labeled folders and Bookmarks are kept in a separate location, which can also be organized into folders that you can reorder anyway you like.
If you tend to browse the web without Wi-Fi a lot, Opera Mini will help keep your data consumption under control.
Firefox
Apple doesn't let you change the default apps in iOS, but Firefox offers a usable workaround: If you tap on a link in your mail app and it opens in Safari, you can tap the Firefox extension and select "View Later". That'll send the link to Firefox so, when you open it later, your link will be there waiting for you.
You can also customize your mobile browsing experience by blocking pop-up windows, requiring Touch ID to access websites, saving logins, and more. The Compact Tabs feature turns open tabs into thumbnail cards so you can see more of them on one page, instead of swiping through a list of websites.
Reader View removes everything from a website except the text for a distraction-free experience. You can also save Reader View content to read offline later.
If you use Firefox on the desktop, you should check out Firefox on iOS.
Dolphin
For a true gesture-based web browsing experience, check out Dolphin. You can access your recent history or open tabs by swiping to the right or left, respectively. Plus, using the Dolphin Gesture feature, you can draw a letter or symbol to quickly perform a function or open a link.
With the premium upgrade to add Dolphin Sonar, you can shake your iPhone to call up the voice dictation tool and speak a web address or perform a search.
For a more personalized experience, you can download different browser themes. If you're feeling a little blue, try the Starry Sky theme. If you want a classy look, make your browser solid black. There are holiday themes and special premium browser designs available for $0.99 each.
With Chrome, Firefox, and Safari extensions, you can sync links, maps, phone numbers, and more with your desktop computer.
If you are looking for a really nice gesture-based experience, Dolphin is the web browser for you.
Puffin
With the Puffin web browser, it's all about getting Flash content to show up on your iPhone. You can adjust the settings to always allow Puffin to open the desktop version of websites. Plus, there is a mouse and trackpad tool that lets you navigate websites using a pointer or cursor. When watching a video, you can switch to Theater Mode, which hides the website's interface so that you only see the video on screen.
Puffin also has a customizable cellular optimization feature that reduces usage by compressing data. When you are watching videos or looking at high-resolution pictures, it automatically reduces the quality to help keep you under your data limit.
If Puffin getting in the middle of your web browsing is a privacy concern for you, be sure to read answer 19 on the Puffin FAQ so you can make an informed choice.
If you are still in love with Flash and want the ability to use it on your iPhone, get Puffin.
Ghostery
Ghostery is known for its deeply customizable tracker finder. It can sniff out analytics plugins, advertisement trackers, behavioral data researchers, and more. When you visit a site, you'll see a banner showing how many trackers are on any given page. You can then look up more information on each tracker, and then decide whether you want to block it or not.
Ghostery for iPhone also provides Wi-Fi connection protection, which uses a HTTP proxy to block trackers in other applications as long as you are using the same Wi-Fi network.
For websites that you want to support, you have the ability to "white list" them.
If you want to have more control over which websites track you and what you let them track, Ghostery is the best web browser for the job.
VPN Browser
If you're a fan of TOR—originally "The Onion Router—an the anonymity it strives to provide, than VPN Browser's TOR web browser makes it possible for you to use the internet, truly incognito.
VPN Browser connects you to different proxy servers to make your IP address as anonymous as possible. It's a little bit slow on the upstart, but that's because it is bouncing around, protecting your privacy using the TOR network.
I highly recommend upgrading to the Pro version as soon as possible. The in-app ads are full-page, audio supported, and painfully intrusive. They pop up every 15 - 30 seconds, making it nearly impossible for you to actually browse the internet. Once you upgrade to pro for $0.99, the experience is significantly better.
If you want TOR on mobile, you'll want to check out VPN Browser.
Your favorite?
How to you surf the net on your iPhone? Which is your preferred web browser, and why?
Lory is a renaissance woman, writing news, reviews, and how-to guides for iMore. She also fancies herself a bit of a rock star in her town and spends too much time reading comic books. If she's not typing away at her keyboard, you can probably find her at Disneyland or watching Star Wars (or both).
Safari seems to do a good enough job to not have to install another browser.

On the iPhone it doesn't really make much sense to use another browser at this point apart from having it sync with the desktop version of your favorite browser. Most of the web browsers on iPhone still use the same rendering engine due to restrictions, and also there's no way of setting a default browser so you also end up going to Safari at some point

I stick with Safari on my iPhone for most browsing, especially now that it supports ad blockers. That said, I also have Chrome installed for easy access to all my bookmarks.

Chrome Sent from the iMore App

Safari as it's the fastest and by default it's the best browser hands down. Sent from the iMore App

Safari all day. But it really needs touch ID log-ins for websites. That is a very useful feature.

Chrome because I use it on PC etc. and it can sync website passwords. I only recently switched over to iPhone so I have basically no saved passwords for websites in Safari. If I can figure out how to do a one time import of my Chrome boomarks though from the phone or my PC, then I might start using Safari more on the phone though.

Chrome, just for the simple fact that I sync across multiple devices... iOS, Android, & desktop. Otherwise Saffari would just fine. Posted via the iMore App for Android

I agree with most, Chrome for its syncing ability and Safari for those few sites that Chrome seems to not like. Sent from the iMore App

I usually use Safari, Firefox or iCab. I use all three on my desktop just fine, and always use Firefox on other platforms like Linux or Windows as well as Mac. Google is too invasive and hard to remove.

Last I saw.... albeit dated... was http://m.imore.com/tag/nitro There was an issue where other browsers would never be as fast as Safari.

That used to be the case, but that changed earlier this year: http://arstechnica.com/apple/2016/01/new-chrome-for-ios-is-finally-as-fa...

There's always an issue with Safari. Videos on news sites won't play. "Submit" and "done" buttons are unresponsive. Yet it all works fine in Puffin.

I've never had any of these issues with Safari, it sounds more like a problem with the websites themselves. It's possible that videos on news sites won't play because they haven't updated their website in over 10 years and thus continue to use the antiquated "Flash" player. In which case, you need to find better news websites :)

Safari mostly but when I need a desktop like browser I roll with Puffin. Sent from the iMore App

The problem is, when you use one of these "browsers", you are actually using Safari and only seeing a graphical user interface supplied by the "browser". Apple does not allow 3rd-party browsers to use their own engines, only the Safari engine, so all they can do is put some sort of different user interface on top of Safari, completely negating any benefits one browser might have over another. This is just an incidence of Apple exerting control over what apps can do, because of security concerns they have for their customers. It has its benefits but limits what developers can do with their apps.

curious, does this apply to Mac Book Pro users as well?

Safari only because it's the default built-in web browser it works why use others probably don't live up to be a default browser for the iPhone I'm sticking with safari. Sent from the iMore App

Rather than worry about what browser to use I just added a bookmark shortcut to the launcher at the bottom of iOS that goes straight to Google.com. That way, whenever I open it, it takes me straight to Google so I can search for what I need, I have no use for returning to whatever website I was last on when switching between apps.
Get the best of iMore in in your inbox, every day!
Thank you for signing up to iMore. You will receive a verification email shortly.
There was a problem. Please refresh the page and try again.