Best weight lifting and gym apps for iPhone: Fitocracy, Strong, GymBook, and more!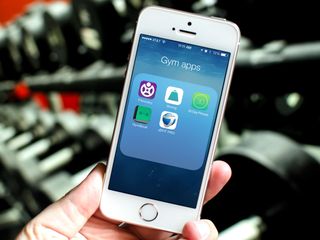 (opens in new tab)
Are you looking for the best iPhone apps to help you track weights and monitor your activity at the gym? Whether you're training for a specific activity, trying to drop weight, or just tone up, there are lots of gym apps that can help you track your progress and add some variety to your workouts. No matter what your goals are, the App Store has something for everyone, and we think these are the very best:
Fitocracy
Why you can trust iMore Our expert reviewers spend hours testing and comparing products and services so you can choose the best for you. Find out more about how we test.
Fitocracy turns tracking your workouts into a competition with others. You can track things either as you do them at the gym or once you're done. Along with adding exercises you already know, Fitocracy is a great way to learn new ones. There are lots of premade workouts as well that can add a lot of variety into your workout. You can also build and save your own.
If you need some motivation to give your workout your all and need some help mixing it up, Fitocracy is a great choice.
Strong
Strong is a workout tracking app that lets you quickly and easily enter information about your workout. Like Fitocracy, you'll unlock and collect achievements when you reach certain fitness milestones. Add routines and then easily add them to new workouts whenever you need to. One of my favorite features of Strong is the warmup calculator that helps you pick what weights you should use to get warmed up before each workout.
If you want a simple way to track your workouts and watch your progress, give Strong a try.
30 Day Fitness Challenges
30 Day Fitness Challenges lets you choose a fitness challenge to commit to. You can then set up reminders and perform it and track your progress each day. When you start a challenge, 30 Day Fitness Challenge walks you through each part of the workout and doesn't move on until you've said you are done. Currently you can choose challenges that work arms, core, legs, and overall general strength.
If you want to mix up your gym workouts and need something new, get 30 Day Fitness Challenges.
GymBook
GymBook is another workout tracker but focuses more on strength training than anything else. You can easily create new routines and workouts, browse and see beautifully animated GIFs of each type of exercise, and more. If you're using weight resistance on any exercise, simply enter the amount in pounds or kilos and the amount of reps. One of my favorite features of GymBook is that you can see data next to a specific exercise containing the last few times you performed it and how many reps and for how long. This keeps you aware of your progress in just a single glance.
If strength training is your main goal and you want a flexible and powerful way to track things, you want GymBook.
JEFIT Pro
JEFIT Pro may not have as nice of a design as some of the other apps in this list but it more than makes up for it with its huge catalog of exercises. JEFIT Pro is crammed with lots of useful stats and information from 1RM and total volume charts to cardio tracking. JEFIT Pro gives you a great overall picture of the state of your body and what you should be focusing on to improve it.
For the largest database of exercises and the best overall picture of your body, give JEFIT Pro a try.
Your favorite iPhone apps to take to the gym and while lifting weights?
If you frequent your local gym — or even work out at home — what apps do you depend on to track your progress, help you strength train, and make the most of your workout? Vote in our poll and we'll highlight your favorite picks later this week! If you use something different than what's listed, be sure to let us know in the comments!
Get the best of iMore in in your inbox, every day!
iMore senior editor from 2011 to 2015.
12 Minute Athlete HIIT Workouts APP http://www.12minuteathlete.com/app/ Awesome for those who feel like they never have enough time, space, knowledge, motivation to get a simple workout in. 12 - 16 minute workouts that kick your butt. #noexcuses

Fitocracy is awesome. Another one that I like is the You Are your Own Gym app for us without gym memerships. https://www.marklauren.com/apps.html

For a pure weightlifting set/rep tracker, I'm currently using Liftium. It has a clean interface, allows efficient set/rep entry, exercise history view, and allows you to add exercises to your workout on-the-fly. I've used a few other workout apps over the years but most of them were abandoned with iOS updates. I've tried Fitocracy and Strong, but they didn't have the quickest method for entering sets/reps. And the Jefit UI is really not appealing. So far I'm happy using Liftium.

That's one thing I didn't really like about any of them. I found the tradeoffs for the others to be better but Liftium definitely has better set/rep inputs.

I would recommend FitTube https://itunes.apple.com/au/app/fittube/id877488404?mt=8&at=10l3Vy . This app simplifies finding youtube videos that show how to exercise various parts of the body. You can "save" in collections the ones that you like.

DailyBurn has an app in the App Store. There are 2 all access prices: $9.99 for monthly and $89.99 yearly.

I saw the app Stronglifts on a recent Apple TV ad so I'm giving it a try. It's free and it's simple. So far so good. Sent from the iMore App

That's an interesting selection. Tried using several similar ones a couple of years ago, but stopped due to the complexity to keep track of all the data. Either I was entering data/checking routines while working out and was losing much of the intensity (I used to to mostly volume workouts with a strict eye on the clock inbetween sets) or I had to remember things after the workout, which wasnt always doing it for me. I stopped when I realized that, after years of gym, it's not that hard to track progress on major compound movements, especially when you work on fixed number of sets/reps per sets. But now that Im at a stage where I increasingly look for variety to stimulate further muscle growth, I might just give some of these a shot and try to have the necessary discipline to log everything in. Boy if there was a wearable device that was capable of capturing all this data for me, but I understand it'd be very difficult (we're not talking running/moving here, but static effort in most cases).

I use Soloflex for weightlifting/strength training, but the only one I've seen for it is an app called Soloflex Buddy. I was hoping that there's more of them out there, but this one is still useful in that it has visual illustrations, pre-defined programs and custom programs I can create. Are there more of them out there?

I've been using the GymGoal 2 iOS app to keep track of my workout progress.

Fitocracy is awesome! Great community and lovely interface. Has helped me a lot with my progression in the gym. Two thumbs up.

Totalworkout - muscle building app.
It is an iPhone application which carries out muscle training record. https://itunes.apple.com/jp/app/totalworkout/id861680352?l=en&mt=8&at=10...

http://trntrak.com is by far the best one I've seen, nice friends features to encourage my buddies to make it to the gym, nice reminders and generally the simplest and cleanest workout entry I've seen yet!

There are also Apps to improve your technique by video analysis. My opinion is that video analysis certainly help to enhance the corrective action process and I think that video can serve as a value-added assistant in many cases. As a coach, I very much like the O'See Sports Video Delay app: (iOS) http://goo.gl/IeJt2C , (Android) http://goo.gl/wRcNgG It gives faster and more easy video feedback during training, especially when I have no time for doing analysis during training.

If you need an app that is practical for planning, logging workouts and tracking progress, try GymGoal. I've tried lots of other apps. Some of them look good, until you hit a limitation - something simple that happens all the time, like doing a different exercise just for this workout, or doing supersets, or timing your rest time. Some are just ridiculos - for example they expect you to do the same number of reps in all your sets. Haven't seen a single app with no such limitations, except GymGoal.

I'm an advanced weightlifter / bodybuilder, so I don't need photos, videos, routines, exercises, etc. I also don't want my gym log to be part of any social network. It is my experience that apps that are focused on these things are much slower and frustrating to use while at the gym, and they ultimately cause me to become unfocused because I have to constantly be screwing around with my phone just to get something done. What I do need is a quick, efficient way of logging workouts, exercises, weight, reps, and sets while at the gym. I also need to see statistics so that I can decide on the proper sets, weight, reps, a good rest timer for between sets, and a way to export and import data so that I don't lose all my data if and when my phone fails me. So, which ones fit that bill? My first choice is Gym Log+: Gym Log+ is fast, easy, and unobtrusive to use while at the gym. I can easily create workouts and exercises, as well easily create and add exercises to a workout in progress. It has fantastic statistics that are available while logging exercises, a good rest timer, graphs, and lots of other well implemented features, including export and import. The things that I don't like about it are that it does come with some pre-installed exercises that are non editable. They slow me down just a little bit when creating and adding exercises to a workout, but not much. Also, there are pictures of the pre-installed exercises that take up valuable real estate. Furthermore, the organization and layout of the app could use a little work as all my workouts are just one looonng list. I prefer one more level of organization so that I can categorize my workouts into, "Back," "Legs," "Biceps and Triceps," etc. These issues are not that big of a deal, though. The other app that almost fits the bill is Fitted Lifts: This is hands down the fastest gym log app available. Incredibly streamlined, super fast creation of workouts and exercises, great rest timer, very few pre-installed exercises that are editable, and no pics, descriptions, etc. Unfortunately where this app fails is on the statistics. After logging 50+ workouts, I found myself disappointed that there is no way to see my progress. I mean, what's the point of logging all that info if I can't see it??? It also hasn't been updated since before iOS 8 was released (starting to look abandoned), and there are no options to import data (which is strange because there is an option to export). It's really too bad because the speed of this app is so phenomenal that it almost outweighs its shortcomings. Yet, if these shortcomings aren't that important to you, this app is well worth a try. Hope this info helps.

I really enjoyed your article, I may be rare but I do find technology motivates me to keep fit. I have been using various Apps I have made for over the past 15 years to help track my fitness and in particular my Strength training. I have made a cool Apple Watch App which I think makes working out much easier by using the Apple Watch to speak/read your next exercise and count down your reps and rest time out loud. If you want to check it out it's free here:
https://itunes.apple.com/app/body-pro-strength/id939864965?at=10l3Vy It also works on the iPhone and iPad. All the best with your fitness future! Greg P.S. Here is more info if you are interested: body-PRO is really excited about how seamlessly the Apple Watch and the latest body-PRO App can improve a strength workout. The new body-PRO Apple Watch App features will amaze you and keep you on track towards fitness success. You can use the body-PRO App rest timer directly on the Apple Watch App or even cooler you can start from your Apple Watch a timer on your iPhone that reads aloud the next exercise and counts down out loud your remaining rest or exercise repetition tempo. "Get ready for Incline Bench Press" .... "10, 9, 8, 7, 6, 5, 4, ready, set, begin" With the body-PRO Apple Watch App able to do all workout functions you just lift your arm and tap to stay focused. Staying organized when working out has never been easier. Less distractions means you'll be even more focused on your workout and see better and faster results. Also exclusive to the body-PRO Apple Watch App (although it's so intuitive Apple will surely make this a standard UI feature on the Apple Watch) is the ability to double tap to edit. One tap will mark an exercise as done but a quick double tap will let you edit the exercise. It's so intuitive and quick you'll be amazed how much you can now do on your Apple Watch! Of course the standard UI force touch is also supported with a full menu of features. Working out successfully means finding your groove, your routine and your style. The Body-PRO Apple Watch App is about you and offers the flexibility you need to maximize results. Music plays an important role in achieving high performance. Your workout doesn't need to be silent (who wants to hear you grunt). Play your favorite music on iTunes and read aloud messages like the next exercise and the count down will automatically lower and raise (duct) the music volume. (iTunes music volume lowers)
"Get ready for Military Press" .... "10, 9, 8, 7, 6, 5, 4, ready, set, begin"
(iTunes music volume goes back up) No need to distract yourself with a timer, your iPhone tells you verbally so you can focus on your form and posture and not the hands of a timer. Following a specific weight lifting tempo has never been easier. Position yourself for your next exercise and just tap your watch to start an audible tempo and rep counter. With all these cool features you'll stay focused and be motivated by the results you will view in the mirror faster than ever! Best of all the body-PRO App works on all iOS devices (iPod, iPad, iPhone and Apple Watch) and is a Free download from the Apple App Store. Get healthier with the body-PRO App today. Device Requirements:
* iPhone, iPad, and iPod touch
* Requires iOS 8.0 or later
* Optimized for iPhone 5, 6/6 Plus
* 15.0 MB Pricing and Availability:
body-PRO Strength 1.0 is free and available worldwide exclusively through the App Store in the Health & Fitness category.

I really like the new iOS lifting app Gravitus. I work for the team developing it, and have been using it for a couple of months now as a beta tester and love it. It's extremely easy to use, great for tracking, and lets me focus on my workouts in an atmosphere that emphasizes the weight I'm lifting instead of points earned or shirtless selfies. It's coming out soon, and you can sign up at http://gravitus.co to find out when we release.

I use http://www.lifterfitness.com every time I go to the gym. It's very flexible in how it records the way you want to lift. Great App.

I wanted a very simple way to log workouts, and to connect with my friends. I couldn't find an app that does this after trying MANY. But I did find a website that looks very much like an App and doesn't use any space on my phone (which is a good thing). It's http://liftingwithfriends.com and it's free, with no ads. Only logs weight lifting workouts.
Thank you for signing up to iMore. You will receive a verification email shortly.
There was a problem. Please refresh the page and try again.