Best workout apps for iPhone: What you need to get in shape and feel great!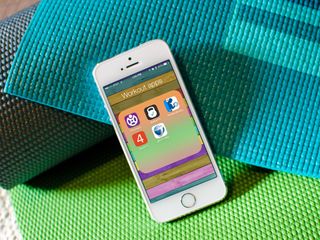 Looking for the best iPhone apps to help you get in a daily workout? Squeezing in time to exercise between work, kids, social events, and other obligations isn't always easy. Luckily, there are lots of iPhone apps that can help you not only help you stay motivated but help you make the most of your workouts. Whether you're just starting out and want something simple or you're already hitting the gym multiple times a week and just want to get more efficient, there a are a lot of work out apps for iPhone to choose from. But which workout apps for iPhone are the very best?
Fitocracy
Why you can trust iMore Our expert reviewers spend hours testing and comparing products and services so you can choose the best for you. Find out more about how we test.
Fitocracy lets you choose from tons of pre-programmed exercises or lets you program your own. You can then create and save routines, track workouts, and tons more. Editing workouts and re-arranging items is also super simple with Fitocracy. The social aspect of being able to add friends and communicate with the rest of the Fitocracy community is also good for those that need an extra push or pat on the back here and there.
For a customizable and completely flexible workout tracker that comes with a great social community to back it, be sure you try out Fitocracy.
JEFIT Pro
JEFIT Pro is a workout program that focuses on building muscle and toning. From weights to strength exercise that don't require any equipment, JEFIT can help you achieve goals that deal with toning. You can break down exercises based on what areas you'd like to work on. All your stats, workouts, and more are then synced to your JEFIT account from access anywhere.
If you want to tone and build muscle mass, check out JEFIT Pro.
4 Minute Workout
4 Minute Workout is based on the Tabata method of exercising. During these workouts you'll be doing super high intensity exercises for 20 seconds each followed by 10 seconds of rest. Many people believe this method is just as good, if not better, than a traditional cardio workout. The best part is there's no equipment necessary.
If you want a super high intensity workout that delivers results, 4 Minute Workout is worth a look.
BetterFit
BetterFit is a workout logging app as well as a protein intake tracker. One of the biggest headaches of tracking workouts is inputting everything. This is one place BetterFit really excels. With over 1,000 existing exercises and a great interface that makes adding items simple, BetterFit makes tracking less painful. For anyone trying to build muscle, you can also track protein intake all in one place so you can see what you're eating compared to what you're burning.
If you're working on building muscle and want to track workouts and protein in one place, BetterFit is the best option.
Fitness Buddy
Fitness Buddy is similar to JEFIT Pro but breaks exercises down a little differently. You can choose the section of your body you'd like to work out and then break down what kind of equipment you have or what you want to use by simply toggling the settings. Each type of exercise comes with detailed animated photos to show you how to perform them. You can then log your workouts with Fitness Buddy's built-in tracker.
For a huge variety of exercises and a better understanding of what areas they target, check out Fitness Buddy.
Your picks?
If you use your iPhone to enhance your workouts, what apps have you found helpful? And if you prefer heading to the gym, what apps — if any — have helped you out there? Let me know in the comments!
Note: Originally published, March 2014. Updated July 2014.
Get the best of iMore in in your inbox, every day!
iMore senior editor from 2011 to 2015.
Ally, I believe two apps from the developers of great anatomy apps mostly for medicine, iMuscle 2 and iMuscle home should have definitely been on the list: - https://itunes.apple.com/us/app/imuscle-2-iphone-edition/id441743587?mt=...
- https://itunes.apple.com/us/app/imuscle-home-iphone-edition/id767392716?... Sent from the iMore App

I saw both of those but found the design and interface to be less than dismal. they have good information but so do others, and the developers put more thought and care into putting them together. Just my opinion.

Thanks, I'll be sending this to a fitness trainer friend of mine.

Allyson - the Couch-to-5K is $1.99 for me right now... it has changed often over the years, not sure if it changed the last couple days.

I use FitStar on both my iPad and iPhone. I love it. They have a subscription to tons of workouts or if you don't want to pay you can have 2 free sessions per week.

you may want to include that some of these apps require in app purchases to access additional workouts (i.e. the ab workout on "7 minute workout" is an IAP of $2).

JEFIT Pro is a great app. I'm glad to see it on the list. They are always improving the app and it was great when I started using it years ago. They are about to update the app again. Definitely worth the money.

Thank you for your support cwbcpa! My name is Robert Rogo and I am a Front-End Developer at JEFIT. I wanted to thank you for your feedback regarding our application and hope that you are still enjoying your usage of JEFIT! We are currently working on many new features and updates for upcoming improvements to our applications which we hope and know you will enjoy. Keep up the intensity with your training and again we appreciate your support! - Robert

Is there a free version of "Couch to 5K"? the one I see in the App Store is $1.99. Thanks

No it was a mistake on my part. Sorry about that. I just fixed it.

I'm pretty sure it used to be free..... guess that's what happens when something becomes popular.

I use body space by bodybuilding.com love it you can pick a workout for every type of workout if you want to lose weight get fit or get as big as bodybuilders it tracks your workout and has a really good social community
You can set goals and see your progress. Sent from the iMore App

I use JeFit Pro! It's The Boss Sent from the iMore App

I use JeFit Pro! It's The Boss Sent from the iMore App

Hello Soulsergeant, My name is Robert Rogo and I am from JEFIT. I just wanted to thank you for your support and feedback for your usage of JEFIT. We are working diligently on updating our application and various products that we have released and hope that you are still enjoying your usage of JEFIT. Thank you again for your feedback! - Robert

Bodyweight Training is a good app. Like the fact the warm up, exercise and cool down is included in the workouts. There is weeks long training programs or quick workouts. Everything is customizable in that you can switch out exercises if you don't like the ones chosen for you. It tracks your history so you can see as you improve. Sent from the iMore App

hmm no Fitocracy? It's one of the best workout apps in my opinion. Been using it for years! :)

I use Liftium on a daily basis, it's pretty much a weightlifting log, but is a clean and efficient way to record sets. I previously used Fitted Lifts, but can't stand the UI update that happened with the last update.

I use MyWOD, I think it's the best app to track your CrossFit workouts

I'm all confused. Some comments are from 22 minutes ago and some are 4 months. Today is going by fast but didn't know it was that fast. Sent from the iMore App

I use SportsTracker to monitor my workouts, for whatever workout I'm doing. I've been using it for years and I think it's great. It has a very good statistics overview and many other functions. I also use Full Fitness for workout inspiration in the gym sometimes.

Zombie run, it makes fitness fun! I use it at night at the bayou behind my home,and it is terrifying! Makes you run your tail off and their is a zombies 52k app for beginners. And I have to recommend Moov though it requires the purchase of fitness tracking devices found at their website. Hands down the best fitness coach device I've ever had the pleasure of using.

Hello Allyson, My name is Robert Rogo and I am a Front-End Web Developer at JEFIT and wanted to thank you for taking the time to feature our application within your article. We are working diligently on improving our products and applications to update our UI/UX along with other features for our users, especially since when you featured us in this article. Again I wanted to thank you for your time and featuring us in your post! - Robert
Thank you for signing up to iMore. You will receive a verification email shortly.
There was a problem. Please refresh the page and try again.