The big list of iOS 6 features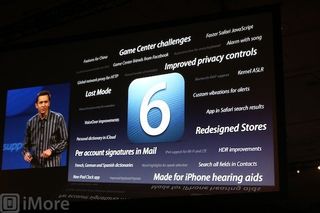 At WWDC, Apple proclaimed iOS 6 would introduce over 200 new features when released this fall, and that what we saw yesterday was just a small sampling. We've got plenty of posts going over the big features, but there are also a handful of slides that were positively riddled with features that they just didn't have time to go over.
Additionally, there were lots of smaller features that either just got a passing mention, were folded into some of the talk about OS X, or weren't referenced at all. That said, let's tear apart the keynote address (which was recently made available in HD on iTunes (opens in new tab), by the way) and pick out every teeny tiny iOS 6 feature we can.
We're going to keep a running tally here, and update it as more information becomes available, so check back often! (New additions will be in boss-like bold.)
iCloud sync with OS X Mountain Lion
Messages (with iMessage, pulled from the latest beta), Reminders, Notes
Documents in the Cloud (Pages, Numbers, Keynote, Preview, Text Edit, plus developer SDK)
Mail preferences pushed to iCloud
iCloud Documents API improvements
Sports scores (baseball, basketball, football, hockey, soccer)

Italian Serie A
English Premier League
MLS
French Ligue 1
Spanish la Liga
Dutch Eredivisie
German Bundesliga
MLB
NCAA Football
NFL
NBA
NCAA Basketball
WNBA
NHL

Sport player stats
Sport team rosters
Sports league standings
Sports game schedule
Updated restaurant searches (type, price, Yelp reviews, distance, map, hours, phone number)
OpenTable reservations for restaurants
Movie listings per theatre
Rotten Tomato moview reviews
Movie facts
Movie trailers
Search by actor/actress
Launch apps
Send Tweet
Update Facebook status
Listen to notifications
Eyes Free car integration (in the next year)
International languages (Canada, Spain, Italy, Switzerland, Korean, Taiwan, Hong Kong, China) and local search (all of the above plus countries with existing Siri functionality)
Siri for iPad (new iPad only)
Single sign-on
Share from Photos, Safari, Maps, App Store, iTunes, Game Center
Public API for developers
Contact and Calendar integration
Reply to incoming calls with message (preset or custom) or save reminder (timed or geofenced)
Do not disturb toggle with fine-grain phone call exceptions, schedules, or allowing repeat calls
Facebook and Twitter compose buttons
Available over cellular
Apple ID unified with phone number, enabling FaceTime or iMessage answering on iPad or Mac
iCloud Tabs for Safari on other iOS devices and Macs
Offline Reading List
Photo uploads
Smart app banners link to App Store or launches
Fullscreen video in landscape
Shared Photo Streams with designated friends, includes comments
(opens in new tab)
Photo Stream pictures in Mac screensaver
Photo Stream now a separate tab, not another album
VIPs - designated contacts cause notifications, e-mails flagged with stars, separate inbox
(opens in new tab)
Flagged mailbox
Attach photos in-line (finally)
Open password-protected Office docs
Per account signatures
Barcode collection for boarding passes, store cards, coupon, movie tickets
Pops up on lock screen when you arrive
Includes up-to-date-balance
Boarding passes update with gate changes
Cute deletion animation
Disable certain app interactions with a circle
Limit hardware buttons, touch, and motion control access
Single-app mode
Maps
Local search with 100 million business listings with Yelp reviews and pictures
Crowd-sourced traffic data with incident reports
Free turn-by-turn navigation with alternative route offers based on faster ETA
Navigation viewable from lock screen
Siri integration, finds spots along your route
Flyover (3D buildings)
Multitouch rotation, angle change, and zoom
Powered by TomTom
Game Center sync with OS X
Cross-platform turn-based and realtime gaming between iOS and Mac
Issue challenges to friends
Audio and video sampling during playback
Pass Kit
Rich text on labels, fields, and text views
VoiceOver gestures
Control camera focus and exposure
Remote Web Inspector
CSS filters
Action Sheer
Web Audio API
Crossfade with CSS animation
Game Center in-app experience
Reminders
Video stabilization
Game groups
Bluetooth MAP support
Transit apps (Apple's Maps doesn't have its own, but opening doors to local devs)
In-app Bluetooth pairing
Face detection API
Inter-app audio
Frame drop data
Map Kit
Auto layout
State preservation
Pull to refresh on Table views
In-app purchase hosted content
Read and write image metadata
Collection views
In-app content purchases
Multi-route audio
Location-based reminders for iPad
Autocorrection for every keyboard
Global network proxy for HTTP
Manual reorder of reminders
Lost Mode - send a phone number to lost device which can be called with single tap
Kernel ASLR
Manual location entry for reminders
Custom vibrations for alerts
VoiceOver improvements
App in Safari search results
IPv6 support for Wi-Fi and LTE
HDR improvements
French, German, and Spanish dictionaries
Word highlights for speajk selection
Search all fields in Contacts
Improved keyboard layouts
Made for iPhone hearing aids
Extended functions for China

Baidu
Sina Weibo
Tudou
Youku
Improved text input
Dictionary

iCloud-stored user dictionary
Music ringtones, alarms
iTunes Match now streams music (rather than just download)
Support for iPhone 3GS and later; iPad 2 and later, iPod touch 4th gen)
Spotlight now shows which folder apps are in
Time since last full charge (usage, standby)
Darker camera UI
Hold navigation arrow in Safari for iPhone for history view
"Enhanced" photos now add "-fixed" to file name
Cleared notifications sync across devices
iPhone version of Stocks app loaded on iPad
Updating apps doesn't require password anymore
Apple apps have logo in Spotlight search
Wallpaper previews show live reproduction, rather than canned app layout
App Store "installed" buttons now show "open"
Anyone see anything new in the iOS 6 beta that's really rocking your world? What are you favorite new features?
Thanks to jwr_ for his finds.
Editor-at-very-large at Mobile Nations, gamer, giant.
The maps is a cool new feature. Everything elsr is ok. I would like the native msgn app to be changed. There should be a quick reply pop up option like bitesms.

I hope you realize that Apple's new Maps app is actually LESS functional than the new version of Google's app that was demonstrated on an iPad last week!
You can say goodbye to public transportation routes, bike routes, pedestrian routes, OFFLINE MAPS, street view, and GLOBAL COVERAGE!
You just better pray that Apple approves Google's new Maps app, or you're screwed...

be nice if it was in the store but honestly, i've never had occasion to use any of the things you mention. so not a loss really.

Do you know how many people actually use all of those features? Most people use maps to get driving directions. Usually only cities like New York have large amounts of people that use bike/walking directions. The new app actually dows have pedestrian dorections. Street view is cool but not necessary. And global coverage will affect a lot of people (outside the US) but from my understanding, the only thing they don't get would be turn by turn (voice) directions.
Apple's app is definitely missing features, but all (at least most) of the really important ones are there. And they will definitely be adding back certain features over time.
My point is that we're not 'screwed'

Actually people in every major city in the world rely on public transit, biking directions. That's...I don't know...maybe a lot of people? I can say in Chicago, Google Maps public transit directions are invaluable, and I used them every day. Not everyone drives a car, which doesn't make sense in the city. Again...I'd say that's a LOT of people who are screwed.
And Street view has more practical value than "Flyover 3D Mode" or whatever it's called.

I agree. I'm in Milwaukee and to go downtown you really don't want to drive. Plus people with disabilitys don't drive so public transpertation is very valuable. People are doing more walking today, it's healthier and a lot better for our envirorment.

More importantly, Google maps is not going away. It will not be the stock map service on ios but is will remain available as an app and as a web service.

Not sure if you live in a major city but I used this feature all the time in Charlotte as well as manhattan

I can answer your question: John lives in a parallel universe (Earth-2?) where cities have been deserted and everybody lives out in the boonies. This is all happened after the zombie apocalypse.

Actually apple is in trouble because if these new maps are not as accurate as google maps a lot of people will switch to other platform. And unfortunately they are not accurate at this moment. I mean other countries as there are many others besides The USA

Good luck with that story.

I can't believe it but I've found myself looking at android phones since this announcement… I am a big apple fan and have always defended iOS against the haters, always agreed with the gradual update policy rather than complete re-design and have accepted some of the short comings because it all 'just works'. But I think Android with ICS is getting pretty good now as are some of the top end handsets. I wasn't overly impressed with the iphone 4s (it's the first iphone I decided not to get), the new ipad also didn't wow me enough to upgrade my older ipad and now with this iOS release, are apple slipping or am I just too picky?? Maybe I need to take a punt at Android, if its bad then I'll be back and I'll appreciate my i-devices again so much more!

You'll be back :)
Trust me I tried it ;)

I guess I just don't need to upgrade OS and hardware every year. I upgraded from the 2010 MBA to the 2011 MBA mainly for the lighted keyboard and it was worth it. I upgraded from the iPad 1 to the iPad 2 for the speed increase and again it was worth it. But really, software updates have not been enough to upgrade for yet. I'd need to see videos included in Photo Stream before moving up the software.

This is basically a list of things that Android has had for months/ years. Make sure to check out a top of the range droid on the latest OS and you will see its years ahead of Apple.

You'll be back. I also own a HTC One X (probably the best Android phone...except the s3 that will be available this year). I went back to my iPhone like that. "Android did it" gets really old because yes, they did it. However getting a high end "droid" doesn't feel like I'm light years ahead...it feels like I'm beta testing. The only difference now between iOS and Android is this: Google pushes out features as soon as they can. You deal with the bugs and whine to google to fix them. Apple polishes and polishes until it's shiny.
You can try the switch. You'll find yourself coming back though...especially if you own more than one Apple product.

I just came back from trying to switch to android. The thing that bugged me most was the storage space for apps, even switching apps to my SD card i kept finding i'd run out or get that annoying message saying it was low, Android still has a way to go before it's as smooth as the iPhone.

Mike ihad the same problem...
The problem was fixed in 2 way s. new headsets have large internal storage. But you and. I were using Android wrong.
The move2sd protocol keeps most files still on internal drive.!
That rs why you still ran out of room. on froyo you should have used link2sd instead. it moves all files to sd, but spoofs it on internal. drive with hotlinks ...
On gingerbread the protocol was updated to move2sd+ which works in a similar way...
If you just switched its a shame both options have been around for a year, even if you have a very old phone ...
..( the original move2sd did suck! and Google should have anticipate this problem and come out in front of it rather than having users like yourself. Get lost when there was s simple effective fix... Or maybe you should have gone to a developer forum ( like xda )or just Google and did a search.....
With all the hackers on an open platform ;didn't it occur to you that it was solved ? Mike ihad the same problem...
The problem was fixed in 2 way s. new headsets have large internal storage. But you and. I were using Android wrong.
The move2sd protocol keeps most files still on internal drive.!
That rs why you still ran out of room. on froyo you should have used link2sd instead. it moves all files to sd but spoons it on internal. drive with hotlinks

Apple must be polishing a turd then because I've yet to see it shine that well in my use of iOS...

"However getting a high end "droid" doesn't feel like I'm light years ahead...it feels like I'm beta testing.
That's actually pretty well-phrased. I'm a long-term Android user and vastly prefer it to iOS, but Android does have kind of an experimental, "hey, let's see if this works" feel to it. That might actually be part of the draw for me, actually.

I'm definitely an Apple fan for the simple reason that the IPhone, IPad and IPod Touch are blind accessible right out of the box since they include the VoiceOver screen reader. There are similar options for Android devices admittedly, but while a few of them are even free none of them are included out of the box and quite frankly I wasn't impressed with them when I tried them. One in particular kept telling me I had new voicemail and text messages every five seconds when I quite clearly had none. So far I've never had those or indeed any issues with either of my IDevices. I own an IPod Touch and an IPhone, which some might consider overkill since it means that in a way I have two IPods. But I got the Touch before the IPhone since I figured it would be a good way to ease myself into learning the IOS interface without having to worry about the possibility of accidentally rejecting calls or something in the first few weeks. Of course looking back now i realize that might have been an absurd worry considering the way the IOS interface works with Voice Over.

Ya know, I agree. I started with android and I had 3 different droids eventually leading to my iPhone when it was released on verizon. I've been very happy with my phone but I cant help oogling over how much fun it is to play with an android and how much they have improved since I had it a year and a half ago! When iOS 6 was released, I was let down because almost everything released, I had on my crappy droid eris over 2 years ago. As a tech junkie, I need development and I feel like apple is really slowing down on that process.
The things that keep me from switching:
1. My mom, sister, 2 best friends and gf all have iPhones (plus a few more close friends)
2. The iPhone just works. Androids tend to slow down or get a little buggy. iPhone just keeps on ticking (personal opinion)
3. iTunes backs EVERYTHING up. Android backs up some things. If you do a master reset, youll have lots of fun trying to get it all back the way you had it.
4. With iOS, I dont have to worry about having too many apps open and slowing down the memory.
5. Androids make me phone hungry and i tend to upgrade between 2 and 4 times a year (I have 5 lines on my account)

Time to Jailbreak. You'll love it, trust me.

Wait, the good days arent over, 4S was an incremental upgrade and wait until the end of the year for 5. iOS will get better. There are major UI changes in iOS 6 that Apple didn't show off.

If iPhone 5 is like the leaks. 4" screen by going 16:9 and not wider. Box shaped case. It will not impress, just 4" to say 4" not really larger. Almost the same shape except taller.
I would have gone for the Rumored iPhone 5 from last year, it was much better looking and shaped. This years rumored device is not exciting.
Hope to see something better, I'm due for an update and skipped 4S.

it will be LTE and that alone will make it sell. And most people are like imore readers that need the new look at me toy and want change because they are bored.

Yeah I thought like that to last year. And went through two months of hell. Had three different phones that were horrible. Both hardware and most of all software. and support from google was... o wait they had little to no support what so ever. But hey to each his own.

Believe-me even with ICS and nice phone Android just don't work as well as iOS. I tried and with exception of maps, customization and multitasking experience everything else is better on iOS. I think that you will be back. Wait iPhone 5 if you can. They may surprise with nice hardware enhancements.

But, Aldo, what does that tell you about the Apple devices that you have now: the iPhone and iPad? After a year or more of use, they are still doing the job you need and you saw no need to replace them. That speaks volumes about the quality of what you have. As for other platforms, I've found that "cool" on the surface (no pun intended) doesn't necessarily mean useful and reliable on the inside. In any case, all the best to you!

Am I the only one overjoyed with iTunes Match now streaming rather than just downloading!!! This is a massive improvement.

I wish they would have announced that they were upping the 25,000 song limit for iTunes Match. Can't sign up. 48K+ songs in my library.

Where's the RIAA when you need them?

25k song limit for a paid service whose only advantage is that you do not have to upload songs if they already exist on the server? And you can only use via ios or iTunes? I'll take google music or amazon cloud.

i agree. already uploaded 18k songs, still barely use it but it's free. not monthly charges and considering how little i use it that's a big plus.

How the hell do you spend 48 thousand dollars on music?

The reason why this doesn't look like much is that Apple wasted tons of time and staff recreating google maps. As soon as the map rumors started swirling, it was cleat that if they were true, the resources Apple would need to put into it would be overwhelming, which means less for everything else. The new maps has pretty eyecandy to mask that it is missing usuability features of the current maps app. Everything else is little incremental things: siri searches for more things, tweaks to the maps app, etc. Ho hum.

if he bought them he most likely wouldn't be trying to "itunes match" them...

don't need to buy them all off itunes. I've got maybe half that amount but my large collection is mostly my collection combined with my father's huge collection all ripped before iphones existed. I actually started ripping my stuff like many people before anyone was selling hard drive players. i was playing them off my computer in my apartment. Then an ipod was just a hope.

He's clearly saying he has 48k FILES in his library... not that he spent $48k ON those files.

I just want you to be aware that it's a 25,000 uploaded song limit. Matched songs don't count. I'm sure you'll be fine.

A few questions came to me while reading...if you could please gives more details on them...
Custom vibrations for alerts - what do you call "alerts" exactly? Clock alarms, countdown, reminders, etc?
International language and local search (Canada, Spain, Italy, Switzerland, Korean, Taiwan, Hong Kong, China) - Does the local search mean that services like map & directions, businesses, restaurante, etc is now available in all these countries? This Siri features were not accesible with iOS 5.
And an estra question. I haven't read this one in your article at all, but elsewhere, maybe someone could clarify this. Is there a way in iOS 6 to set custom ringtones to specific apps? (OS- based, and no like Whatsapp, which lets you choose between their app's sounds).
Thank you to evyone for any help.

I appreciate this update more probably because I left my 4S and went Windows Phone 7 but came right back to ios. Don't get me wrong, WP7 is a great OS but it is not for me. Their deep integration, live tiles and navigation are fantastic. But it is still a new OS , thus making it vunarable to bugs and annoyances over time.
Same went for iOS pre 3.2 hence always jail breaking. iOS has now matured into a Solid mobile platform where these additional features are just a fine refinement of the existing platform and a beatiful harmony of hardware and software, something Android has failed to achieve to this date. Don't get me wrong, the HTC One X is by far the best Android device to date, yes still better than the Galaxy III, but that's for another day.

I feel shafted with no lube over the fact the turn by turn won't be available on the iPhone 4. Also a few other features won't be available either. To say I'm p#ssed off is an understatement. Though I'm not forced to update my phone it won't being long. I have no job and can't afford a £37 pound a month contract. Nor can I afford to pay over £400 for a new phone. Apple is starting to p#ss me off.

Apple are a business. Why would they not want to sell new products? Times are hard, sure, but if you don't have a job and therefore can't afford a new iPhone then that's that. No point moaning about Apple wanting to make money. You haven't got turn-by-turn at the moment and you haven't got the other features you say won't be supported on the iPhone 4 so it's not like you got the phone for those features. I'd quite like the newer bigger, more powerful, more feature-loaded car that my current car manufacturer has just brought out. But I can't afford it. I'm not going to start being p#ssed at that manufacturer for doing that though.

Typical conservative response. There iPhone 4 can definitely handle the upgrade but Apple chose to not include it out of greed. There are other reasons to upgrade to an iPhone 5 other trying to cripple the iPhone 4 to do it. Not everything a business does solely for profit is a good idea. One of these days you guys will see that.

He's saying that the guy got what he paid for and shouldn't expect a lifetime of free features just because he wants them. The purpose of a business is to make money not give handouts. If they put all the new features on all of the old devices everyone would buy cheaper older devices or not upgrade at all. Which equals them losing money.

"Typical conservative response"? Such a rediculous attitude toward a simply logical statement. Don't by what you can't afford and eventually those that sale it will make it affordable, in order to bring it back into demand. Wow, there's and interesting concept!!!

You can have very useable turn by turn on an iPhone4 - there are apps for that. Loads of 'em.

As a fellow iPhone 4 user, I get where you are coming from. But I always go back to "It didn't have it when I bought it"
Not to mention the biggest factor -- The iPhone 4 will be the "free" phone come iOS launch.

iOS 6 to support iPhone 3GS and up

If you want Maps with free turn-by-turn directions, you could always just pick up any 4-year old Android phone; since, you know, they've had it all along.... :P

One of the most important reason why people are pissed because iPhone 4 didn't get the turn-by-turn is that it's not much of a difference between iPhone 4 and 4s. It's the same phone with siri and better camera. Not a reason to upgrade for most people.

The performance of the CPU & GPU of the A5 processor in the iPhone 4S compared to the A4 in the iPhone is quite significant. Nevermind the fact that the antenna system on the iP4S is improved upon compared to the iP4. So no, the iPhone 4S is not just an iPhone 4 with Siri and a better camera.

...and if you genuinely believe that the "VAST PERFORMANCE DIFFERENCE" between the 4s and the 4 is what is required to support something as resource hungry as "turn by turn navigation", well, you're an idiot.

A very simple improvement would be allowing us to add custom words to the dictionary. I'm sick of writing friends names and auto-correct kicking in and I have to type it three times etc.

If I not mistaking your comment, you can add custom words in the keyboard section under settings. I have a ton of them that I use not only for names but shortcuts too.

And the custom words now sync via iCloud. Very nice feature!

I'm thrilled with the 'Do Not Disturb' feature! It's actually a suggestion I (among, I'm sure, many, many others) had sent to Apple. Since we no longer have a home phone, I hate turning my phone off at night, or if I take a nap during the day. Now I won't have to!

I always figured that's what the off button was for. I guess that I know now though eh.

The problem with the Off button is that it also stops emergency phone calls...my parents are in their 70's, I can't afford to miss a call from them or my brother...so...no off button for me, ever.

I may never read this forum again, but I have to say... Epic egg on face moment for Anthony, there

Cant agree more with @Aldo. With great success with iDevices, Apple is one.. no, 3 steps behind competitors and just watching and start copying them. They dont want revolution now. What a shame!
Hardware-software optimization? Yes, it worked before but these days competitors like Samsung getting knows how to optimize their better hardware (than apple) with Android. And as long as I know, Samsung and Google are making their own operating system and device like Apple, Apple will gradually lose their position. In my opinion in 5 years, Samsung and Google will take the popularity which now Apple have.
Come on Apple, I really loved you guys. Please dont be settled down.