WWDC 2012 Flashback: Mountain Lion, iOS 6 and the radical new Retina MacBook Pro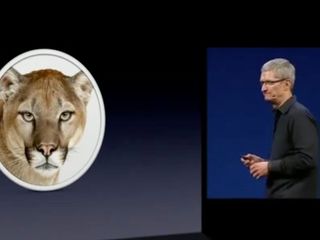 As we head towards WWDC 2014 we thought it would be fun to look back at Apple World Wide Developer Conferences past, what they introduced, and what impact they made. Today let's take a look at WWDC 2012, where Apple took the wraps off of Mountain Lion, iOS 6 and new MacBook models...
While WWDC 2011 had been something of a disappointment for hardware mavens, 2012 roared back with a vengeance. It was at that show that Apple introduced the first MacBook Pros equipped with Retina displays. The new MacBook Pros were a revelation, mixing the best of the MacBook Air — flash storage, thinness and lightness — with the power of a MacBook Pro, all mated to the highest-resolution display ever seen in laptop history.
Speaking of the MacBook Air, that also got a makeover in time for WWDC. Ivy Bridge processors made the cut for the new generation of MacBook Airs, with 4 GB RAM as a bare minimum and SSDs up to 512 GB, giving more RAM and more storage than before. USB 3.0, a higher-resolution FaceTime camera, and other features made the lightweight laptops ideal for road warriors looking to shave a couple of pounds off their backpacks and messenger bags. The "old" MacBook Pro wasn't ready to go in the dustbin yet, either. Apple also updated that device with faster processors, better graphics chips and more.
Apple also took the wraps off of OS X Mountain Lion, the last of its "big cat"-themed operating systems. Interoperability between iOS and OS X had become a key issue for Apple product owners and Apple was anxious to reduce the pain points therein. Apple also replaced the long-in-the-tooth "iChat" messaging service with the rebranded "Messages" app, instead. And Notification Center, up until then an iOS feature, found its way to OS X for the first time.
Other features included support for AirPlay mirroring on an Apple TV, Power Nap (to enable Macs to update even while in sleep mode), improved social media integration and more.
iOS 6 was also introduced at the show. Apple ditched Google Maps - until then the service it had integrated into its Maps app - with other data, a move that would initially prove disastrous as people got wrong directions, map data was rendered incorrectly and more. Passbook promised easier transactions using your iPhone. Facebook integration was improved and Siri saw a makeover too.
Give it a watch and let me know — what do you think of WWDC 2012 and what, if anything, does it make you hope for at WWDC 2014?
Get the best of iMore in in your inbox, every day!
If the 2007 iPhone announcement was the pinnacle of Apple keynotes....then the 2012 WWDC was...in my opinion...the absolute worst keynote I can possibly remember. iOS 6 was without a doubt the worst version of iOS ever released from a feature set. Forstall spent 10 minutes showing off how Siri now does sports scores. And Facebook integration! Passbook was a dud. Maps was a disaster at the time. Honestly...the best feature that iOS 6 added was a popup in safari that allows you to attach photos through Safari browser without having to launch an app...it got a brief applause. I fear that iOS 8 will be almost as featureless as iOS 6. Everyone is hoping for some sort of "better inter-app communications" and I just feel like we aren't going to get it. Simply adding Healthbook, a PDF and Text viewer, and updating maps is not enough! I'm really hoping for SOMETHING that the rumors haven't covered.

My thoughts exactly. Following how great iOS 5 was iOS 6 is one of the most disappointing unveilings apple has done. It felt more like a iOS 5.2 than a full X.0 update.
I hope for iOS 8 that some icons (Game Center, Photos, Newsstand) are changed, new Siri features like tv show info and shazam integration, Airdrop between iOS and Mac, Healthbook sounds interesting, customize Control center, and quick email and text replies, and fixes to iTunes Match.

iOS 6 was the Dark Ages and it will be forever remembered that 2012 was the Lost Year.

I miss Scott (but not his green felt). ;-)
Thank you for signing up to iMore. You will receive a verification email shortly.
There was a problem. Please refresh the page and try again.