How do you use the calendar on your iPhone?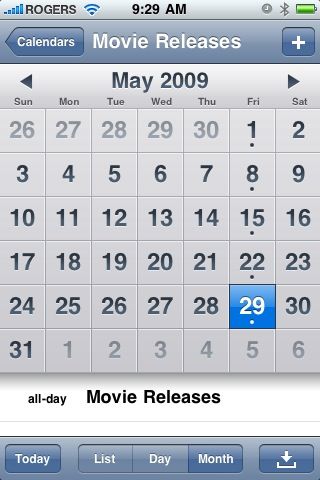 The are several ways to use the calendar on your iPhone, including syncing with other devices (including computers) and with the cloud (via a variety of services). You can also keep just one global calendar for everything, or separate ones for work, school, hobbies, family, training, etc.
You can just use the calendar app right on the iPhone all by itself. It's not the fastest when it comes to data entry, but if you really want to keep your agenda in your pocket you can just hit the plus (+) key, add an event, and keep on keeping on (time that is).
You can sync your calendar(s) over from Outlook on Windows or iCal on the Mac using iTunes and the USB-Dock cable that came with your iPhone. This makes sure both your desktop/laptop and iPhone calendar stay roughly coordinated (not instantly, but updated whenever you tether up and sync). Even if you intend to leave the desktop for the mobile, syncing over at first is a great way to start.
You can sync from cloud services like Google Calendar, Apple's MobileMe, or a Microsoft Exchange server via ActiveSync. All three (if you're using GoogleSync, at least) will "push" changes back and forth between your online and on-device calendars, and if your desktop is linked to the same account, you can keep all your calendars automatically and up-to-the-minute accurate. (Pro users might even set up links between MobileMe and Google Calendar or Exchange via desktop or third party tools for cross-cloud sync). -You can subscribe to online calendars shared by others via CalDAV, which is useful for keeping track of public holidays, your favorite sports teams, special projects, or other group events on small or grand scale.
In iPhone OS 4, developers will have access to the calendar so we'll likely see movie ticket apps that automatically add the show time for you when you buy a ticket. Until then, let us know how you're using your iPhone calendar. On device, synced from your desktop, and/or in the cloud? If in the cloud, what service do you use? Any tips or tricks you care to share?
Get the best of iMore in your inbox, every day!
Rene Ritchie is one of the most respected Apple analysts in the business, reaching a combined audience of over 40 million readers a month. His YouTube channel, Vector, has over 90 thousand subscribers and 14 million views and his podcasts, including Debug, have been downloaded over 20 million times. He also regularly co-hosts MacBreak Weekly for the TWiT network and co-hosted CES Live! and Talk Mobile. Based in Montreal, Rene is a former director of product marketing, web developer, and graphic designer. He's authored several books and appeared on numerous television and radio segments to discuss Apple and the technology industry. When not working, he likes to cook, grapple, and spend time with his friends and family.
I personally use it as my date book. Works very well with Outlook.

I sync with Exchange, but have to use it mostly as an FYI since you really can't manage appointments without features like free/busy information. Try book a meeting on an iPhone or iPad? Good luck.
You can't even decline a single meeting in a recurring series without it canceling all of them, and there is no functionality to edit the email that is sent to the originator to let them know why you cannot attend.
IMHO some of these are basic features that any "enterprise" class device should have. I think Apple needs to start looking closer at what they call enterprise ready. If some of these were fixed I know one Fortune 500 company that would buy thousands more devices.
Will 4.0 address this? I'm guessing not, at least in the built-in apps.

I don't use it much because Google Calendar is so much more functional, syncable and layerable, but if there is an appointment that I absolutely CANNOT forget, I will set the iPhone calendar to remind me two times throughout the day of the appointment so that I will not forget.

I use the calendar with my outlook web access (OWA) exchange server and my contacts, calendar, and email is all pushed to me and synchronized with my other computers instantly! Perfect!
Whats not perfect? Apple needs to go a long way in supporting more of the exchange functions. As JD said, you can't create a meeting and invite others. While I can see my entire companies directory in the contacts (very cool), I can't start inviting them to an event. The laundry list of enterprise functions that I would use if I could is just too many to type here.
Bottom line: The more Apple pushes the iPhone to be a laptop in my pocket, the happier I will be. The more they say, no, we're going to keep it from being able to do what your laptop can do, the more I will be tempted to switch to the smart phone maker who delivers this. I love the way Apple makes things easy, but there is a difference between making things easy and taking away capability that the device could certainly have if they decided to allow it.

I use it with iCal and MobileMe. I also use calendar events as Todos because I refuse to use a separate third party app.
If Apple comes out with a native todo app that's separate, and not inside their calendar app, I won't use that either. To do so would already make me unorganized from the start.

I don't like entering data on the iphone for the calendar but last night I opened ical and entered some that way, bithdays, final exams, stuff like that. It needs to be redesigned on the iphone.

Sync with google....works great and keeps me updated with what the family us up to!

Use it for a events, and tasks. Wish it had colors, and better UI. Cannot wait for 4.0 to see what developers do with it. About time.

I sync with Google, and have Google sync with my work PC. All my appointments and meetings are handy, but that way I don't get flooded with work email and contacts, as with a direct Exchange connection to OWA. I use OWA in Safari when I want to check work email, but I'll be interested to see if OS 4 gives me a better way to fully sync yet keep email separate.

Still waiting for a weekly view…

I don't use my calender for anything except the weekly IT meetings we have here. On the other hand, my cousin would love to see a snooze feature on the calendar notifications.

I have a seperate calender for birthdays, holidays, work, and personal (bill due dates and other)

I don't use it; the calendar in Pocket Informant is vastly better than the built in one and so I use that.

Pesonal appointments and what not

I wish entering a new appointment on the iPhone's calendar app was easier. I hate having to press the (+) button and then inputting in whatever time the appointment starts and ends. I wish I could just touch on the time (in day view) and a window would pop up allowing me to enter my appointment details. That's the way it worked on my Palm Treo ten years ago. It's a simple function, but would make my calendar usage SO much more pleasant.

I don't. I use AwesomeNote

I subscribe to some calendars, sync with my Google calendar one of which syncs with my Outlook calendar. Very much looking forward to having my other apps, like Things and TripIt, add events.

I need the immediacy of the link to Exchange, but only for meeting updates, etc. I use syncmycal on the laptop to sync with google calendar and use Pocket Informant as my primary on-device calendar. So many more options, color coding, views, etc. Leaps and bounds better than the built-in.

I have a 3GS and MobileMe. My wife has a 3G. And she has my MobileMe setup on her iPhone but only for Calander access. She uses it to put her work hours in because I never know where she is. I use it for work stuff. The system works really well! We always know what's going on :)

in the cloud with Google sync (sounds like a twist on the final riddle to a game of "Clue"!). i think it's nothing short of fantastic.

I use multiple Calendars for my plumbing business , To Arrange , To Do , To Bill , Billed , Shopping List , Personals , etc. And I move events to different calendars as they apply . I miss the Choices of colors , icons , that I had with DateBook on Palm Devices . I've always dreamed of some kind of Template in iCal that could link with the address book and transfer into a invoice on Pages to print or email etc. Could save me a lot of energy ! Go !

I use it with MobileMe. I have no use for any of the Google services. Never had any problems with MobileMe and having everything sync across the machines is great.

Use it all the time as it seems to be enough for me and didn't really take the time to investigate options; but now it won't sync with my Outlook calendar (goes back to the last iTunes update) and I'm ready to change. Any good suggestions?

I seriously cannot function without the calendar on my iphone. It has all my class schedules, appointments, even reminders to work on stuff. I'd like it if there was a desktop program (not ical or outlook) that it could sync with just to make data input easier, I'd be happy. I'm positive people are already making apps that will do that though, so its only a matter of time.

I synch with Yahoo using caldav.calendar.yahoo.com. It Works very well. My wife and I have separate yahoo accounts and by sharing our calendars in yahoo, her entries can be viewed on my phone and vice versa. Works great for us!

I have a Google Apps account, on which I have eight different shared calendars for the tour I stage manage. These all sync to my iPhone calendar so I have easy access to them all the time. I also sync with my MobileMe account, which has my personal calendar.

I sync with Mobile Me. Personally, it's a [Insert deity of your choice here]send. I have a ton of medical appointments (due to a rare kidney condition), I'm in college (the year depends on who you ask), the Steward for my local Masonic Lodge--not to mention my blogging activities, finances, etc...
I would be compeltely lost withot Mobile Me and the Capendar app (no to mention the mail app) always being in sync on my MacBook and my iPhone.

I use exchange with my work calendar on the iphone. I am hoping OS 4.0 will give the calendar an upgrade. My husband and I are talking about somehow syncing a calendar between the two of us. Since I am the one who always makes the plans and puts it on a calendar it would be nice for him to see without having to type it in his too! Only problem is right now, I have both work and personal on my calendar!

I use Calendar on my iPhone as my main schedule. Wish Apple (or some third party) would enable week at a glance viewing.

I use Thunderbird on my desktop and use the gCal provider and Lightning to sync to my Google Calendar which syncs to my phone through Exchange/ActiveSync. Have my wife's set up so that Outlook uses the Google Calendar sync utility and then same setup as I use on the phone side. Works really well for propagating items created anywhere to everywhere else.

Everyday, all day, for everything.

I use it with Google calendar using Exchange ActiveSync. I also sync my Lotus Notes calendar to Google calendar using Awesync. So now I have my iphone reminding me of my business appointments.

Exchange Sync to Google Calendar.
Works great

I GoogleSync several calendars to my iPhone. Changes in either direction are nearly instantaneous over-the-air. I pretty much can't live without it.

I use iCal as my calendar hub. iCal has my personal calendar and syncs to my work Google Calendar, plus several other work-related GCals. So, one native iCal calendar plus about 4 other synced calendars. The whole shebang syncs to the iPhone.

I use GoogleSync but have to jailbreak to get some much needed functionality out of the calendar so I know what's coming up without having to tap 25 times.

I use cal for everything when I discovered it. Then I discovered mobile me and love it more. Then discovered google sync with cal contacts and it's free features. And love it even more
college test dates. Part time squeadule and birthdays it's awosome

I use my calendar for everything, and sync it with Google Calendar using Google Sync. I was using Pocket Informant for a while, but I got tired of all the syncing problems, and returned to the native app until they get that squared away.

I live by my calendar. I sync to Google. The built in calendar on the iPhone is...from hunger. It's the poorest excuse for a calendar system I've seen since pencil and paper. Hopefully the os 4 update will allow 3rd party calendar apps like PocketInformant and Agendus to take advantage of the iPhone and allow little things like - repeating alarms and different alarm sounds. Holy cow...is that too much to ask for? You get one tiny ding for an important appointment and if you miss it...you miss it.

Mobile me but emails with invitations need to wait at the inbox until i get to my mac :-/
in desperate need of a to do app that syncs with mobile me over the air!

I use the iPhone calendar app in conjunction with MobileMe & Google Calendars. I use BusyCal on my Mac, and use it to sync all of my Google Calendars, which then sync to my iPhone via MobileMe. Gives me much greater flexibility than simply using Google Sync. I have a separate user account for my wife on my Mac at home, and use BusyCal to sync specific calendars over the LAN to her BusyCal, which is then synced to her iPhone via MobileMe. The whole system is running all the time, so our appointments and schedules are always in sync.

I use it to write down my work schedule.

My wife and I use it with Google Calendar via Sync (exchange)
We have a shared calendar between us. Once you have a shared calendar, the monthly view becomes useless since it shows an appointment for everyday regardless if there is one for that day or not.
When creating an event, only then can you choose the calendar, once made you must go to the web to change the calendar (i.e. from my personal to our shared)
For all iPhone calendars, you can't create appointments from a contact - i.e. a doctor's appointment using your contact info so the address field is auto populated.
You also can't clone events - i.e. create a new event using all the info from an older one.
I try to keep it in List view as the most efficient display.

I used to just use it on the iPhone, now I sync with Google Cal but I usually don't access it on the computer as much. I use it for all sorts of appointments.

I use the built in calendar to sync up via Exchange/Active Sync to my work calendar. But then I use the (very awesome) pocket informant for my personal calendar, as well as my wife/kids calendars- My Home pc syncs outlook calendar to google calendar, as does my wife's on her computer. Google has a link to my wife's calendar, and her Google calendar has a link to mine. Sounds complicated, but it isn't after the initial set up, and the end result is real time syncing/calendar sharing. An update made on any device (iPhone, desktop, laptop) shows up everywhere else thanks to google desktop sync and pocket informant sync. I've been searching for a solution like this for years, as our calendars constantly change and we can't manually update each other all of the time.
Having my work calendar separate from personal calendars is very workable for me. YMMV.

Ditto JD and John Oates. Source of frustration, but I live with it because of what else the phone can do.

I sync via the clue method. I love the fact that I cna add an event or appointment on myiPhone and it automatically showsup on my iCal ony iMac and MacBook.

I use the app on the phone and sync it to iCal. The phone app is way too basic though IMO. If you enter an appointment on the wrong calendar by mistake, you can't even edit it to correct it.
There's no week view. The month view doesn't show the colours assigned to events.
There's no quick way to select a year or month without scrolling one by one. There's no jump to date option so I can't be bothered to scroll through years.
That's too many faults in my book.

I have one universal calendar on iCal which is synced to Google Calendar which is synched to my iPhone. I only add or do edits on iCal and on iPhone and never touch Google Calendars but I have added some of its calendars such as U.S. holidays.

My iPhone would be 10 times more uusfel with a proper To Do list, that popped up reminders.I'd also like to be able to click on a phone number and save it to Contacts, instead of only having the option to call it.

Sync with Exchange but some pretty basic features are missing as some have noted above and all of the notes on my accepted meeting requests get truncated by the iPhone.

I have a similar issue on my iPad where notes get truncated on calendar meetings. It's random though; some are full once accepted in Outlook. Did you get this resolved?

I use Google Calendar (Nuevasync), but wish I could sync the Calendars that I subscribe, to on my iPhone. Like Arsenal and the likes...

So that I can have separate push calendars and contacts I use:
For Home - MobileMe calendar that is cross-cloud synced with GoogleCal via SpanningSync on my home mac.
For Work - GoogleSync since the office uses google business services for mail, calendars, documents, and contacts.
For holidays and TripIt travel plans - CalDAV
For my wife's work - another google account and GoogleSync (so we can keep all our work stuff separate), at least until her office finally starts to support Exchange on the iPhone.
It is a little complicated, but now everything is in sync in all locations by push.

Sync with google's cloud. Simple and a blessing since I came from an android device which did the same. Never ask me when I have to work unless I have my phone there with me :)

Often and religiously. Gogle apps sync my consulting firm's calendar, feed for my girlfriend's google cal, feeds for my law firm's calendar and my law partner's calendar from our cloud based practice management software (Clio). Looking forward to multiple exchange syncs. Oh and mobile me too.

Good post, and I'm grateful for all the comments about syncing calendars for multiple users. I wish there were a way to distinguish different sounds in calendars AND email so we can hear whether the alert is for work, home, etc. without needing to look at the phone.

I sync with Google Calendar along with my mail and contacts. much better calendar than my BB had.

Hello, Pocket Informant anyone? Yes it even has a week view. My work outlook syncs to google and google calendar syncs to PI. PI offers so many more options than the built in calendar app. For those who want a more robust day planner, check it out. I hardly ever open my iPhone calendar app anymore.

I came to an iPhone after 12 years with various Palm PDAs. Apple's iPhone calendar is obnoxious! How come Apple can't learn anything from a decade of Palm's design? Not only that, twice now it has stuffed up syncing with Outlook. So now I don't sync, but it also means I can't enter simple and basic things like recurring events on the second Tuesday of the month. Soon I will transfer to using Pocket Informant and Google Calendar. Apart from Calendar and Contacts, I absolutely love the iPhone.

i use the app syncing with ical, it has sports teams schedules, work schedule(past and future), and tv programing. i use macprogramguide to go through the tv schedule, with iphone in hand program the dvr, no more tvguide.

Work hours and appointment!!
http://www.diverse-group.com/menu/blog.html

Pocket Informant for appointment (synced to Outlook via Google Calendar) and to dos (synced with Todledoo). Guys, it's awesome - yes, it's got week planner view among others. Cannot wait to see what these guys will do with the calendar API.

With Google Calendar... Push to my iPhone and through GooSync to my wifes Nokia.
PLEASE Apple, give me week view in OS4.0!!!!!!!!!!!!!!!!!!!!!!!!!!!

Is there a way to sync from the default iPhone calendar app to google? I currently use saisuke for my calendar (syncs with google) but love having lockinfo on "wake up." (if only lockinfo would read saisuke like it does the default calendar app!) I would love to not have to enter everything twice!

The calendar is missing the most basic feature of any calendar app. Reminders that work. A very faint beep beep beep isn't acceptable. A message on the lock screen then disappears when you unlock isn't acceptable. If the reminder triggers and you don't hear it (which you never do) and then later your phone rings and you swipe to answer the phone, the reminder disappears. That isn't acceptable. Many times I will take my phone out of my pocket and swipe it before seeing the screen. If I had a reminder on there I would never see it. It needs to do a better job of insuring you got the reminder. We also need a snooze. Often times I need a reminder but can't get to the task right away so I snooze it for a few mins. Sometimes I snooze again. I have never owned a PDA that didn't have this.
Why is it that Apple will fail miserably at doing something and never admit to it? It is their way or the highway. They are never willing to go back to the drawing boards because that would mean that their first attempt was a failure and Apple can do no wrong. Did the Newton have reminders? I am guessing no, and because it didn't, Apple will probably never implement it on the iPhone. Because that would mean the calendar on the Newton was a failure. :)

I use exchange and mobile me. I'd rather use google but it's glitchy and the integration isn't there just yet. As I'm not in fronqt of a computer all the time it's been very useful.

I used to sync with my iCal on the Mac through iTunes. ICal is synced with Google Calendars by CalDav and with holiday calendars by subscription. My wife has her calendar in Google Calendar and we each subscibe to the others' calendar with permissions to modify or change each. I Aldo have a Google Calendar I manage for a non-Profit and Is embedded on their website synced with my iPhone iCal trough Google Sync. I can show any one or all (but not select 2 or 3) of my calendars on the iPhone and change any of them (except subscribed read-only Google ones) on the fly from my iPhone. All changes made by me, my wife or changes I make to the non-profit's Google Calendar embedded on their website push immediately to and from the cloud, the few times I bother opening iCal on my MacBookPro (mine or my wife's) iCal syncs automatically with all shared and subscribed Google calendars pushing and pulling any changes without user intervention. Needless to say, if I occasionally make changes in desktop iCal, those changes are pushed via Google Calendar to all our devices and the web.
Is it perfect? No. (Well, almost.) The best part is being able to manage the organization's website calendar right from my own iPhone without having to log out of my Google account and into theirs to change the calendar. Changes push to their website calendar instantly and effortlessly!
But it's much better than paying for MobileMe and/or syncing iCal only via iTunes.

My real estate company uses the iPhone calendar for EVERYTHING. However.....
I bought into the hype last August and purchased XServes, Snow Leopard Server, and iPhones for my company and now I sincerely regret it. Albeit, Apple does make some awesome devices/software, their "enterprise" offerings are disgustingly weak. We're realtors. We work in a mobile environment. We don't sit in front of our Mac desktops all day - so our workflow moves to our iPhones.
First there is no native OTA sync on the iPhone from 10.6 Server. None. I don't care what all the advertising said. When an appointment changes and our secretary adjusts it in the respective calendar, we have no idea it changed until we open iCal on the iPhone and refresh the calendars. Huh? So then we tried having an email sent to us when someone updates a calendar. Wait.. it takes 15 minutes for the iPhone to poll the 10.6 mail server because there is no push mail support for 10.6 server and the iPhone. Ok.. strike two. So then we just started opening iCal on the iPhone every 10 or 15 minutes to refresh the calendars. Fail. Who wants to continuously open iCal, close. Open, Close. So now we have to SMS each other to inform one another that a calendar event has changed. Huh?
If I need to set up an appointment on my iPhone, I can't invite anyone to it. Huh again? I can't even accept or decline an appointment setup by my staff until I get back in front of my desktop. I can't even tell if someone has accepted or declined a meeting on my iPhone.
OH WAIT..... yes I can. If I use Apple's arch nemesis Microsoft Exchange!! What was I thinking?! I can get all the functionality I need if I just shell out thousands of $ for Windows Server, Exchange and respective CALs, and use windows boxes (aside from eating a gun barrel every time windows hiccups, or fails, or gets DoS'd).
Don't suggest Google this or MobileMe that. I am not entrusting the security of our documents, client information, financial information, or email servers to either one. We run all of our iron in-house to ensure a secure, homogenous solution to our current mail/cal/contact requirements.
Apple needs to step up to the plate and make their "enterprise" offerings truly enterprise. They could destroy the M$ exchange stranglehold on business if they wanted to.

Pocket Informant synced with Google calendar and iCal. Awesome as Mist1 above. Now has new landscape week view too.

What is that button in the bottom right corner? The down-arrow into the tray? I don't have that =S:

I sync with my google apps calendar...but I take it one step farther. With google cal, you can text your calendar and it pareses the info properly. If I want something in my calendar, I text it to google, then google puts the right info in the right places, then it push syncs back to my iphone...much easier than entering directly on iphone. I also use draggon dictation sometimes. I'll say, "meet john tomorrow at 3:30 at panera" for example, then copy the text, and text it over to my calendar. Works very well.

Question for anyone.....I have one problem with the mobleme-exchange relationship. At home on my iMac's or on my iPhone I can see my single (work) exchange calendar. However, at work I'm unable to see my four mobleme family calendars. When I'm at my desk (work), I have to pull out my iPhone to see the family schedule. Does anyone know a work around? Since google cal talks with both exchange and mobleme is that an option or is there something better?? HELP!!

My iPhone 4s calendar doesn't have an add "+" button so I'm unable to create calendar items... Any idea how to fix this?