Camera in iOS 12: Everything you need to know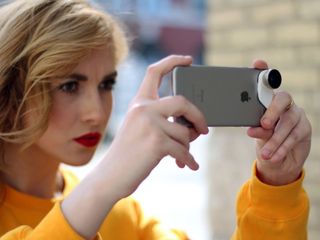 (Image credit: iMore)
iOS 12 has unleashed a bunch of exciting new updates and features for your iPhone and iPad, but one thing people have always been pumped about are updates to the Camera app!
Though there weren't a ton of announcements in regards to the Camera with iOS 12, there are a few things to take note of. Here's everything you need to know about the Camera in iOS 12!
What's new?
One thing of note is that your Camera will launch up to 70% faster with iOS 12. Oh, and you know QR codes? Yeah, the Camera app will be updated to automatically scan QR codes easy-peasy.
Portrait Lighting is also getting an update: Portrait Lighting will look a little bit more natural as you try to edit and shoot your images. The Camera now generates a mask when it detects a person and intelligently and elegantly separates the person from the scene.
Apple has also designed a new API for third-party developers which allows for the breakdown of layers in a photo, such as separating the background from the foreground.
What about Animoji and Memoji?
While Memoji and Animoji aren't necessarily directly related to the Camera app (and they're even less relevant if you don't have an iPhone X…) it is worth noting there are some updates when it comes to filters.
For more information about Animoji and Memoji, check out our Everything You Need to Know about Animoji And Memoji) guide.
What do you think?
Are you excited for all of the new features that'll come alongside the iOS 12 update?
Let us know what you're most excited about in the comments down below!
Get the best of iMore in in your inbox, every day!
Cella writes for iMore on social and photography. She's a true crime enthusiast, bestselling horror author, lipstick collector, buzzkill, and Sicilian. Follow her on Twitter and Instagram: @hellorousseau
Most excited about the Portrait Mode enhancements. One of my favorite camera features.

QR code reading is available in iOS 11's camera.

> Here's everything you need to know about the Camera in iOS 12! Except .... very few (or none) of the things mentioned in this article apply unless one has an iPhone 7+/8+/X
Thank you for signing up to iMore. You will receive a verification email shortly.
There was a problem. Please refresh the page and try again.