Can I control my Joule when I'm not at home?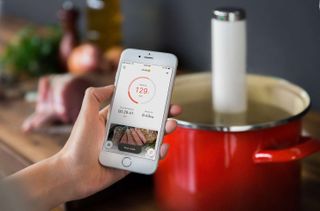 (Image credit: Joule)
Can I control my Joule when I'm not at home?
Best answer: Yes, you can! If your Joule is plugged in at home and hooked up to your Wi-Fi, you can control it out and about from anywhere you have connectivity via an Apple iPhone, iPad, or an Android mobile device using the Joule app.Magic wand: Joule Sous Vide ($198 at Amazon)Able apps: Joule: Sous Vide by ChefSteps (Free at App Store)
Having the option to start cooking while you are away can be a game-changer. With the Joule, you can, which is pretty great. However, you need the Joule app to operate your sous vide machine remotely. The Joule app is currently compatible with iOS 9.x or later and Android 4.4 or later. Once your Joule is plugged in and hooked up to your home Wi-Fi, you can start it up from afar. The Joule will continue to safely operate in your kitchen while you're out at work or play.
The Joule app gives you cooking and recipe information. Once you've referenced that, the app lets you set cooking temperatures and cooking times and allows you to check in on your food any time, anywhere. The app will provide you with notifications to tell you when your water has reached the desired temperature, and when your food has finished cooking.
A super useful feature, especially if you're running late, is that the Joule app will also tell you how long you can safely leave your food in the water without overcooking it. Finally, you can turn Joule off via the app.
This kind of clever connectivity really sets the Joule apart from its competition. The ability to start your evening meal cooking while you're on your commute home, or to heat water when you're at the store is super useful, especially for today's busy, modern lifestyles.
Fancy cooking
Very app-etizing

The Joule is truly a next-gen sous vide tool. Connected, small and sleek, it is controlled via an Apple or Android device to ensure perfect timings and results, even when you're not at home.
Helper app
Joule: Sous Vide by ChefSteps
Free foodie fun

You need the official Joule app to control your sous vide tool. This also means you can control your Joule remotely. All you need is your Joule turned on and connect to your home Wi-Fi, and you have Wi-Fi or cellular connectivity wherever you are.
Master your iPhone in minutes
iMore offers spot-on advice and guidance from our team of experts, with decades of Apple device experience to lean on. Learn more with iMore!
Amy-Mae has been writing about consumer technology since before the iPhone was even a twinkle in Steve Jobs' eye. She started out in magazine publishing with the UK lads' mag 'Boy's Toys' then moved online with startup Pocket-lint.com as the first full-time member of staff, helping grow the site to one of the UK's largest gadget sites. Amy-Mae then moved to Mashable when it only had a staff of around 10 people. After working her way up to a senior role there, Amy-Mae left in 2014 to have her daughter. Since then Amy-Mae has continued to contribute to Mashable and The Daily Dot, keeping up-to-date with the latest consumer technology and social media trends. For iMore.com, Amy-Mae gets to her explore her love of home cooking, concentrating on all things kitchen tech.