Can a luxury watchmaker and a smartwatch platform get along?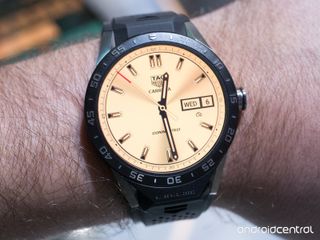 The new TAG Heuer Connected is powered by Android Wear. I understand TAG's thesis. Consumers want smartwatches. TAG Heuer makes great luxury watches. Perhaps there might be a market for a great luxury smartwatch? The Connected is a good case study on what happens when analog brands try to go digital.
The luxury smartwatch
TAG Heuer isn't the first brand to attempt a "luxury" smartwatch. HP licensed Meta watch OS, partnered with Michael Bastian, and sold the watch exclusively on Gilt. It went over like a lead balloon.
By contrast, TAG does understand that smartwatches need platforms, apps, and developers. Unfortunately, there aren't many choices in platforms. After all, Apple isn't licensing watchOS.
Google was looking to partner with a luxury watch brand and so, in the end, TAG Heuer went with Android Wear. That's smarter than trying to build a proprietary platform but Android Wear isn't great. It feels unfinished and lacks polish compared to Apple's watchOS. Even dressed up with a nice titanium case and digital versions of classic TAG Heuer watch faces, Android Wear doesn't feel at home on a luxury watch.
Android Wear watches can also be had for as little as $129. The Connected offers no more functionality than any other Android Wear watch, and no precious metals or high quality leather. TAG Heuer can't even call it "Swiss made", as most of the watch parts are made in the U.S. The only difference between the Connected and the cheapest Android Wear devices are pedigree, TAG's distinctive design, and, of course, those exclusive TAG Heuer watch faces.
All-in vs. trade-in
It also doesn't feel like TAG Heuer has much faith in their own product, and expects buyer's remorse. Thanks to a somewhat bizarre program, after two years a consumer can pay another $1,500 and trade in their Connected for a mechanical TAG Heuer Carrera watch.
It's nice to see TAG Heuer isn't going to leave consumers stranded, I just would have thought the trade in would be for a new smartwatch, not a mechanical watch. In terms of consumer cost, it's not a terrible proposition: A TAG Heuer Carrera costs around $3,000 retail. Of course you have to wait two years to get the mechanical watch. But it does raise the question of whether or not TAG Heuer even believes in the smartwatch.
Why Connected?
So why would Google and TAG Heuer create the Connected? I think it's a response to Apple Watch. Despite skepticism, Apple Watch showed the market that consumers will buy a watch from a non-traditional brand. Apple was also a non-traditional brand for phones in 2007, of course, and iPhone seemed to work out okay. Apple Watch is to traditional watch brands what iPhone was to traditional mobile phone brands like Nokia.
I give TAG Heuer credit for recognizing the sea change and the threat coming. I give them credit for understanding new technologies should create new business models and not protect old ones. Unfortunately, the Connected just doesn't make the transition from analog to digital very well. In the end, it's a watch that tries to live in too many worlds and ultimately lives in none.
Bottom line
It takes more than a brand or even a platform to succeed in the smartwatch space. It takes understanding the symbiosis of what makes a great watch but also what makes a great smartwatch. Just look at the relative successes of Apple Watch, Android Wear, and other vendors in the market to date.
If they're going to succeed in this new world, traditional watch brands may need to forsake their past to fully embrace the future.
Master your iPhone in minutes
iMore offers spot-on advice and guidance from our team of experts, with decades of Apple device experience to lean on. Learn more with iMore!
I've covered the personal technology beat for more than two decades at places like Gartner, Jupiter Research and Altimeter Group. I've also had the fun of contributing my $.02 on the topic at Computerworld, Engadget, Macworld, SlashGear and now iMore. Most recently I spent a few years at Apple as Sr. Director of Worldwide Product Marketing. On Twitter I'm an unverified @gartenberg. I still own some Apple stock.