Can you make bacon in the Ninja Foodi?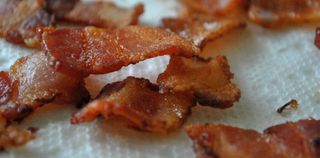 Can you make bacon in the Ninja Foodi?
Best answer: Yes! The Ninja Foodi's "Air Crisp" air frying functionality is absolutely ideal for cooking delicious crispy bacon in a matter of minutes. Once you've rustled up a batch of perfectly cooked bacon in your Foodi, you won't ever fuss with cooking it on the stovetop again.Budget option: Ninja Foodi 6.5qt (opens in new tab) ($230 at Ninja)Deluxe design: Ninja Foodi Deluxe 8-qt (opens in new tab) ($280 at Ninja)
Struggling to make the perfect bacon for your meal? Whether you're making it for breakfast, lunch, dinner, or a just as a snack, delicious and crispy bacon is a cinch in the Ninja Foodi. All you need is your Ninja Foodi, your preferred cut of bacon, a pair of silicone tongs, and some kitchen paper towels. Here's how to do it.
Lay your bacon strips evenly over the edge of your Ninja Foodi's Cook & Crisp basket.
Set the temperature to 330 degrees.
Cook for between 13 to 16 minutes using the Air Crisp cooking setting.
Depending on the thickness, type of cut, and fat content of your bacon, you may need to cook it for an additional couple of minutes. This is an easy thing to gauge by eye.
Once the bacon is done, simply pat it down with kitchen paper towels to remove any excess fat, and you're good to go.
There is no need to preheat your Ninja Foodi. Plus, since bacon is naturally quite a fatty cut of meat, there's no need to brush with or add any oil. And there you have it! Easy, quick bacon perfectly cooked in your Ninja Foodi.
While the Ninja Foodi's Air Crisp setting is pretty reliable for even cooking results, we would recommend flipping the bacon at least once during the cooking process. Simply grab your silicone tongs and halfway through, turn the bacon over to ensure you get a lovely crispy finish on both sides.
The Ninja Foodis are not just handy bacon incinerators. Both size models are fully-fledged multicookers with many other useful functions, including slow cooking and pressure cooking. But for bacon-lovers, the Air Crisp setting is where it's at. The real boon, however, is that both the cooking pot and the Cook & Crisp basket are both dishwasher safe. Winner winner, bacon dinner!
Our pick
(opens in new tab)
Bake'n bacon

While bacon isn't exactly difficult to cook the traditional way, we're always looking for ways to make things easier in the kitchen department. The built-in Air Crisp functionality means the Ninja Foodi multicookers are a great option for cooking bacon at home.
Get the best of iMore in in your inbox, every day!
Amy-Mae has been writing about consumer technology since before the iPhone was even a twinkle in Steve Jobs' eye. She started out in magazine publishing with the UK lads' mag 'Boy's Toys' then moved online with startup Pocket-lint.com as the first full-time member of staff, helping grow the site to one of the UK's largest gadget sites. Amy-Mae then moved to Mashable when it only had a staff of around 10 people. After working her way up to a senior role there, Amy-Mae left in 2014 to have her daughter. Since then Amy-Mae has continued to contribute to Mashable and The Daily Dot, keeping up-to-date with the latest consumer technology and social media trends. For iMore.com, Amy-Mae gets to her explore her love of home cooking, concentrating on all things kitchen tech.
Thank you for signing up to iMore. You will receive a verification email shortly.
There was a problem. Please refresh the page and try again.