Casetify launches custom Apple Watch bands for $50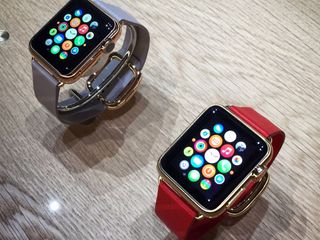 The company's website includes a user interface for customers to upload a photo from their Facebook, Instagram or their local PC to be used as the basis for the Apple Watch band design. There's also the option to use a pre-generated design provided by Casetify. After the design is applied to the band, the user can also select from a number of color filters that can be applied.
Casetify is also offering four limited edition Apple Watch bands with pre-generated designs. It states:
For the next 48 hours, Casetify is offering 20% off the price of an Apple Watch band with the promo code "WATCH20". Shipments of the first bands are supposed to happen in June. Apple has already announced that replacement bands for the Apple Watch will be priced between $49.99 and $449.
Source: Casetify (opens in new tab)
Get the best of iMore in in your inbox, every day!
I have been writing professionally about technology and gaming news for 14 years.
Casetify. For when you want your $500+ purchase to look like $5...

Yeah those are some ugly bands. They might be cheaper than the Apple ones, but the value proposition is identical. Apple's are $250 but should be $50, these are $50 but should be $10.

Well that really depends what design you choose and customise right? I mean for something made-to-order, one of a kind, I think it is a perfect alternative when I want to be more casual and fun with the Apple Watch!

You could put a picture of a more expensive band on it.

Lmao. That made my day haha Sent from the iMore App

Please, someone announce an under $100 metal link band for the space gray Sport Watch.

+1 Sent from the iMore App

These are hideous but it makes me more comfortable with the idea of buying a Sport or the cheapest version sans sport. This makes me more likely to buy an Apple Watch period. I expected 3rd party bands but this solidifies that the wait maybe limited.

The more I look at the Watches, the more I think the Sport is actually the worst deal of the lot. It's significantly "lesser" than the regular model and yet it's only $150 less. It has a plastic back instead of the zirconia/liquidmetal one, it has cheap aluminium and glass instead of metal and sapphire, and rubber straps that will only look okay at the beach or on holiday. It's also the model that is most likely to dive down in price in later releases/years. I am thinking now that the Sport is the model for suckers because you will eventually buy a steel one.

I don't disagree with you. It will depend on my cashflow at time of perorder. If I can, I will get a steel with a sport band and wait for an aftermarket band at a better price.

Exactly my thoughts. When they said it started at $349, I knew it was the sports model and was guessing the steel will start at $800 atleast: Given custom alloy derived from 316L steel, touch and pressure sensitive sapphire glass and ceramic back. May be a tech watch is not worth it, but going by only materials, the Apple watch is quite low priced. And with only $ 200 difference, it would be a pretty bad deal to buy the sport for something I would be wearing everyday for the next 2 years.

In Canada, the difference between a Sport and a Watch, each with the Sport Band is $260. That's too much difference for me. The Sport band is the only one I'm interested in; I'm not a fancy guy and I think it looks just fine in black. Unless you're super hard on watches, I think just the opposite of what you said. Anything OTHER than the Sport is a bad deal (I will refrain from calling people names) when you will probably want to replace it in 2-3 years (or less) when a new version comes out. I will manage to NOT destroy a "cheap aluminium and glass" watch before I replace it with a new one. I will take the $260 and keep it to put toward the next version. Or put it toward my mortgage payment or something equally as silly. :-)

@Kendall Fawcett: I know comments like this are probably a waste of time but for what it's worth, I'm not really the monster that some people here seem to think I am. When I said it was "for suckers" it's just an expression, a very common one in fact. Judging by how everyone votes down even my most innocuous, kind comments, I guess that I am roundly hated by one and all, but in reality I'm a totally normal and very likeable person. Please remember that different people talk in different ways, especially if they don't come from your country, and that when you are reading text on the Internet, you are mostly reading things "into" that text. My background is English. English people talk very plainly and bluntly for the most part and say all sorts of things that Americans take as "insults" when they aren't in fact anything of the sort. Droll, deadpan humour also doesn't come across on the Internet very well.

What? You're not a monster??? But anyway, I'm a big fan of British humour; many people don't understand my personal humour because it is, well, dry... very dry... cough... choke... DRY! I occasionally answer my phone at work with "men's wear" in my best English accent. They don't get it. In any other circumstance, I think I would take "for suckers" more lightly. But I can't believe how divisive the Apple Watch has become. The number of people using words like "stupid" or "idiot" to describe anyone who wants one is ridiculous and inappropriate. Because of that, I find myself trying to be very careful how I word my posts on iMore. And, because I'm Canadian, I don't like to offend too much. I can't imagine having the kind of money to buy an Edition, for example, but I certainly would never insult anyone who has that kind of money. I'm jealous, in fact. Last night, my partner and I looked at the different versions because he said he was buying it for me for my birthday. Once we got to the pricing of the Watch he realised that the Sport was really the only way to go. And that's fine with me. I'm rambling. In short, because the insults have been flying wildly around this site I think we should all be a bit more sensitive in our posts. Just my thought, you MONSTER!

Why so many negative comments? I actually think it would be quite fun to custom my own Apple Watch, though it really depends on the prints and designs I personally would choose - one of a kind, not something everyone has! You totally don't need a $500 strap to make it look like a $500 watch! I actually think 50 bucks for a custom, made to order strap is more than reasonable ... :)

Not a bad idea at all. If you can make a custom band you like for 42 USD. The cheapest one from Apple will be to double the price at least and I am sure people will not buy another Fluoroelastomer band. If they got the Apple Watch Sport :) Customization is a nice idea!
Thank you for signing up to iMore. You will receive a verification email shortly.
There was a problem. Please refresh the page and try again.