Best Lightning cables for charging your iPhone and iPad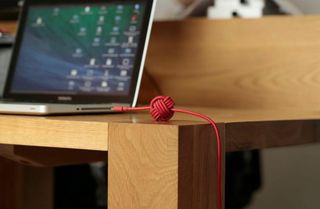 While the standard lightning cable that comes with your iPhone is great, there are some really reliable, high-quality alternatives out there that may actually give you a bit more bang for your buck.
Plus, having variety of lightning cables for different jobs around the house, office, while you're out-and-about, or even in your car, is incredibly convenient and handy!
Here are a couple of awesome lightning cables to check out as you pick the perfect one.
Anker PowerLine+ Lightning Cable
Highly rated with over 2,000 nearly 5-star reviews, durable, and ready for all the wear and tear you can throw at it, the Anker PowerLine+ Lightning Cable lasts six times longer than a regular lightning cable, and is bound to have you picking up one in every color!
Designed with dual-layer sheathing to reduce cable tension and tearing, and reinforced with stress points to prevent immediate fraying, this good-looking lightning cable even comes with an adjustable carrying pouch so you can easily (and stylishly) charge your devices on the go.
The Anker PowerLine+ Lightning Cable comes in four different colors including black, red, white, and gold, and goes for around $17 on Amazon.
Monoprice Luxe Series Apple certified Lightning cable
Sick of lightning cables that are wayyy too short? What about ones that are wayyy too long? Having the perfect length on a lightning cable can prevent additional wear and tear, and while it seems silly to get so specific with length, it'll save you some grief in the long run to pick up a lightning cable that's more specifically customized to your lifestyle.
The Monoprice Luxe Series Apple certified Lightning cable is a great option to consider for lightning cables for the sole reason that you can pick the perfect length and select from three, four, or six feet, or six-inch cable lengths.
Built with a nylon-braided jacket that protects the cable's inner wires and unique LED status indicator directly on the lightning end, the Monoprice Luxe Series Apple certified Lightning cable isn't just functional and reliable – it's well-made, too.
You can pick up your Monoprice Luxe lightning cable in black or white, and depending on the length you want, you'll spend anywhere between $13.50-ish to $17.
Native Union NIGHT Cable
You know if a lightning cable is Serenity Caldwell approved, then it's a darn good lightning cable! Super strong, incredibly flexible and durable, and long AF, the Native Union NIGHT Cable is one fashionable and super functional Apple accessory.
Designed to be ultra-strong and withstand around two times more stress than a standard lightning cable, the Native Union NIGHT Cable claims to be able to live through 17,000+ bends, twists, and strains throughout its lifetime.
The best part about the Native Union NIGHT Cable? The ball near the end of it, so you can easily charge your iPhone or iPad in bed from across the room without having the cable fall to the floor when you unplug it for a quick second!
You can pick up the NIGHT cable in red, marine blue, taupe, and zebra, but fair warning, they're a bit pricier than some other lightning cables out there – however, in our opinion, $39.99 is well worth it for this innovative charging accessory,
AUKEY Lightning cable
If you're someone who's looking for an inexpensive, relatively standard lightning cable with a little extra protection that's not 10-feet long or 6-inches short, then check out the AUKEY Lightning cable: it's simple, durable, and perfect for day-to-day office use or car charging.
Apple Certified with fast charging speeds and a durable, nylon braided outer jacket for extra backup against aggressive wear-and-tear, the AUKEY Lightning cable measures out at about 3.95 feet, making it the ideal length for almost anything you need it for (except charging your iPhone across the room, of course).
While some lightning cables don't necessarily match your iPhone or iPad's color, AUKEY does a good job of putting out Apple-compatible colors for this $11.99 lightning cable, like black, white, and gold. Alas, there is no rose gold, but we'll keep our fingers crossed for the future!
AmazonBasics Apple Certified Lightning to USB cable
The AmazonBasics Apple Certified Lightning to USB cable is a perfect accessory to buy 20 of and just have all over the place incase you need them. Throw one in your purse, your pantry, or your powder room. Toss one in your car, your conference room, or your credenza.
You honestly won't regret it!
Because the AmazonBasics Lightning to USB cable is Apple Certified, you won't have to worry about any annoying error issues or syncing problems like some other knock-off cables. The AmazonBasics Apple Certified Lightning to USB cable can withstand around 4,000 bends thanks to its durable design and outer jacket that's made of solid PVC to prevent excessive fraying or damage.
Some lightning cables might set you back a pretty penny, but the AmazonBasics Apple Certified Lightning to USB cable will cost you around $8. You can order it online in either black or white.
TYLT FLY-DUO reversible USB
Lightning cable? Check. USB? Check.
… Micro USB? Uhm… Also check?
The TYLT FLY-DUO reversible USB is an interesting-looking lightning cable that comes with the simple ability to equip a micro USB with an additional attachment that's secured directly to the cable!
While most people might not see a ton of practical use for this type of lightning cable, those who live in an Android/iPhone household might find it incredibly handy for charging purposes so there aren't 5,448 different cables floating around the house.
The TYLT FLY-DUO reversible USB sells for around $30 and comes in black, bright blue, neon yellow/green, and red, and measures around a meter in length. Oh! And the best part? The fact that it's a reversible USB, so you won't have to constantly fiddle with it to put it the 'right way' while sticking it in the computer.
What's your favorite lightning cable out there?
Is there a lightning cable that we missed on our light that you cannot possibly live without? Let us know your favorites in the comments below and we'll be sure to check them out!
Master your iPhone in minutes
iMore offers spot-on advice and guidance from our team of experts, with decades of Apple device experience to lean on. Learn more with iMore!
Cella writes for iMore on social and photography. She's a true crime enthusiast, bestselling horror author, lipstick collector, buzzkill, and Sicilian. Follow her on Twitter and Instagram: @hellorousseau