Chris Vitek's most used iPhone and iPad accessories of 2011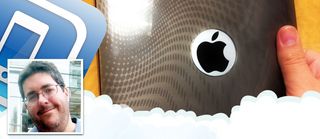 I generally don't accessorize my iPhone or iPad too much – I usually find one option that works, and stick with it for the long haul (or at least until I upgrade the device). What I get usually focuses on the essentials – protections, storage, charging, etc. So here is the list of accessories from 2011:
Apple USB Power Adapter with Sync Cable
One of the most important accessories that I have is a device charger. I don't like having to plug/unplug everything all the time, so I have a charger set-up at home, one for my daughter's iPod, one in my suitcase – basically to charge wherever I may find myself. While there are lots of options, I have gone for the basic Apple USB Power Adapter with Sync Cable. It is small, lightweight, and the inclusion of the sync cable allows me to plug the iPad or iPhone into the computer if needed.
XtremeMac Dual Charging Base
As my families iDevice inventory grows , I didn't want to simply keep adding more Apple USB Chargers, so I bought a Dual Charging Base for both mine and my wife's iPhone. Now, when we are home, we can just dock our iPhone in the base and let it charge (leaving the Apple USB plug free for one of our iPads or my daughter's iPod). It is easy to use, unobtrusive, and even allows for one of the iPhones to be synced to the computer. Since we now use our iPhones to connect to a Bluetooth Phone system (just started in 2012) it also means that our iPhones don't run out of charge while at home and in used for regular phone calls.
SwitchEasy Trim
I spent a fair length of time looking for the right case for my iPhone 4S. This was my first white iPhone, and I wanted to "show it off" to people, so I didn't want a case that covered it up. I wanted some protection, but I also don't like large, bulky cases, so I eventually settled on the iPhone Trim case from SwithEasy. SwitchEasy makes a lot of different case styles, many unique and eye catching (I used to have a Capsule Rebel for my iPhone 3GS). With the Trim, I have a nice translucent backing, and easy to grip border, and a nice design that accentuates the iPhone. One of the great features with the SwitchEasy cases is that they come with little "add-ons". The SwitchEasy Trim included two dock adapters, little "plugs" to put in th ports to prevent dust buildup, two screen protectors, and a video stand. Most of the SwitchEasy cases come with similar add-ons.
iHome iP9 Dual Alarm Clock Radio
I first saw something similar to this in a hotel room, and I almost immediately ordered one of these for myself. This iPod dock allows you to use your iPhone (or iPod) for your wake-up alarms in the morning. It has a dual alarm system, and is quite customizable (including options like a weekend or weekday only alarm). When you also use the free iHome app that is associated with it, you can adjust a wide range of features – including wake up volume, snooze time, and even go beyond having two alarms. It's great to be able to choose songs to be woken up to, rather than having random radio music (or worse, the alarm buzzer!). Plus, it lets you charge your iPhone overnight, so you wake up with a nice, fully charge battery (and the dock adapter from my SwitchEasy case fits right in!)
CTCstore Black Wave Premium Crystal TPU iPad Case
For my iPad, I tried a variety of cases before I ended up settling on this TPU skin case. I looked at various folio style cases, but ultimately I was looking for something that would provide some scratch protection, but mostly not add too much bulk. The TPU silicon case is perfect for holding the iPad (it provides a somewhat rubberized grip), but it doesn't add any bulk or heft, making it just as easy to carry the iPad as if it were case-less. Since my iPad travels a lot and gets used in the field, this is an ideal case for me. Plus, they are relatively cheap and will last for some time (mine is going on two years).
iGobee Foldable Kickstand
With the iPad, I wanted a versatile stand to use, but since I got the iPad for portability, I also wanted one that would be easy to transport. I initially had purchased an Apple iPad charging dock, but I found I wanted more versatility, and the ability to view the iPad in landscape mode. The iGobee Foldable Kickstand meets all these requirements. You can select a wide variety of screen angles, and with the fold-out stands, you can just rest the iPad in either portrait or landscape mode (unlike the Apple charging stand). Combined with the Apple Bluetooth keyboard, you can basically use it as a monitor stand for a laptop computer. Plus, since you are just resting the iPad in place, it can also be used with other devices (iPad 2, Macbooks, or any future tablets). It collapses into a small, easily portable single unit that I can just toss in a carry-on bag or suitcase.
Get the best of iMore in in your inbox, every day!
best accessory post to date.

What is this Bluetooth Phone system you mentioned? I'd like to hear more about that.

I have switched to Nettalk VoIP but have no wanted to completely drop a landline. I do not want to carry a phone in the house all the time and I can never get to my iPhone in time. I have been very surprised that there do not seem to be affordable solutions to connect your iPhone to traditional wireless handsets in the home.
Great idea for a in depth post. Hint hint

The bluetooth phone system we bought earlier this month is a Panasonic 5-phone system. It has bluetooth, so it can connect up to two phones, and you use use the phones to answer your cell phone. So I leave my phone charging in the dock, but I can pick up any of the phones to make a call or answer a call. It's great for people who want to have a cell phone instead of a home phone line, but who also want to be able to have a number of phones in their house and don't want to have to carry their cell phone around their house all the time.
Here is a link on Amazon - http://www.amazon.com/Panasonic-KX-TG7644M-Bluetooth-Cordless-Answering/...cpe_0

Just purchased the trim case. What caught my attention was the dust caps. I work construction but I refuse to use the otterbox bc its too bulky. A few guys on my job have purchased the life proof case but i don't like that either. So now while I'm at work, i use a plastic snack size ziplock to protect from the elements (mostly dirt and dust) now with this case i don't think ill be having to use that plastic anymore. Thanks man
Thank you for signing up to iMore. You will receive a verification email shortly.
There was a problem. Please refresh the page and try again.