Collect them all, you will, with Star Wars Card Trader for iPhone and iPad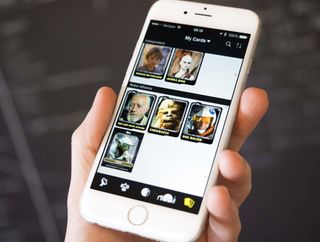 The art style of the cards are decidedly old-fashioned, and they include replicas of the first Star Wars trading card set that Topps released way back in 1977. There are also cards that have some digital visuals and animation. .
The cards span the original six movies, along with The Clone Wars and Rebels animated series. They also include cards from the upcoming Episode VII: The Force Awakens film. Here's what Star Wars fans can expect from this app:
The First Cards From STAR WARS: The Force Awakens - BB-8, Poe Dameron, Kylo Ren, Rey, and the other recently announced new characters from STAR WARS: The Force Awakens are here! Go to the Cantina and blast open packs to try to find these exciting new cards, all released in vintage-inspired "STAR WARS '77" red and blue border designs. Be the first to get digital collectibles from the upcoming film. Collect 'em, trade 'em, but don't expect a stick of gum.
Real Digital Cards - Only Topps brings you over 30 years of officially-licensed STAR WARS cards in new, high-definition digital format, from the vintage era to today. Couldn't complete The Empire Strikes Back, Series 1 red border card set back in 1980? Or weren't even born then? All Topps' vintage STAR WARS cards will be re-released in STAR WARS: Card Trader. Haven't collected cards in a while? Check out Topps' state-of-the-art Parallax and Motion cards, innovations that could never have existed in cardboard!
Trade Like A Jawa - STAR WARS: Card Trader brings together the best community of digital card collectors in the world. Want to trade cards with other, real STAR WARS fans at any time, day or night? STAR WARS: Card Trader is like a 24/7 STAR WARS card convention that you can take with you anywhere you go. Meet real people, make friends, complete trades, and build your collection with confidence using features like 9-for-9 trading and Trader Ratings to highlight your trading partner's trustworthiness.
Open A Free Pack Every Single Day - There's nothing quite like opening a new pack of cards. The agony over choosing the right pack. The anticipation of what it might contain. The thrill of pulling a hit card! STAR WARS: Card Trader brings you to the Cantina, the most dynamic card store in the universe. New stores, new aisles, and new packs appear not just daily, not just hourly, but every couple of minutes. There's always something new. Even free packs. With digital card collecting, there's no wrong path, only your path. Feel the Force. Trust yourself.
As you might expect, Star Wars Card Trader does support in-app purchases for the buying and trading of these virtual cards.
Get the best of iMore in in your inbox, every day!
I have been writing professionally about technology and gaming news for 14 years.
...yeah, and i have some bitcoin to sell you!
What a bust.
Anyone stupid enough to buy virtual anything, will buy virtually, nothing. I have the original, what, 6 sets of topps!?!
Tangible, bent corners, hold in my hands real.

Collectible electrons are going to be difficult to ebay. "Hello Gazelle? What's the blue book value of my super-rare StormTrooper #2 with the ePrinting error ?"

Wow! That's an awesome move from Topps! I love collecting digital trading cards. I use all Topps apps (Bunt, Kick, Huddle) and also Figgu to collect the Champions League. If you are into them look for me: Martin Scott

Am I the only one who wondered why on earth Yoda is labeled as "Star Wars Legends" in the picture?
Thank you for signing up to iMore. You will receive a verification email shortly.
There was a problem. Please refresh the page and try again.