Compared: Jawbone UP3 vs. Fitbit Charge HR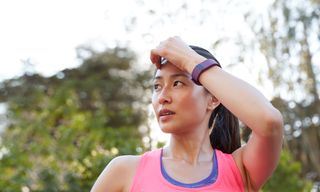 It's Fitbit's mid-range model vs. Jawbone's current top dog, the UP3. How can we compare the two?
Well, Jawbone's top dog isn't really treading the territory that Fitbit's top dog is, which isn't to throw any "shade" on Jawbone. The UP line is perfectly formidable and Jawbone's current best offer (the UP4 is on its way) can throw down with the best of them.
Let's delve a little deeper and see which tracker is the right one for you!
Jawbone UP3
The Jawbone UP3 brings the noise with something that, until the Alta, Fitbit just didn't have: idle alerts. When you've been still for too long, the Jawbone will vibrate to tell you to get your hindquarters in gear. This can be customized via the Jawbone app, so that it's not going off as soon as butt hits couch.
A rather interesting feature possessed by Jawbones is the smart alarm. You set a time and within half an hour of that time, your UP3 will figure out the best point in your sleep cycle to wake you. This way, you're not jerked out of REM sleep and you wake up feeling refreshed instead of groggy.
The UP3 boasts a longer battery life than the Charge HR, at seven days over the Charge HR's five. This is most likely due to the UP3 not having an LCD display.
It has a heart rate monitor, but it only measures resting and passive heart rate, so it isn't powerful enough to track you while you're exercising.
Resting and passive heart rate can give you a picture of your heart health, but you won't be able to see how hard your heart is working while you're busting out burpees and mad 'jacks (that's jumping jacks, which I shortened because I'm cool like that).
A somewhat strange feature of the upper level Jawbones is their lack of a watch function. You get notification and status alerts, but no time of day. The UP3, however, is quite stylish and I would venture to say it's even more so than the Charge HR.
The Jawbone UP3 is for you if you're into fitness with a fashionable twist; the Jawbone UP3 comes in eight color combinations.
It's got the heart rate monitor, meaning more accurate sleep tracking and idle alerts. It's also a little less expensive than the Charge HR, at $179.99.
Also, you wouldn't really look at any of the UP3 color combinations and call them "manly." So, if you're a lady, then this model is probably more geared toward you.
Fitbit Charge HR
The Fitbit Charge HR is, essentially, the functional equivalent to the Jawbone UP3. Not functional in the sense that it works and the UP3 doesn't, but more in the sense that it isn't quite as fashionable. The Charge HR comes in five single-tone colors, so you're wearing it to help you get fit and not for a night on the town.
Thanks to Fitbit's PurePulse heart rate monitor, you've got more accurate automatic sleep detection, so there's no need to go into the app and tell your Fitbit you're heading to bed. You still could, though, if you wanted to.
Fitbit's PurePulse technology is also more sophisticated than Jawbone's heart rate monitoring system, so you can actually get a read on your heart rate while it's in your throat because you're working out so hard that it's trying to make a break for it.
With the Charge HR, you get a watch, which means you don't have to pull out your smartphone to check the time or who's calling you for that matter. The Charge HR features caller ID! Take that, UP3!
Is an extra 20 bucks with caller ID and a watch function and slightly compromising fashion in the name of function? Then the Charge HR is indeed for you.
The Charge HR is definitely more unisex than the Jawbone UP3, with colors that can appeal to everyone.
You definitely want the Charge HR if you want to see what your heart rate is like while you're working out.
Fitbit
○ Fitbit Buyers Guide
○ Fitbit Users Guide
○ The Best Fitbit to Buy
○ Fitbit News
○ Fitbit Forums
○ Buy on Amazon

Master your iPhone in minutes
iMore offers spot-on advice and guidance from our team of experts, with decades of Apple device experience to lean on. Learn more with iMore!
Mick is a staff writer who's as frugal as they come, so he always does extensive research (much to the exhaustion of his wife) before making a purchase. If it's not worth the price, Mick ain't buying.