Cookie Jam: Your ultimate tips, hints, and cheats guide!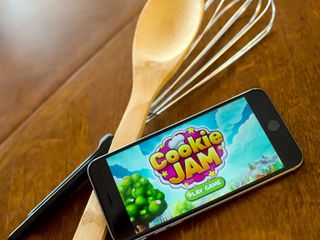 Cookie Jam is either a striking homage or shameless copy of the mega-popular Candy Crush series of games. Regardless, there's no denying that jamming cookies just as addicting and can consume just as much of your free time as crushing candies. What's more, there are just as many tips, hints, and cheats that can not only help you blaze through levels faster, but even earn you unlimited free lives without spending a dime. If that sounds good to you, follow along for our top tips!
1. How to get unlimited free lives in Cookie Jam
Cookie Jam is susceptible to the same date and time change trick as most similar games. When you run out of lives, simply hop into the Settings app on your iPhone or iPad and change the time forward a few hours. Hop back into Cookie Jam and voila, you should have lives again. You can repeat this trick as often as you'd like. Just remember that when you're done, you'll need to put the time back to normal or you may run into issues with iMessage.
2. Played Candy Crush? Look for the same patterns!
Cookie Jam is so derivative, It even includes the same patterns and types of special pieces as Candy Crush. That means 5 candies in a row will do the same thing a donut will, an L or T shape formation will give you an exploding ingredient. There are a few differences but seriously, use your candy crushing abilities to your advantage. That being said, if you havne't already, be sure you check out our Candy Crush guides as well, since many of the same rules, tips, and tricks, will apply here.
Even more Candy Crush help and information
3. Save your rolling pins for hard to reach corners
Rolling pins will clear an entire row of ingredients in one go. While it's tempting to use them to finish off a certain type of ingredient, it's much smarter to save them for obnoxious corners and crevices you can't reach easily. For example, if you have waffles that you have to clear, you'll run into many times where they hide in corners that are hard to match.
4. Let the gingerbread men do themselves in
Don't go chasing gingerbread men around the board. Of course you have to keep an eye on them but for the most part, they'll take care of themselves in due time. By that I mean look for patterns above and around them. For example, if a green gingerbread man is moving up a row and there are two green candies not far from him, let him move there and then swipe him to his demise. Don't try to lower pieces or bring them to his level, you're better than that.
5. Always make moves at the bottom of the board first
When you make moves at the top of the board, you typically don't ever have an opportunity to get combos. This is because less pieces are moved around all at once. Instead, always take all your moves at the bottom of the board first. This way, you create a cascade effect and more new pieces become available. And hey, sometimes the pieces you would have swapped at the top take care of themselves as pieces fall.
6. Focus on special cookies more than ingredients, most of the time
7. For 3 stars, end with as many moves left as possible
While some folks are A-OK with passing a level with a mere one star, there are lots of us out there that just don't think that's good enough. In order to master each level, not only do you need to clear ingredients and become a combo master, one of the best ways to earn all 3 stars is to end with as many moves as possible. This way you get special ingredient pieces at the very end to pad your score even more. So watch for patterns and clear as much as you can in single moves. And most importantly, avoid meaningless moves at all cost.
8. Don't assume combos with special candies are your best move
It's super easy to get distracted by two special candies sitting right next to each other. It's almost as if there's a tiny voice inside your head that says "Swipe them now!" That being said, it isn't always your best option. While swapping two rainbow cakes or a rainbow cake and a striped ingredient are always a sure bet, two diagonal ingredients and a few other combinations are not typically worth wasting. Instead, save them for when they are in better positions independently and can serve you two purposes.
Your top Cookie Jam tips?
Those are our top tips for jamming as many cookies as possible. We're always on the lookout for more, however, so if you know any others, tell us all about them in the comments!
Get the best of iMore in your inbox, every day!
iMore senior editor from 2011 to 2015.
Hi, on level 200 all help videos show 43 moves but my app has only 31. What is wrong?

Help!!! How do you get rid of those annoying cookie cutters? Sure wish they would put that n the help section!!