Credit Sesame adds Siri and TouchID integration in latest update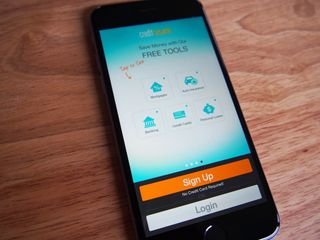 If you're a fan of credit monitoring apps on your iOS device, you may want to check out Credit Sesame's latest update. In version 2.6.7, users will be able to take advantage of TouchID to login to the app, and even be able to ask Siri, "What's my credit score?", to be taken directly into the app.
If you're unfamiliar with Credit Sesame, it is a service that allows you to monitor your credit score for free once a month from data supplied by Experian. The app also gives you suggestions for improving your financial situation.
Overall, this update is pretty neat. The integration with Siri and the ability to use TouchID to login to the app are both welcome additions from both a security and convenience standpoint.
If you're looking to get more information about your credit monitoring options on your iOS device, also be sure to check out our list of the best credit monitoring and management apps for iPhone.
Press Release:
Mountain View, Calif.
January 22, 2015 – Credit Sesame, a leading consumer credit and personal finance company today announces the launch of its iOS app update that includes the use of Touch ID verification and integration with virtual assistant, Siri. The innovative update allows users to check their credit score by simply asking Siri, "What's my credit score?"
Credit Sesame users who have the app installed on their iOS device can now access and monitor their credit as well as review their credit score using Siri's voice activation feature to launch the app. Users on Apple devices with the latest Touch ID technology can easily log in with a quick touch of a fingertip, providing consumers with a seamless and secure user experience.
Credit Sesame is the first financial and credit monitoring app of its kind to integrate Touch ID and voice command technology into their platform. The innovative experience is just one of the many features available in the app. Additional features available on the Credit Sesame mobile app include instant access to personal credit information, loan and credit analysis, mobile and web account syncing and important financial alerts.
"We feel that enabling users to ask Siri 'What's my credit score?' and integrating with Touch ID is the perfect combination of convenience and security," said George McMullen, Director of Mobile Products at Credit Sesame. "We're always aggressively investigating the features that both iOS and Android have to offer. Whether it's Siri, Touch ID or even the ability to print your credit report directly from the app on your phone, we want to provide our members with features that will marry their everyday lives with their financial goals."
As the threat of data breaches continues to rise, Credit Sesame encourages consumers to take extra precaution in protecting and monitoring their personal information and credit. The newest update to the iOS app makes it even easier for users to stay informed about their finances and catch potential errors or signs of identity theft before they lead to larger problems.
Version 2.6.7 of the Credit Sesame iOS app is available now in the Apple App Store.
About Credit Sesame Credit Sesame is the personal credit advocate and loan expert, helping people make smarter financial decisions to save money and live richly. From free credit scores and credit monitoring, to premium credit and identity theft protection, Credit Sesame is the only provider that gives consumers the tools they need to access, monitor and analyze their credit, improve their financial standing and protect their identity — all in one place.
Credit Sesame uses a proprietary savings recommendation engine, with bank-level analytics, that monitors the market, runs thousands of scenarios and analyzes each individual's financial profile to identify the best loans and savings opportunities. Customers receive unbiased recommendations on home loans, auto loans, credit cards and other loans, customized for their personal financial situation.
Get the best of iMore in in your inbox, every day!
Strange their announcing this now. I've had Touch ID support on this app for a few weeks now. Sent from the iMore App

C is for Cookie, that's good enough for me!
Thank you for signing up to iMore. You will receive a verification email shortly.
There was a problem. Please refresh the page and try again.