CruxSKUNK iPad keyboard seeks Kickstarter funding, thinnest iPad keyboard yet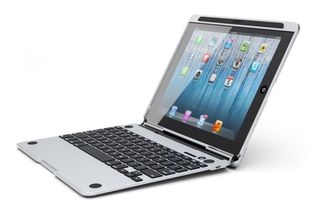 The CruxSKUNK keyboard for iPad has appeared on Kickstarter and is looking for backing to fund its development and eventual manufacture. Forget the name, as it doesn't do this iPad accessory any justice at all and take a look at this amazingly thin keyboard that could take typing on your iPad to the next level. The CruxSKUNK keyboard is only 6mm thick which is the thinnest keyboard available for any iPad. When you put the iPad into the keyboard case, the whole package is only 19mm thick which sounds very exciting.
The CruxSKUNK connects to the iPad through Bluetooth; so once the first pairing has been done, it will always connect automatically in the future. It is powered by an inbuilt rechargeable 350mAH battery which should only need to be recharged once a month. Another innovative feature is a 360 degree hinge which allows you to swivel the iPad into a tablet like form factor without having to remove it from the keyboard case.
If you like the idea of the CruxSKUNK, you can become an early adopter with a pledge of $135 or more to secure one should they make it into production. The CruxSKUNK currently has around $61,000 of pledges and it needs to hit over $90,000 to gain enough to be funded; it still has 38 days to go. As with all of these Kickstarter projects, just because a particular item reaches its funding total doesn't guarantee it will go into production so be careful with your money.
Do you like the look of the CruxSKUNK keyboard for iPad or does the name put you of a bit?
Source: Kickstarter
UK editor at iMore, mobile technology lover and air conditioning design engineer.
That's quite a price for an iPad cover.

It is pricey but it does more than you might think. I read earlier today "For a price of $155 US dollars you get a pretty good deal that includes a full-sized QWERTY keyboard with nice modern keys that are easy to type with, bluetooth connectivity and a hinge separating the two which lets users rotate the gadget a full 360 degrees. The Cruxskunk keyboard is also fully compatible with both the iPad 2 and iPad 3." taken from this article http://www.ibad.info/2012/09/28/cruxskunk-keyboard/ All in all, it's not a bad price. It's also really good quality made from the same type of single piece of aircraft grade aluminum, which is also what they made the Macbook Air out of.

Right... So we don't buy MBA that is wayyy faster than iPad just so we can "touch" the screen and use it like a laptop...
and that pushed for an iPad just so people could use it like a laptop again... cool story bro

MaZon's enthusiastic response summed up my reaction to your criticism, although not my reaction to the product. If it's too pricey for you or not versatile enough for you, skip the iPad, but I'm kinda tired of people suggesting there's something wrong with wanting a slim, 3G- or 4G-connected, gps-enabled, well-powered, touchscreen, dual-camera'ed, device that can be a tv, ereader, movie player, radio, gaming, web-browsing, email, and production machine...that can optionally gain the form factor and keyboard convenience of a laptop.

You can make an ipad act like a macbook air when you need it to... you can't take the screen off of an air and make it an ipad. And the ipad + $150 is still more cost effective.

I ordered one, looks like a GREAT PRODUCT and IDEA. The keyboard convience of a laptop, but with the versility of the iPad that can be easlily removed. and much slimmer and lighter than most anything out there.

For that price, I can almost buy a google nexus. Pretty sure logitech is going to make one in no time at a much lower price.

I hate when I get to a kick starter and the lower priced optioned have all sold out. 135 says at cost and 155 says very close to cost, 20 bucks is a big difference. It's a nice keyboard, wish these were out when I paid 70 for that apple keyboard that doesn't connect to my ipad in any way. I don't even carry it anymore.

Looks ok, but the upcoming Brydge case looks like a better case...it doesn't increase the length like this one looks to a little bit, much easier iPad removal, and the Brydge has built-in blutooth speakers. I don't really see a good reason for myself to pick this one over the Brydge.

I looked at the Brydge, and was ready to order, but this one spoke to me.
I really like it, and hope it is all it appears to be.
The Brydge is also well over 200.00, but this one has the smooth design and finish that got my attention, Of course my wife will likely swipe it tghe first day I have it, so I may be in need of 2

From a simple design perspective I like 90% of this idea. The heel of the hand rests in the corners is a sweet touch, however the corner latches that hold the iPad in place look as if they could scratch it, it's also a pity they cant just have one. In my opinion the leather sleeve looks a bit half baked, that part needs further work, but it would be an easy fix. A personal note: I have been using an ASUS Transformer TF300T as my daily driver for three months and find it a very effective solution. To begin with I would go back to the desk or laptop for many things, but that list keeps getting shorter. For Photoshop video editing or serious document bashing I need full applications, big screens and big drives, but a surprising number of tasks just don't require them. Naturally a MacBook Air is a better fit for some users in need of greater mobility. But having an effective keyboard option for the iPad makes it almost as good for a lot of users most of the time. IMHO this idea has real potential. By allowing the hinge to flip the keyboard behind the pad users will keep it in the dock most of the time, After all taking it in and out often could be irritating. This may not follow the Post PC world vision behind iPad, but it would extend the reach of a now powerful device. I wonder how they will handle the new dock connector issue?
Thank you for signing up to iMore. You will receive a verification email shortly.
There was a problem. Please refresh the page and try again.